International Women's Day: Women in Technology
At Mercatus, our people matter most. We are driven by humanistic principles and we're proud to put them into practice. We want to create an environment where women in technology can flourish and thrive. Previously recognized by Great Places to Work® as one of the Best Workplaces for Women™, Mercatus knows the importance of International Women's Day, as global movement celebrating women's achievement, raising awareness against bias and taking action for equality through this year's theme, #breakthebias.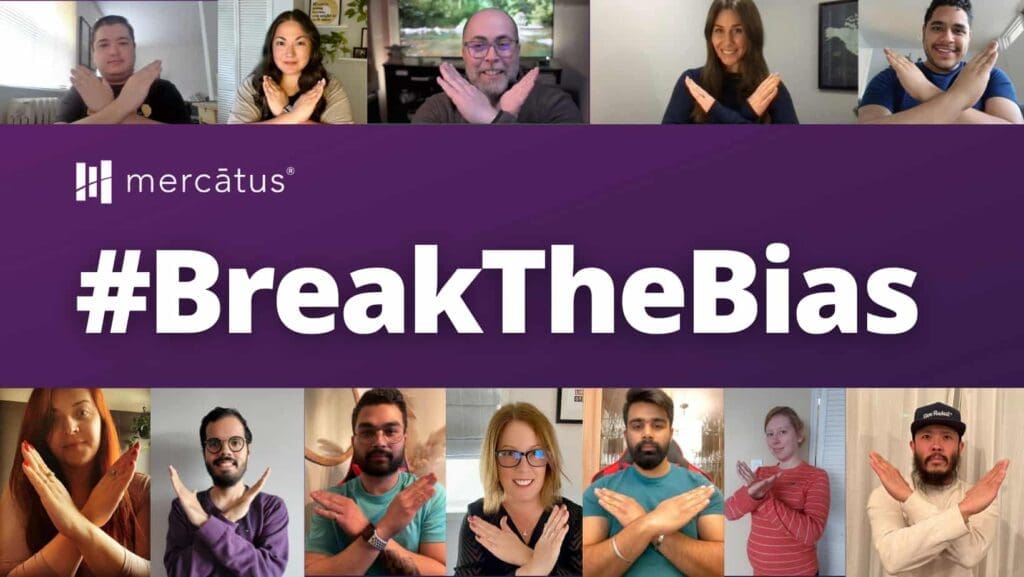 This year, Mercatus is kicking off our IWD activities with the 'Ladies of Mercatus' (LOM) breakfast where we're inviting women to come together and share stories, build connections and discuss why IWD is meaningful to them. At Mercatus, the LOM group has been in place since 2015, sharing everything from how to support each other as we navigated personal and professional challenges during the pandemic to sharing new hobbies and interests. But it's more than that, it's a space for women by women.
The interactive discussion over breakfast is aimed to share experiences of women as a way to acknowledge the bias that exists in the everyday. We hope to create a safe space where we can discuss the challenges and privileges of the spaces we exist in, and what we wish for as we imagine a gender equal world.
In the afternoon, Mercatus welcomes guest speaker, Mary Morassutti the founder and president at H.U.B Inc – Heighten Your Business. Morassutti launched the networking organization for female entrepreneurs in 2015 and now has chapters across Canada and as well as London, England. As the creator of Your WOW FACTOR BRAND, a two day program for female entrepreneurs, Morassutti's goal is to empower them with the knowledge of how to succeed financially. The company-wide event, will include a co-moderated discussion with Morassutti sharing her experience of being a trailblazer and entrepreneur, as well as an interactive Q&A from the audience.
Mercatus has a long tradition of having a small gift of appreciation for the LOM, this year it's a Knix gift card. Knix is a women-led, Toronto-based e-commerce company, whose products serve women and is working to help change conversions around menstruation, menopause and post-partum experiences. Part of its mission is to empower everyone to live unapologetically free of judgment and self-doubt, and that's a gift worth giving.
We support the Native Women's Association of Canada (NWAC) an organization that works to enhance, promote and foster healing and economic opportunities for Indigenous women. The NWAC is committed to fighting for Missing and Murdered Indigenous Women and Girls and strives to change the lives of Indigenous women and gender-diverse people in Canada. In recognition of IWD, Mercatus is making a financial contribution to NWAC.
We know that together we can make working, collaborating and innovating at Mercatus a positive and rewarding experience for all, by not only through conversation and sharing, but by being an active part of breaking the bias for women in technology, in this generation and beyond.
We're hiring, please see our careers page for all open roles. #comeworkwithus