Mercatus Recognized as One of the Best Workplaces in Canada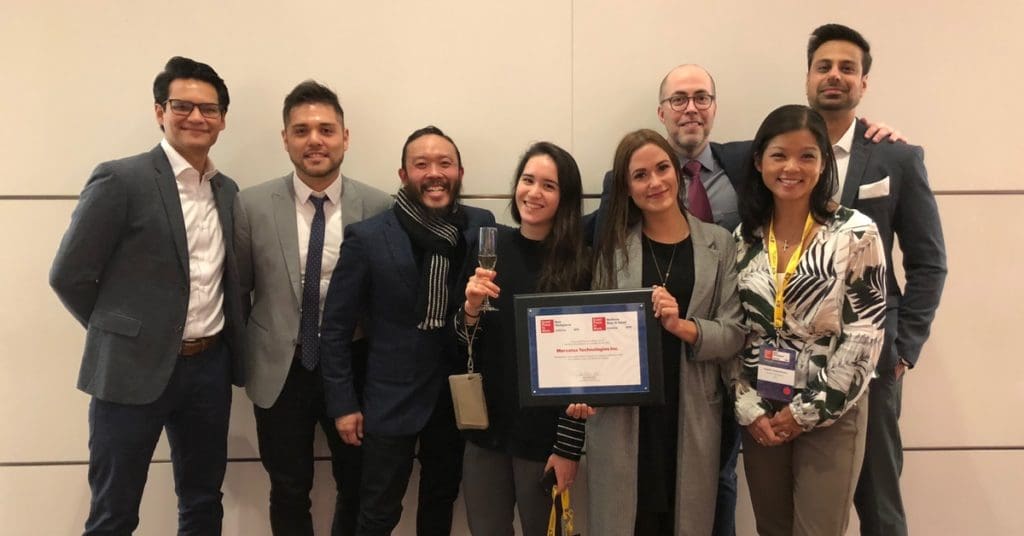 Recognized as a Great Place to Work
We're incredibly proud and honoured to be named one of the Best Workplaces™ in Canada for 2018 by the folks at the Great Place to Work® Institute. "Our employees are at the heart of Mercatus' great product innovations and victories," states Sylvain Perrier, president and CEO. And the cool part is that he really means it: "The most important objective we have as a leadership team is to build an environment and company culture that empowers and where great minds can come together and innovate on initiatives that are revolutionizing retail."
To us, having our office in the heart of Toronto's entertainment district really rocks. And sure, having a workspace that is designed for collaboration, featuring a mix of open office areas, quiet spaces, and meeting rooms with an unparalleled view of the city's skyline is awesome. But more importantly, flexibility and full autonomy means employees can create a schedule that works for our entire team, which fuels teamwork and trust. Now, that is what I would call a real work-perk and one of the reasons we're one of the best workplaces around.
We Hire Extraordinary People
Mercatus strives to hire extraordinary people and provide them with the benefits and opportunities necessary to develop both personally and professionally.
"We want employees to be able to focus on all the important aspects of their life experience, which includes a flexible workplace that allows them to pursue a healthy lifestyle," says Human Resources Executive, Mary Ann Dunlop.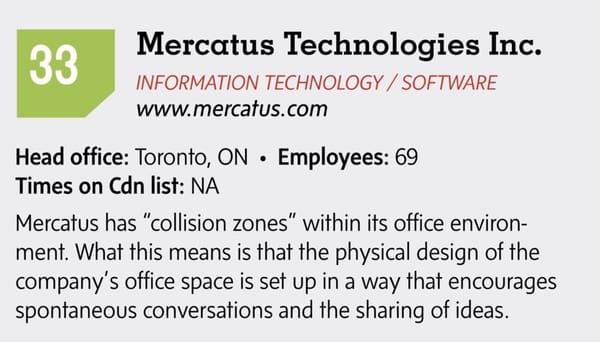 "But it's not just lip service when we say this. I have worked with technology firms most of my career, and I can genuinely say that the team at Mercatus is working diligently to get the right people in at the right time. The leadership team considers each and every role in the company as vital to the organization," emphasizes Dunlop.
The opportunity to make a direct contribution in a collaborative way is a core strength of the people at Mercatus. And to do it at the scale of directly impacting billion-dollar retail customers compounds both the responsibility and the reward of what our teams produce.
Winner of the 2018 Best Workplaces in Canada
The 2018 Best Workplaces™ in Canada list is compiled by the Great Place to Work® Institute.  The competition process is based on two criteria: two-thirds of the total score comes from confidential employee survey results and the remaining one-third comes from an in-depth review of the organization's culture. This offers a rigorous representation of the organization from an employee perspective, and an overall portrait of the workplace culture. Together, they provide crucial data relative to five trust-building dimensions: credibility, respect, fairness, pride, and camaraderie.
Making Our Families and Peers Proud
This list, and related stories, appear in a Special National Report found in The Globe and Mail.
Don't be envious about our work environment –  join us! If you are interested in learning more about career opportunities at Mercatus, check our Careers page for the latest news. We have some amazing new roles coming up!