Stater Bros. Markets launches new shoppable first-party commerce site and native mobile app powered by Mercatus
Mercatus is proud to congratulate Stater Bros. Markets on the successful launch of their all new shoppable first-party commerce site and native mobile app powered by Mercatus. Transitioning to Mercatus' SaaS platform is enabling Stater Bros. to increase its digital grocery capabilities by offering curbside and white-label delivery options provided by Instacart, all while providing excellent service to its customers.
With 170-plus stores, the San Bernardino-based company is the largest privately owned supermarket chain in southern California. The chain turned to Mercatus and its expansive ecosystem of technology partners to adopt a fully integrated online ordering and fulfillment experience for Stater Bros. customers.
"Delivery is available for customers anywhere a Stater Bros. is located and pickup is available at 6 locations as of today and more coming next week!" Jeff Findlay, Retail eCommerce Supervisor shared on LinkedIn. The chain's Curbside Pickup program will continue to grow with new stores added every two weeks.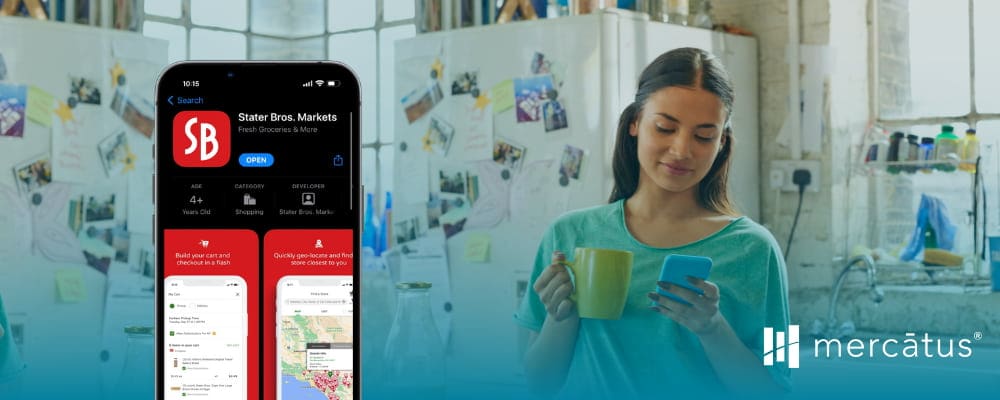 In just a week, Stater Bros. has seen thousands of downloads of the new mobile app. The success of the app is a good indicator of the chain's plan to direct eCommerce orders to their new first-party experience powered by Mercatus. "We are beyond excited to continue to reach new and existing customers in the SoCal region with fresh groceries, whether that be in-store, curbside or home delivery." Darrell Anhel, Director of eCommerce
"Now more than ever, our customers are looking for the convenience of shopping online," Pete Van Helden, CEO, Stater Bros. Markets. "We see this as an opportunity to build stronger relationships with our shoppers through an eCommerce journey that truly embodies our brand's promise of excellence in food and service. With the Mercatus platform, we're excited to offer a wide range of services and options to make online shopping even more rewarding."
It's clear that the focus for Stater Bros. is to deliver a first-party experience that provides their customers with a convenient and seamless shopping and order fulfillment experience. Once again, we'd like to congratulate the entire Stater Bros. team on bringing this innovative shopping and fulfillment experience to their customers across Southern California.
Related Announcements: