Mercatus and Eagle Eye Announce Strategic Partnership to Enhance Grocery eCommerce Experiences
Toronto – May 9, 2023 – Mercatus, a leading provider of grocery eCommerce solutions, and Eagle Eye, a global digital marketing technology company that helps retail and hospitality companies build more personalized relationships with customers, today announced a strategic partnership to bring innovative, data-driven marketing capabilities to their grocery clients' eCommerce experiences.
The partnership aims to help grocery retailers deliver more personalized and targeted digital promotions, leveraging the power of Eagle Eye's customer engagement platform in combination with Mercatus' industry-leading grocery eCommerce platform. The collaboration will enable grocery retailers to create seamless, engaging, and tailored online shopping experiences for their customers and improve the overall performance of their loyalty programs.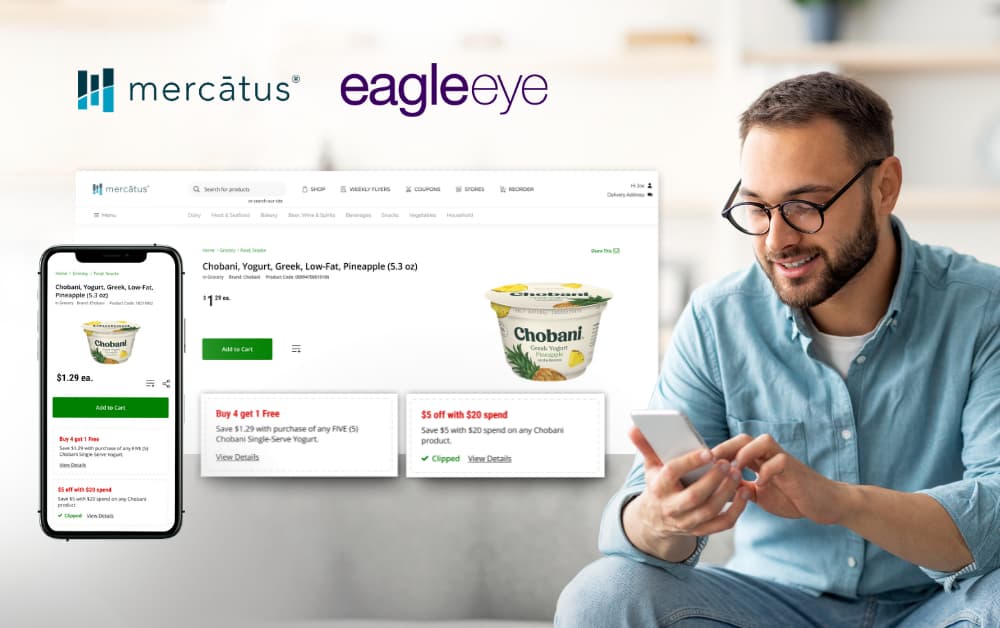 "Mercatus is committed to providing our clients with the best tools and solutions to drive online revenue growth and enhance customer relationships," said Sylvain Perrier, president and CEO, Mercatus. "By partnering with Eagle Eye, we are able to offer our clients cutting-edge customer engagement solutions that will revolutionize their eCommerce experiences and help them stay ahead of the competition."
Eagle Eye's digital customer engagement platform provides retailers with real-time customer data which can be used to create personalized promotional initiatives to drive customer loyalty and increase sales. Integrating Eagle Eye's technology with Mercatus' platform will create a unified, data-driven eCommerce solution for grocery retailers so they can better understand their customers and deliver highly personalized experiences to them.
"We are excited to collaborate with Mercatus and bring our customer engagement solutions to their impressive roster of grocery clients," said Tim Mason, CEO of Eagle Eye. "Together, we will enable grocery retailers to build deeper connections with their customers and capitalize on the rapidly evolving first-party eCommerce landscape."
The strategic partnership between Mercatus and Eagle Eye represents a significant step forward in delivering innovative, data-driven marketing solutions to the grocery industry. As the partnership continues to evolve, the two companies will explore new ways to leverage their combined expertise and technology offerings to drive growth and create value for their clients.
About Mercatus
Mercatus helps leading grocers get back in charge of their grocery eCommerce experience, empowering them to deliver exceptional retailer-branded, end-to-end online shopping, from store to door. Our expansive network of more than 60 integration partners allows grocers to work with their partners of choice, on their terms. Together, we enable clients to create authentic digital shopping experiences with solutions to drive shopper engagement, grow share of wallet and achieve profitability, while quickly adapting to changes in customer behavior.
The Mercatus Digital Commerce platform is used by leading North American retailers, including Weis Markets, Save Mart brands, Brookshire's Grocery Company, Kowalski's Markets, Buehler's Fresh Foods, WinCo Foods, Smart & Final, Stater Bros. Markets, Southeastern Grocers' Fresco y Más, Harveys Supermarket and Winn-Dixie grocery stores among others.
About Eagle Eye Solutions Group Plc
Eagle Eye is a leading SaaS technology company transforming marketing by creating digital connections that enable personalized performance marketing in real time through coupons, loyalty, apps, subscriptions and gift services.
Eagle Eye AIR enables the secure issuance and redemption of digital offers and rewards at scale, across multiple channels, enabling a single customer view. We create a network between merchants, brands and audiences to enable customer acquisition, interaction and retention at lower cost whilst driving marketing innovation.
The company's current customer base comprises leading names in Grocery Retail, including Southeastern Grocers, Giant Eagle, Loblaw, Woolworths, Asda, Sainsbury's, Tesco, and Waitrose. Eagle Eye is headquartered in Guildford, United Kingdom and has offices in San Francisco, Jacksonville, Toronto, and Melbourne.
Media Inquiries
Mark Fairhurst, VP Marketing
Mercatus
[email protected]