Mercatus unveils next generation mobile grocery shopping app providing greater customer convenience
TORONTO – January 12, 2023 – Mercatus, a leading provider of grocery eCommerce solutions, today announced the evolution of Mercatus Mobile — an entirely new mobile commerce experience for grocery retailers and their customers. Built from the ground up with the latest mobile innovations in mind and using a completely new architecture, Mercatus Mobile delivers a seamless shopping experience to help grocers increase mobile conversions, improve order frequency and retain online customers.
The new mobile app offers grocery retailers more control over their online experience providing direct access to advanced features and configurations. Designed to bridge the gaps in mobile shopping, Mercatus Mobile brings together key functionality including seamless cart building and checkout, personalization, rewards and loyalty – all to help grocery retailers achieve omnichannel profitability. Mercatus Mobile also takes advantage of existing platform integrations, including Instacart Connect and DoorDash Drive to make it easy for retailers to bring their fulfillment strategy to life for mobile customers.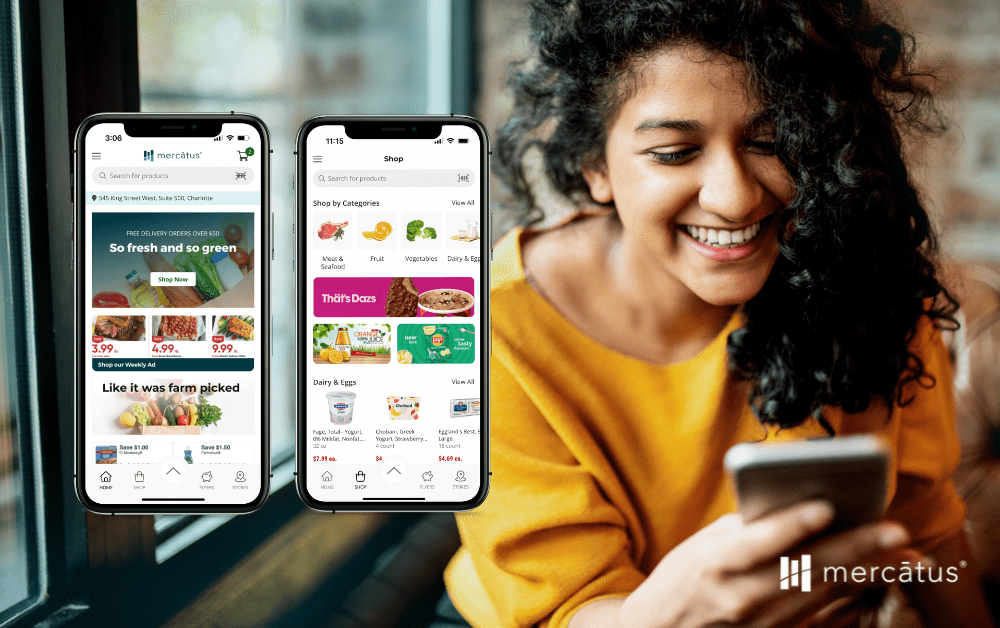 "The next generation of Mercatus Mobile was developed to help regional grocers deliver a delightful, always-on shopping experience that builds brand affinity and customer lifetime value," said Sylvain Perrier, President and CEO of Mercatus. "With 30% of online grocery shoppers cross-shopping between Mass Merchants and regional grocers, it's critical that grocers have a modern mobile app that helps them retain their market share against increasing competition."
The new developer friendly architecture will allow for faster feature releases and innovation focused on customer convenience. Featuring an all-new Content Management System that is accessible and secure means that retailers can easily update their content feed with unique promotions and offers, showcase private label products, and integrate retail media ads to monetize mobile traffic and offset the cost-to-serve online customers. A new scroll-style content feed also provides a similar experience as other popular consumer apps – such as Instagram and TikTok – to elevate the user experience for the next generation.
Mercatus clients using the previous generation mobile app will be transitioned as part of their platform software subscription. For more information, please visit our website or email us [email protected].
About Mercatus
Mercatus helps leading grocers get back in charge of their eCommerce experience, empowering them to deliver exceptional retailer-branded, end-to-end online shopping, from store to door. Our expansive network of more than 50 integration partners allows grocers to work with their partners of choice, on their terms. Together, we enable clients to create authentic digital shopping experiences with solutions to drive shopper engagement, grow share of wallet and achieve profitability, while quickly adapting to changes in customer behavior. The Mercatus Digital Commerce platform is used by leading North American retailers, including Weis Markets, Save Mart brands, Brookshire's Grocery Company, Kowalski's Markets, WinCo Foods, Smart & Final, Stater Bros. Markets, Southeastern Grocers' Fresco y Más, Harveys Supermarket and Winn-Dixie grocery stores among others.