Mercatus celebrates making the 2023 List of Best Workplaces™ in Technology
Mercatus is proud to announce that it has once again been named on Great Place to Work's List of Best Workplaces in Technology.
TORONTO – June 8, 2023 — Mercatus, a leading provider of eCommerce solutions for grocery retail, announced today that the organization has made it onto the 2023 Best Workplaces in Technology List. Mercatus has previously been on the list for 3 consecutive years from 2019-2021.
As a remote-first organization, technology plays a key role in creating a work environment where innovation thrives and teams feel empowered by the tools and resources Mercatus provides. The company uses 15Five, a performance management tool, to schedule 1:1 meetings with managers, prioritize weekly tasks, and recognize team member's achievements through the High Fives program. Team members also have personal Udemy accounts where they can access over 25,000 development courses.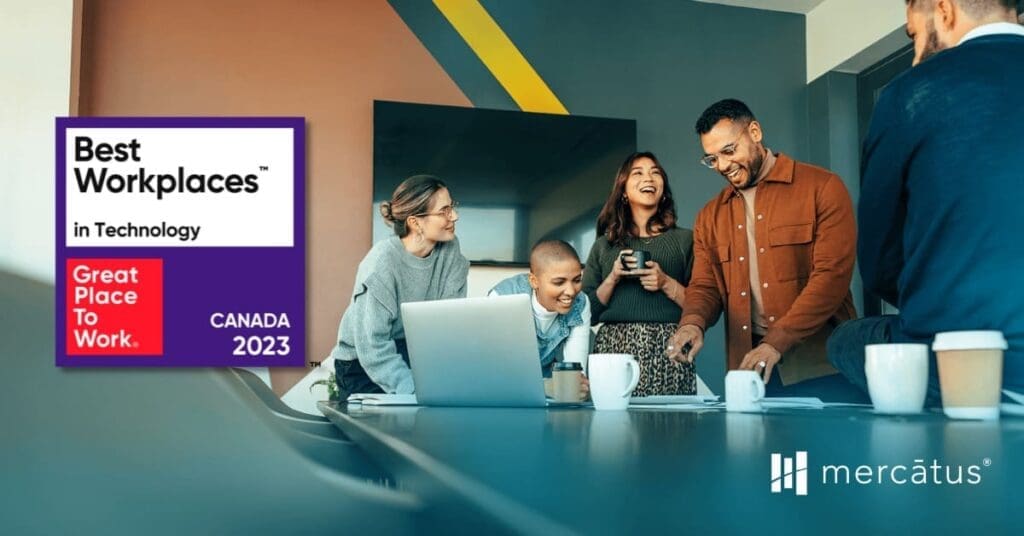 Mercatus has fostered an environment that encourages collaboration between diverse team members, an ideology supported by employee-led Culture and IDEA (Inclusivity, Diversity, Equity, and Accessibility) Teams. All contributors are able to voice their ideas, share resources, and participate in the decision making process. In speaking about the benefits of working in the technology sector, Mercatus Platform Team Lead, Supriya Gownivari, expressed how, "being a part of a diverse team where everyone had mutual respect for each other created a safe space for innovation where I felt like I could contribute my ideas and feel valued. As I transitioned to my role as a people leader, I was able to learn and grow my skills to support my personal career development at Mercatus." It is this inclusive approach that has led Mercatus to new heights of product innovation.
Earlier this year, Mercatus unveiled the next generation of mobile grocery shopping by announcing the launch of Mercatus mobile. Built with the latest mobile innovations in mind, Mercatus Mobile delivers a seamless shopping experience to help grocers increase mobile conversions, improve order frequency and retain online customers. The solution's developer friendly architecture was created by a team of developers at Mercatus to allow for faster feature releases and innovation focused on customer convenience.
Mercatus greatly appreciates the dedicated team of passionate, growth-minded employees who have made the organization stand out as a Great Place to Work in Technology. The organization will continue to set new benchmarks for workplace culture in technology led by our core values:
Be Passionate | Team Up | Time to Reflect | Take Ownership | Be Courageous | Stay Real
Best Workplaces in Technology honourees are determined after a thorough and independent analysis conducted by Great Place to Work®. The list is based on organizations working primarily in the technology industry with direct feedback from employees, surveyed by Great Place to Work®. The data from Great Place to Work® has a 90% confidence and a plus or minus 5% margin of error.
About Great Place to Work®:
Great Place to Work is the global authority on high-trust, high-performance workplace cultures. Through proprietary assessment tools, advisory services, and certification programs, GPTW recognizes the world's Best Workplaces in a series of national lists including those published by The Globe & Mail (Canada) and Fortune magazine (USA). Great Place to Work provides the benchmarks, framework, and expertise needed to create, sustain, and recognize outstanding workplace cultures. Visit us at www.greatplacetowork.ca or find us on Twitter at @GPTW_Canada.
About Mercatus:
Mercatus helps leading grocers get back in charge of their eCommerce experience, empowering them to deliver exceptional retailer-branded, end-to-end online shopping, from store to door. Our expansive network of more than 60 integration partners allows grocers to work with their partners of choice, on their terms. Together, we enable clients to create authentic digital shopping experiences with solutions to drive shopper engagement, grow share of wallet and achieve profitability, while quickly adapting to changes in consumer behavior. The Mercatus Digital Commerce platform is used by leading North American retailers, including Weis Markets, Save Mart brands, Brookshire's, Kowalski's Markets, Buehler's Fresh Foods, WinCo Foods, Smart & Final, Stater Bros. Markets, Southeastern Grocers' Fresco y Más, Harveys Supermarket and Winn-Dixie grocery stores among others.