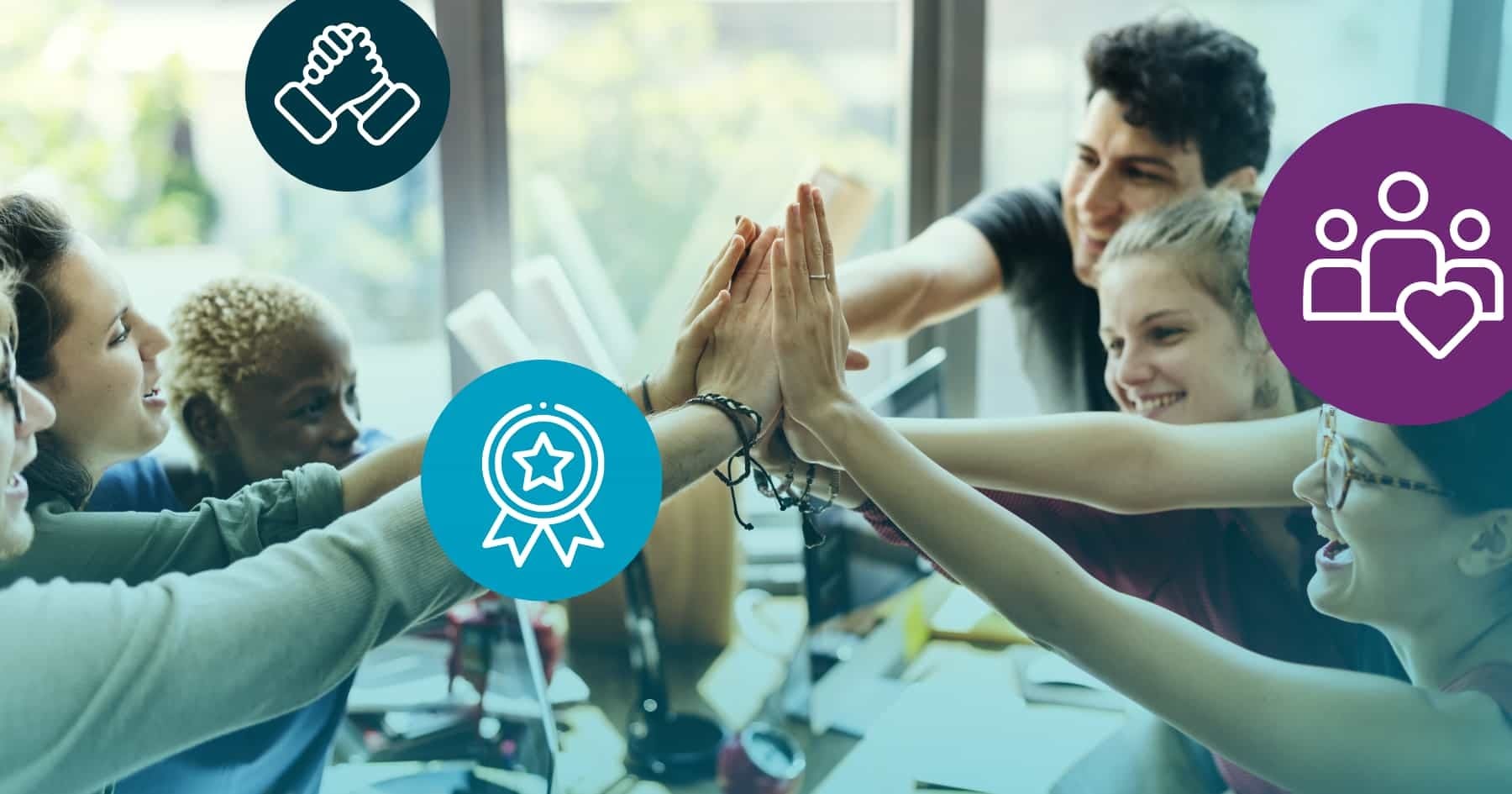 Building a Culture of Recognition at Mercatus
At Mercatus, we are committed to building a culture of recognition that celebrates our team's achievements and fosters a sense of community, even in a virtual environment. By celebrating big moments, recognizing achievements, and giving back, we have cultivated a place of belonging that has led to a motivated team.
We understand that our team members have different preferences regarding employee recognition. Some enjoy public praise, while others find a private exchange more meaningful. We encourage our leaders to get to know how their teams like to receive recognition. The how is simple; they just ask! This can happen during their onboarding program, regular 1-on-1's or our Best Self Review process.

In the past, we've hosted light-hearted, feel-good workshops on The 5 Languages of Appreciation in the Workplace based on the book by Gary Chapman and Paul White. We came together to discover our individual language of appreciation, shared it with the group and discussed the uniqueness of which we all like to give and receive genuine appreciation. This gave our team tools to build upon a culture of recognition that deepened our connection and understanding of one another. Recognizing the individual, their goals, and their values can be much more powerful when it is thoughtful, authentic and specific.
Read our full blog to learn more about what employee recognition looks like at Mercatus
Employee recognition in a remote-first work environment
At Mercatus, we recognize the big moments in our team's lives and celebrate them. This includes birthdays, work anniversaries, and welcome posts on our shared Slack workspace. Everyone is encouraged to like, comment, or react to these posts continuing the celebrations throughout the day.

Building a culture of recognition in a virtual workspace can be challenging, but we have implemented initiatives that allow for face-to-face employee recognition as well. Our monthly company-wide virtual meetings have become a place to celebrate our team's achievements. For International Women's Day, we presented the women at Mercatus with various awards, recognizing their contributions to the company. These monthly meetings allow our entire team to collectively share and be heard.
Implementing high fives into our culture of recognition
A key part of our culture of recognition is our High Fives program, run through 15Five, a performance management tool. We have enabled every team member to encourage and motivate each other through this program. Throughout the week, team members can send a message to each other expressing gratitude or congrats in recognition of their work effort. We encourage everyone to tag their message with one or more of our core values:
Be Passionate | Team Up | Time to Reflect | Take Ownership | Be Courageous | Stay Real
Every month, the team member who receives the most high fives under each core value becomes our Core Values Champion and is recognized in our People Pulse newsletter.
High Fives are also integrated into Slack, so everyone can see the messages that team members receive. When positive feedback is shared, it motivates our team and showcases the collaboration between them. Employee recognition through high fives is an ongoing initiative at Mercatus to provide constructive responses to a team member's work. Instead of congratulating a team member with a simple "great job!", we can highlight their work and its impact on the organization by sharing it with the wider Mercatus network.
For National High Five Day, we're encouraging our team to share their appreciation and recognition of their peers all day long to build upon our culture of recognition. Here at Mercatus, we love healthy competition, so yes, there will be crowned champions and prizes for our winners.
Employee recognition through Guusto gift cards
In addition to High Fives, we've partnered with Guusto to boost our culture of recognition. Guusto empowers our leaders to reward and recognize employees with a personal and timely gift.
To foster inclusivity and ensure our employees have equal opportunities, we have chosen to work with Guusto. Their wide network of over 60,000 available merchants means that our employees can redeem their gifts in a way that is meaningful to them. Employee recognition through Guusto gift cards also acts as a motivator, leading to collaborative and engaged teams.

This employee recognition initiative also allows us to give back to our community. Through our program, every gift card received contributes to providing one day of clean drinking water to someone in need.
Our commitment to building a culture of recognition not only celebrates our team's achievements but also fosters a sense of community. We acknowledge that employee recognition is an ongoing process, and we are always looking for ways to improve. We will continue to encourage our leaders to get to know how their team members like to receive recognition. By understanding our team's individual preferences and values, we can create a more authentic and meaningful culture of recognition.
Come work with us!
We're hiring for many different positions, and we welcome you to apply. Read more about our employee benefits and open roles on our careers page.