April U.S. eGrocery Sales Inch Up 1% vs. Year Ago as Market Evolves
Barrington, Ill. – May 15, 2023 – According to the latest Brick Meets Click/Mercatus Grocery Shopping Survey fielded April 28-29, 2023, overall eGrocery sales for April 2023 totaled $8.2 billion, up 0.9%, versus a year ago. Year-over-year performance varied widely across the three key segments as Delivery sales jumped 20%, Pickup dipped 3%, and Ship-to-Home plunged 19%.
The extremely strong gains for Delivery during April 2023 were driven by a rebound in monthly active users (MAUs) and a higher average order value (AOV). Delivery's MAU base grew 11% versus the prior year but finished up only 1% on a two-year stacked basis versus 2021 as the segment's customer base fell 9% last year. Over the past several years, the expansion of new delivery providers and service offerings has attracted more customers by making it both a more available and attractive way to shop, depending on the mission or occasion. In addition, Delivery's AOV rose about 5% on a year-over-year basis while the other two segments experienced a pullback in spending per order versus 2022.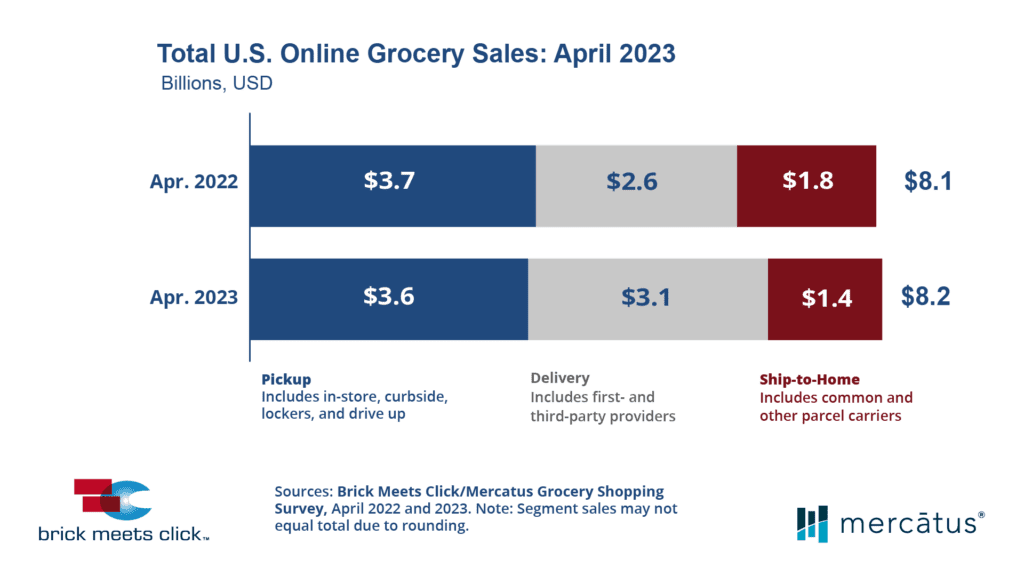 April's decline in Pickup sales was largely the result of lower order frequency and a reduced AOV; this was offset somewhat by moderate growth in its MAU base (in the mid-single digit range). The decline for Ship-to-Home sales, on the other hand, was the result of a deterioration across all key shopping metrics, including continued contraction of its MAU base along with double-digit drops in both AOV and order frequency among active users.
"A macro view of the eGrocery market can reveal certain opportunity gaps, but it may also obscure key shopping dynamics within a particular segment of the market," said David Bishop, Partner at Brick Meets Click. "For example, it's difficult to see how little overlap exists between the households that use Pickup and those that use Delivery services or to know that Pickup grew stronger in Mass during April unless you're able to dig deeper into the segment dynamics as we do in our monthly reports."
Repeat intent scores also trended down in April for two reasons that should be particularly concerning for Grocery operators. First, the likelihood that a customer will use the same service within the next 30 days for April 2023 dropped 530 basis points compared to last year, landing at under 58%, driven by a dramatic drop from the most-frequent customers (those who completed four or more orders with a service within the past three months). Second, the repeat intent rate for Mass declined nearly 300 basis points in April versus the prior year, but the repeat intent rate for Grocery fell almost 900 basis points, leading to the largest gap recorded to date between the two formats and surpassing the record gap set in January 2023.
Looking at repeat intent rates by receiving method reveals more concerning news for Grocers. Grocery's repeat intent rate for Delivery orders has not only declined more than its rate for Pickup orders, but it has also dropped dramatically compared to Mass Delivery services. This decline, combined with the fact that Delivery represents a significantly higher share of online orders for Grocery than Mass, highlights the importance of controlling the quality of the customer experience. However, ensuring a good experience is often more challenging with Delivery orders than for Pickup because the distribution function is generally outsourced to a third-party provider.
"Given that customers vote with their wallet, the expanding gap in repeat intent between Mass and Grocery should be a red flag that warrants grocers re-evaluate all aspects of the customer experience," said Sylvain Perrier, president and CEO, Mercatus. "Customers' expectations continue to evolve based on past experiences, which means it's vital that grocers continue to improve the execution of various aspects, whether that's a more personalized experience, fewer out-of-stocks, or shortened wait times."
Online's share of total grocery spending slid in April, falling 20 basis points to 12.1% versus last year. Excluding Ship-to-Home, since most conventional supermarkets don't offer it, the adjusted contribution from Pickup and Delivery finished at 10.0%, up 40 basis points compared to a year ago, due to Delivery's strong performance for the month.
To further analyze current shopping behaviors, the April 2023 research wave asked where households primarily bought groceries during the past month. For those households indicating Mass, 69% reported online grocery activity in April 2023, and for those specifying Grocery (excluding Hard Discount), 54% reported online grocery activity. As to where households bought groceries online, 73% of the households that mainly shopped with Mass also ordered online from a Mass service compared to 52% of those identifying Grocery as their primary store who also ordered from a Grocery service. "These early findings, and others, suggest that winning online goes beyond simply competing online, which future research will examine," said Bishop.
Check out the Brick Meets Click eGrocery Dashboard for April 2023 or visit the eMarket/eShopper page for additional insights and information about the full report.
About this consumer research
The Brick Meets Click/Mercatus Grocery Shopping Survey is an ongoing independent research initiative created and conducted by Brick Meets Click and sponsored by Mercatus. Brick Meets Click conducted the survey on April 28-29, 2023, with 1,746 adults, 18 years and older, who participated in the household's grocery shopping.
The three receiving methods for online grocery orders are defined as follows:
Delivery includes orders received from a first- or third-party provider like Instacart, Shipt or the retailer's own employees.
Pickup includes orders that are received by customers either inside or outside a store or at a designated location/locker.
Ship-to-Home includes orders that are received via common or contract carriers like FedEx, UPS, USPS, etc.
Results were adjusted based on internet usage among U.S. adults to account for the non-response bias associated with online surveys. Responses are geographically representative of the U.S. and weighted by age to reflect the national population of adults, 18 years and older, according to the U.S. Census Bureau. Brick Meets Click used a similar methodology for each of the surveys conducted in 2023 – Mar. 30-31 (n=1,742); Feb. 26-27 (n=1,745); Jan. 30-31 (n=1,735); in 2022 – Dec. 28-29 (n=1,715), Nov. 29-30 (n=1,749), Oct. 28-29 (n=1,732), Sept. 29-30 (n=1,752), Aug. 29-30 (n=1,743), July 29-30 (n=1,690), June 29-30 (n=1,743), May 28-29 (n=1,802), Apr. 28-29 (n=1,746), Mar. 28-29 (n=1,681), Feb. 26-27 (n=1,790), and Jan. 29-30 (n=1,793); in 2021 – Dec. 29-30 (n = 1,836), Nov. 29-30 (n=1,785), Oct. 29-30 (n=1,751), Sept. 28-29 (n=1,728), Aug. 29-30 (n=1,806), July 29-30 (n=1,892), June 27-28 (n=1,789), May 28-30 (n=1,872), Apr. 26-28 (n=1,941), Mar. 26-28 (n=1,811), Feb. 26-28 (n= 1,812), and Jan. 28-31 (n=1,776); in 2020 – Nov. 11-14 (n=2,067), Aug. 24-26 (n=1,817), Jun. 24-25 (n=1,781), May 20-22 (n=1,724), Apr. 22-24 (n= 1,651), and Mar. 23-25 (n=1,601); and in 2019 – Aug. 22-24 (n = 2,485).
About Brick Meets Click
Brick Meets Click is an analytics and strategic insight firm that connects today's grocery business with tomorrow's needs. Our clear thinking and practical solutions help clients make their strategies and customer offers more compelling and relevant in the changing U.S. grocery market. We bring deep industry expertise and fact-based analysis to the challenge of finding new routes to success.
About Mercatus
Mercatus helps leading grocers get back in charge of their eCommerce experience, empowering them to deliver exceptional retailer-branded, end-to-end online shopping, from store to door. Our expansive network of more than 50 integration partners allows grocers to work with their partners of choice, on their terms. Together, we enable clients to create authentic digital shopping experiences with solutions to drive shopper engagement, grow share of wallet and achieve profitability, while quickly adapting to changes in consumer behavior. The Mercatus Digital Commerce platform is used by leading North American retailers, including Weis Markets, Save Mart brands, Brookshire's, Kowalski's Markets, Buehler's Fresh Foods, WinCo Foods, Smart & Final, Stater Bros. Markets, Southeastern Grocers' Fresco y Más, Harveys Supermarket and Winn-Dixie grocery stores among others.