TechFest 2018: Software Development & DevOps Jobs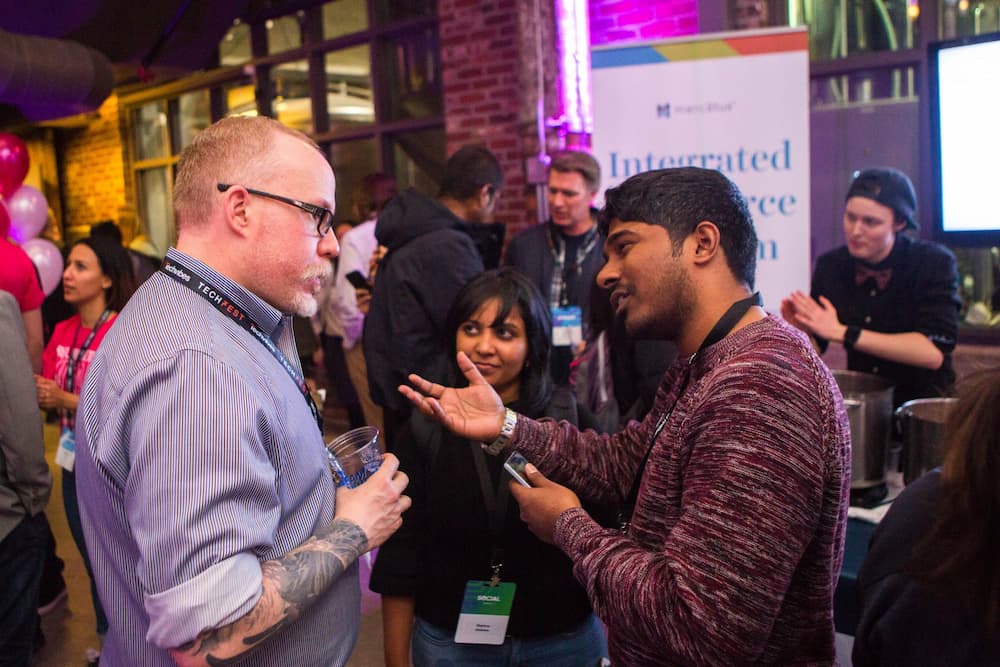 When you bring tech people together, a surge of energy always seems to occur. There's a spark and ease that comes with realizing that you speak the same language. But there's also often a mutual understanding and appreciation of what it means to be the backbone of the company you work for.
To us, finding the right people to power our company's Engineering and DevOps practice is not just about exceptional technical skill. We're passionate about building on our distinct company culture by working with interesting people who bring more to the table. So, when we had the opportunity to participate in TechFest, Canada's leading tech recruiting fair, we were excited to get out and talk Software Development and DevOps over donuts and hot chocolate.
Pitch Night
Techvibes hosted TechFest in Toronto and drew over 800 of the city's best and brightest out to meet-and-greet with potential employers. Whether event-goers were dipping a toe in tech for the first time or networking to find their dream job, their kinetic energy and congenial chatter bounced off the walls of the cavernous Steam Whistle Brewery event space.
Despite being potentially daunting at first, the warmth and friendliness of the Toronto tech industry lessened any nerves of such a large hiring fair. All it took was a friendly smile and handshake to break the ice as attendees swapped war stories about life in tech. The demographics of the audience ran the spectrum of front- and back-end developers, data analytics pros, marketers and engineers of all disciplines.
Partway through the evening, leaders from the dozen participating Toronto companies took the stage to pitch the crowd on the finer points of working for them. Mercatus' President and CEO, Sylvain Perrier, used his mic time to summarize the core elements of our company's exciting growth and collaborative culture.
From outlining mentorship opportunities to how we empower staff to own their voice at the table, it became abundantly clear that Mercatus wasn't looking for worker bees. Instead, we were there to meet people who resonated with the call to work "with" and not "for" us and who were keen to learn more about our people-first style.
This pitch was about staying real, being courageous and teaming up to make a difference and taking deep pride in what you do.
The Importance of Software Development, Data, and DevOps Hiring Decisions
The Importance of Software Development, Data, and DevOps Hiring Decisions
The value of tech roles and data practices in an organization can be taken for granted when things are running smoothly. DevOps teams are relied on to be subject matter experts who also have the ability to "get it done." Being quick, reliable and resilient is what makes them power-hitters. This is why hiring decisions for software development and DevOps jobs can impact much more than just whether a product works–these decisions can ultimately make or break your company.
Data roles keep gaining more and more traction as customers realize the value and potential of informed decisions over educated guesses. Managing a healthy data ecosystem and extracting golden nuggets of information are no longer "nice-to-haves" in most industries. Rather, having a solid Data division is a key competitive advantage to predict buying behaviour, understand end-users and tailor experiences with your product or brand.
Tying everything together with thorough, methodical software development engineers is then what brings ideas to life. We believe our engineers are capable of just about anything, and when collaborating with the other groups in our company, the power of that possibility just multiplies.
In a highly competitive tech market like Toronto, the ability to attract and develop this type of talent proves even more valuable. Experienced individuals often find themselves getting jaded by the typical enterprise IT environment. Newbies may struggle getting their foot in the industry door. Yet what both groups often have in common is the desire to live beyond just a paycheck and instead see the direct impact of using their "particular set of skills."
The opportunity to make a direct contribution in a collaborative way is a core strength of the people at Mercatus. And to do it at the scale of directly impacting billion-dollar retail customers compounds both the responsibility and the reward of what our teams produce.
Teaming Up
Over the past 14 years, Mercatus has been at the forefront of innovative technology in grocery. Our solutions help grocers to connect and grow with their customers because at the heart of everything we do is the customer experience. By creating exceptional digital retail solutions, we equip our customers to connect faster and in more meaningful ways with their shoppers.
"We transform tech by hiring transformational people," says Perrier of how Mercatus looks to the future. So, what is he looking for when meeting the hundreds of potential employees at an event like Techvibes' TechFest?
"We're not hiring you to just do. We need you be telling us what we should do–and why. This isn't just showing up to work, it's showing your work ethic and pride," he explains.
While the benefits of mentorship, leadership and a desirable work/life balance stand out as key factors attracting talent to Mercatus, perhaps the most notable gene in our company DNA is the desire to make a tangible impact.
Interested in learning more about career opportunities at Mercatus? Check our Careers page.