Mercatus Named One of the 2020 Best Workplaces™ in Technology
TORONTO – Nov. 26, 2020 – Mercatus, a leading provider in grocery eCommerce solutions, today announced that it has been included in the 2020 Best Workplaces in Technology. Mercatus received this honor after a thorough and independent analysis conducted by Great Place to Work®. The list is based on direct feedback from employees at the hundreds of organizations that were surveyed by Great Place to Work. Mercatus' inclusion is an indication of the enormous amount of confidence placed in the company by Mercatus employees.
Mercatus took the COVID-19 crisis as an opportunity to understand and address employees' basic needs of safety, stability and security by providing added flexibility and taking time to focus on empathy. Upon making the decision to transition to 100% remote work, Mercatus' People & Culture team and Senior Leadership team joined forces to ensure that employees felt safe, supported and had the necessary tools and resources to work from home successfully. This included dropping off equipment and offering employees reimbursement for up to $400 worth of necessary home office items.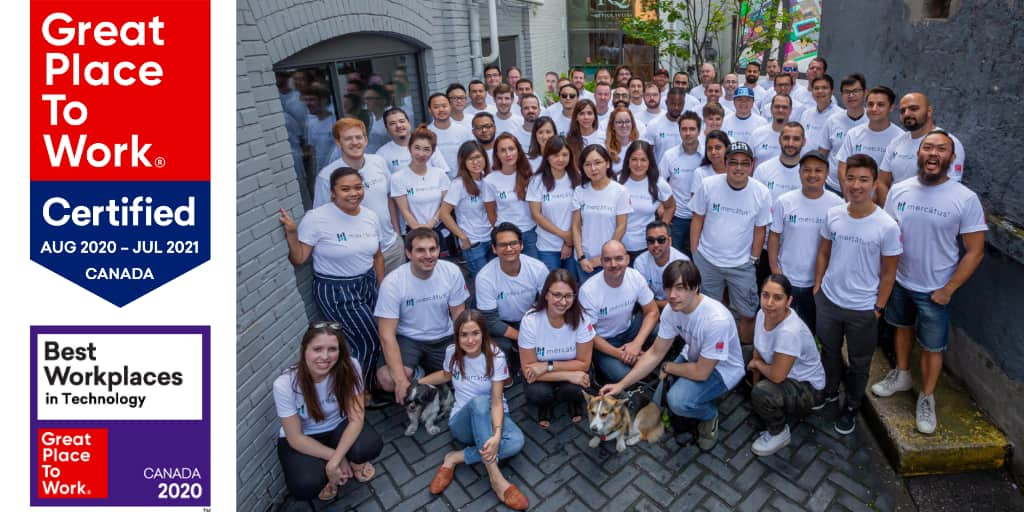 As a part of organizational culture, at every level, the company hosts regular surveys, 1-on-1s and team health checks to ensure employees are supported in personalized and meaningful ways. Mercatus works with local entrepreneurs and creatives to host mental health, wellness, diversity and inclusion sessions, while supporting others in the community during these difficult times. The company's Culture Team regularly provides opportunities for employees to connect, have fun and build relationships virtually. These opportunities for connection prove to be effective in business, as well as employee-focused initiatives.
To empower employees to extend support to communities around the world, Mercatus recently partnered with Fill it Forward. This partnership allows employees to get involved in environmental sustainability and give back, while also focusing on their health and wellbeing. The Fill it Forward team works with various charitable partners that specialize in developing clean water infrastructure that supports entire communities. Through the reuse of water bottles, employees help fund giving projects that provide access to clean water, hygiene, sanitation and education. Additionally, Mercatus continues to support employees with a wellness and lifestyle spending account, as well as access to online learning platform Udemy and communication and goal setting with 15Five.
As a solution provider to essential grocery businesses, the Mercatus team drove initiatives in 2020 that supported the needs of retailers and their shoppers alike. This includes Mercatus Enhanced Fulfillment, which helps grocers meet the demand for contactless curbside pickup services by combining leading fulfillment and location technology. The company also launched Mercatus Digital Advertising to empower grocers to capture those digital advertising dollars, with high-demand, native point-of-purchase advertising. Meanwhile, as COVID-19 rapidly shifted the online grocery landscape, the Mercatus team partnered with research firms to identify key grocery shopper trends and empower grocers with insights that help them expand their businesses and meet shopper demand.
"In a year like no other, our employees have stepped up in impressive ways to keep our business going strong," said Sylvain Perrier, president and CEO, Mercatus. "During the pandemic, we have invested in building trust, social cohesion and individual purpose across the company. To support the wellbeing of our employees and workplace, we've sought to offer valuable learning opportunities for all team members as it relates to mental health, wellness, and diversity and inclusion. Mercatus' ongoing growth and this Great Place to Work designation are true testaments to the ongoing drive, commitment and personality of our incredible employees."
To learn more about Mercatus' innovative workplace, visit our careers page!
About Great Place to Work®:
Great Place to Work is the global authority on high-trust, high-performance workplace cultures. Through proprietary assessment tools, advisory services, and certification programs, GPTW recognizes the world's Best Workplaces in a series of national lists including those published by The Globe & Mail (Canada) and Fortune magazine (USA). Great Place to Work provides the benchmarks, framework, and expertise needed to create, sustain, and recognize outstanding workplace cultures. Visit us at www.greatplacetowork.ca or find us on Twitter at @GPTW_Canada.
About Mercatus:
Mercatus helps leading grocers get back in charge of their eCommerce experience, empowering them to deliver exceptional retailer-branded, end-to-end online shopping, from store to door. Our expansive network of more than 50 integration partners allows grocers to work with their partners of choice, on their terms. Together, we enable clients to create authentic digital shopping experiences with solutions to drive shopper engagement, grow share of wallet and profitability, and quickly adapt to changes in consumer behavior. The Mercatus Integrated Commerce® platform is used by leading North American retailers, including Weis Markets, Save Mart brands, Brookshire's Grocery Company brands, WinCo Foods, Smart & Final and others. Mercatus is headquartered in Toronto, Canada.
Media Contacts
416-603-3406
[email protected]
Greg Earl
Ketner Group Communications
[email protected]