Mercatus Ranked 33 on the List of 2021 Best Workplaces™ in Canada
TORONTO – April 16, 2021 – Mercatus, a leading provider in grocery eCommerce solutions, today announced that it has been named among the 2021 Best Workplaces in Canada, ranking 33 out of 50 companies recognized. Mercatus received this honor after a thorough and independent analysis conducted by Great Place to Work®, which also recognized Mercatus on its lists of 2021 Best Workplaces for Women and 2020 Best Workplaces in Technology.
Mercatus strives to create a rewarding environment by investing in various employee-focused initiatives. To ensure a welcoming and supportive workplace, the company works with local entrepreneurs and creatives to host mental health and wellness sessions. As well, Mercatus' Diversity, Equity & Inclusion Team continuously pushes to foster an inclusive workplace while the Culture Team regularly provides opportunities for employees to connect, have fun and build relationships virtually amid the COVID-19 pandemic. To ensure all employees are supported, the organization hosts regular surveys, one-on-one's and team health checks to assess individual success and well-being – especially during COVID-19.
"Even in the most trying times, I'm amazed by the resiliency of our people and culture," said Sylvain Perrier, president and CEO, Mercatus. "The pandemic has not only reshaped our industry but has also strengthened our bond and commitment to each other. Mercatus recognizes the hard work and dedication of our team members that have led to these achievements. Supporting our core values, as well as Diversity, Equity and Inclusion for all employees, remains a priority in our organization. I am grateful to be working alongside such wonderful and unique individuals who make a difference each and every day."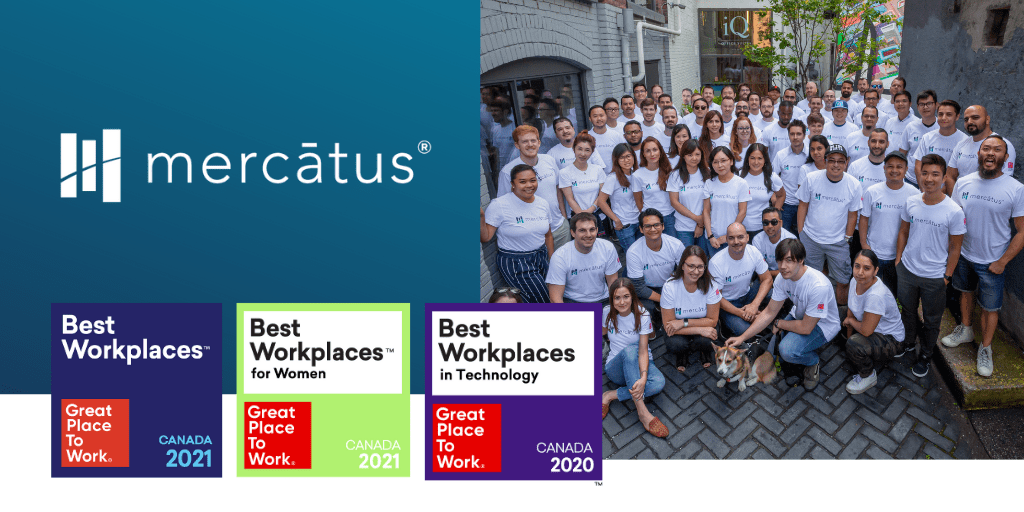 Employee perks include:
Lifestyle & Wellness Spending Account: Employees have a fixed annual reimbursement that they can spend on an assortment of fitness, transit and wellness-related products or services. This program recognizes that health and wellness mean something different to everyone and supports employees' well-being as individuals. As employees adapted their health and wellness personal plans in the face of lockdowns, restrictions and the pandemic, this has empowered employees with the resources to prioritize personal care.
Learning & Growth: Mercatus believes that its people are the most important factor in its success. It is committed to building a culture of learning by prioritizing its people, providing new learning opportunities and making learning accessible to everyone. Leaders complete a one-year Leaders @ Scale program to support their growth as leaders while ensuring that they have the tools and resources that they need to be the best leaders they can be. Employees have access to various learning resources such as team Udemy accounts, Canadian Centre to Diversity & Inclusion (CCDI) Resource Hub, lunch and learns, workshops and wellness sessions. Mercatus strives to create an environment where people grow both personally and professionally allowing its employees to show up as their best selves every day.
Give-Back Initiatives: Commitment to charitable causes and initiatives is deeply important to Mercatus and its employees. During holiday seasons, the company contributes to local food banks including Fort York Food Bank, Oakville Foodshare and Feed Scarborough. Year-round, employees embrace sustainability with a Fill It Forward corporate program. Reusable water bottles and digital tracking of impact helps to fund projects that provide access to clean water, hygiene, sanitation and education. Mercatus also contributes to various causes throughout the year to give employees even more opportunities to give back to the community. In the past year, the organization has contributed to Movember, Girls Who Code and the Jane/Finch Community Center.
The 2021 Best Workplaces in Canada list is compiled by the Great Place to Work Institute. The process to be ranked on this list is employee driven and based on two criteria: two-thirds of the total score comes from confidential employee survey results and the remaining one-third from an in-depth review of the organization's culture. Meanwhile, to be eligible for the Best Workplaces for Women lists, organizations must be Great Place to Work – Certified™ in the past year, have a minimum of 15 female employees, and at least 90% of employees must agree that all individuals are treated fairly, regardless of their gender. Great Place to Work then determines rankings based on the overall Trust Index score from female employees.
To learn more about Mercatus' innovative workplace, visit mercatus.com/company/careers/.
About Great Place to Work®

Great Place to Work® is the global authority on high-trust, high-performance workplace cultures. It is a global research and consulting firm with a mission to build a better society by helping companies transform their workplaces. Great Place to Work® provides the benchmarks, framework, and expertise needed to create, sustain, and recognize outstanding workplace cultures. In Canada, Great Place to Work® produces both industry and demographic specific Best Workplace™ lists. This is part of the world's largest annual workplace study, which culminates in a series of national lists in over 50 countries, including the study's flagship list of 100 Best Companies published annually in Fortune magazine.
Globally, this survey represents the voices of 11 million employees, which are the primary determinant used in selecting winners. There's only one way to get on this list – your employees have to put you on it.
Check out www.greatplacetowork.ca
Follow Great Place to Work® on Facebook , Linkedin and Twitter use #BestWorkplacesCA
About Mercatus
Mercatus helps leading grocers get back in charge of their eCommerce experience, empowering them to deliver exceptional retailer-branded, end-to-end online shopping, from store to door. Our expansive network of more than 50 integration partners allows grocers to work with their partners of choice, on their terms. Together, we enable clients to create authentic digital shopping experiences with solutions to drive shopper engagement, grow share of wallet and profitability, and quickly adapt to changes in consumer behavior. The Mercatus Integrated Commerce® platform is used by leading North American retailers, including Weis Markets, Save Mart brands, Brookshire's Grocery Company brands, WinCo Foods, Smart & Final and others. Mercatus is headquartered in Toronto, Canada.
Media Contacts
416-603-3406
[email protected]
Greg Earl
Ketner Group Communications
[email protected]