Platform Release Notes
Discover our latest feature releases, platform improvements and innovations.
---
October 2023
[Customer Experience] [Web] [Mobile]
Expanded Product Catalog with Salsify
We know how time consuming product catalog management can be. Constantly changing product names, descriptions, and images can be hard to keep up for merchandisers and brand marketers. At the same time, it's important that product description pages (PDPs) are updated regularly to include relevant keywords, latest brand content, and updated product images. Better content translates to larger baskets, fewer returns and a far better customer experience.
To alleviate the burden of catalog management and improve the customer experience, we're excited to announce Salsify as a new product catalog integration. The API-powered catalog integration from Salsify will provide Mercatus-powered retailers with the option to incorporate 160,000+ UPCs and 5,000+ brands available on Salsify.
Salsify leverages their industry-leading CommerceXM platform to help you easily and quickly keep your product pages up to date with accurate, maintained product information sourced directly from brands. API integration between Mercatus and Salsify also means that your product content gets refreshed on a daily basis to ensure your product catalog has the latest information (Figure 1).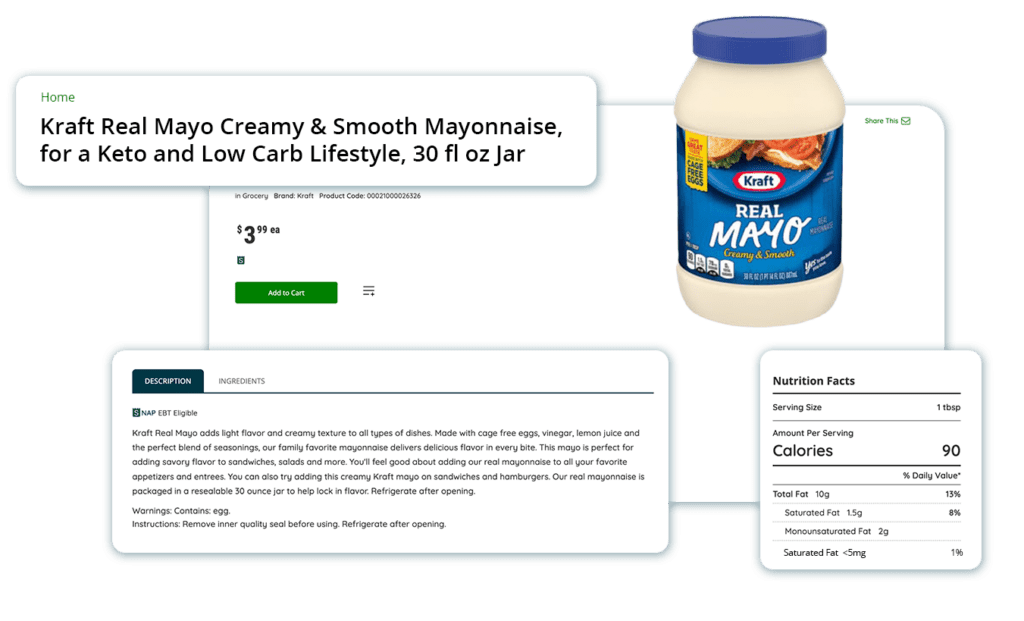 For Mercatus retailers looking to use a combination of Syndigo, Salsify, and custom catalogs, you'll have the ability to prioritize which catalog the Mercatus platform pulls first for your product catalog. Any missing fields will be replaced by the catalog next in your priority list (Figure 2).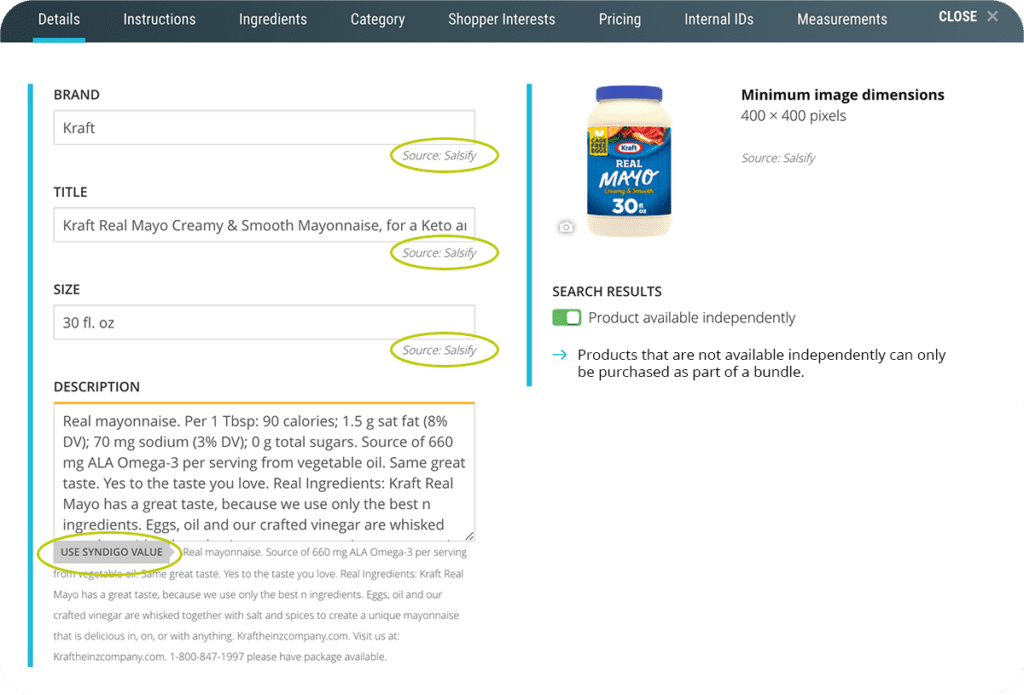 Last but not least, our existing Syndigo integration has been upgraded to an API integration meaning that new updates to the catalog will also be uploaded to PDPs on a daily basis. Whether you're a Syndigo or Salsify user – we've got you covered with the advantages of APIs on both sides.
The expanded product catalog with Salsify is available to all Mercatus-powered retailers. Additional fees apply for activation. Contact [email protected] for more information.
---
September 2023
[Retail Media] [Web] [Mobile]
Sponsored Product Sampling with SwishBx
An estimated $1 billion dollars are spent on traditional sampling methods by CPG brands every year with the most common sampling campaigns being in-store sampling and direct-to-consumer (D2C) campaigns. Despite playing an important role for CPG activation of product sampling, grocery retailers are often left out of the value chain.
Meanwhile, retailers planning to launch their own sampling campaigns face different challenges including lengthy planning, packing and distribution, and operational issues. For regional grocers that are already struggling with labor constraints and costs, it's a major challenge to get a sampling campaign off the ground. And this isn't even to mention having the technology to accumulate data and insights to measure sampling campaign success.
Our latest feature, powered by an integration with SwishBx, provides a turnkey solution to activate product sampling for your eCommerce experience. With direct integration into your eCommerce experience, samples get automatically added to customer orders and you get a share of the revenue from CPG brands. No extra costs and logistics required.
Let's jump into how it works:
First, a CPG brand commits marketing dollars to activate a personalized sampling program with a retailer. Then, based on the product sample that is chosen, a "trigger" is selected to add the product sample to the basket. The trigger can be a specific UPC, category, order total, etc.
Let's use a breakfast staple – milk and cereal as an example. A CPG is interested in promoting their brand new "Back in Charge" cereal. The CPG decides on a carton of milk as a trigger product/UPC for a full-size sample of their cereal.
Once the trigger (i.e. carton of milk) is added to a customer's basket, a full-size product sample (i.e. cereal) is then added to the customer's order. From there, the product sample is added to the store associate's pick app as a "complimentary item" and is picked (see Figure 1). Since the product sample comes right out of the store inventory, there's no need to carry a sample-specific inventory to support this feature.

Finally, retailers get reimbursed for the cost of samples distributed and a share of the product sampling dollars spent. CPGs and retailers can also access a detailed view of campaign performance (Figure 2) to see campaign spend, sales, and key ROI metrics.

Integrated Sponsored Product Sampling is an innovative way for retailers to tap into the vast revenue potential offered by product sampling. Not to mention an opportunity to surprise and delight your customers. It's a win-win for everyone!
This feature is currently available for pickup orders only. To learn more about how this might work for your organization, contact [email protected] for an exploratory call.
---
May 2023
[Customer Experience] [Web] [Mobile]
Personalized Promotions & Loyalty with Eagle Eye 📣🎁
Grocery leaders know how important personalization and being rewarded for their loyalty means to customer retention. A McKinsey study found that 80% of American consumers want personalized interactions in a retail environment, and personalization at scale can provide a 1-2% sales lift for grocery retailers. Furthermore, successful personalization programs can also reduce marketing and sales costs by around 10-20%.
At Mercatus, we believe that customer convenience is a critical pillar to a profitable omnichannel strategy. When customers see themselves reflected online through personalized promotions and loyalty offers, it creates better customer engagement, loyalty, and retention. That's why we've continued to expand our platform ecosystem by adding Eagle Eye as our newest promotions & loyalty integration.
Mercatus-powered clients now have the ability to provide a variety of different promotional offerings including basket-level offers, multiplier campaigns, product bundles, and more. And with configurable logic, you can even create custom offers for your customer base. A unique Wallet ID for each customer also means that you can offer personalized promotions and loyalty offers to increase digital engagement and ROI from your promotional campaigns.
Real-time cart updates also means that order totals are automatically adjusted with promotional offers during the checkout process so your customers have the confidence their promotions will be applied – increasing cart conversion rates.
In addition to this, loyalty points accumulation and redemptions can now be completed through the Mercatus front-end experiences on web and mobile. With the added features, customers will be able to see points, continuity, and tieiring offers – highlighting value in your loyalty program to improve engagement and sales lift.
Both the promotions and loyalty programs are handled on the back-end by the Mercatus platform and Eagle Eye making it a seamless process for marketing teams to launch or update campaigns.
Let's take a closer look at this new capability:
Products with promotions attached to them (Figure 1) will have an icon under the product name for easy recognition by customers that there is a promotion available.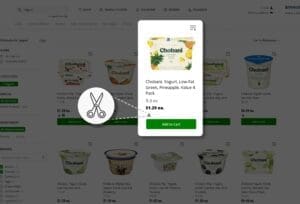 Once the customer clicks into the product description page, they'll see the available offers attached to the product (Figure 2). With the Eagle Eye integration, you can create a variety of promotional offers to encourage your customers to build their cart and checkout.
Here are a few examples of offer types that are possible:
Membership offers (e.g. employee discounts, seniors discounts, etc.)
Item-level coupon offers (e.g. $1 off item)
Basket-level offers (e.g. category volume discounts)
Category-based offers (e.g. wine discounts)
Bonus rewards/points offers (e.g. earn 2x times)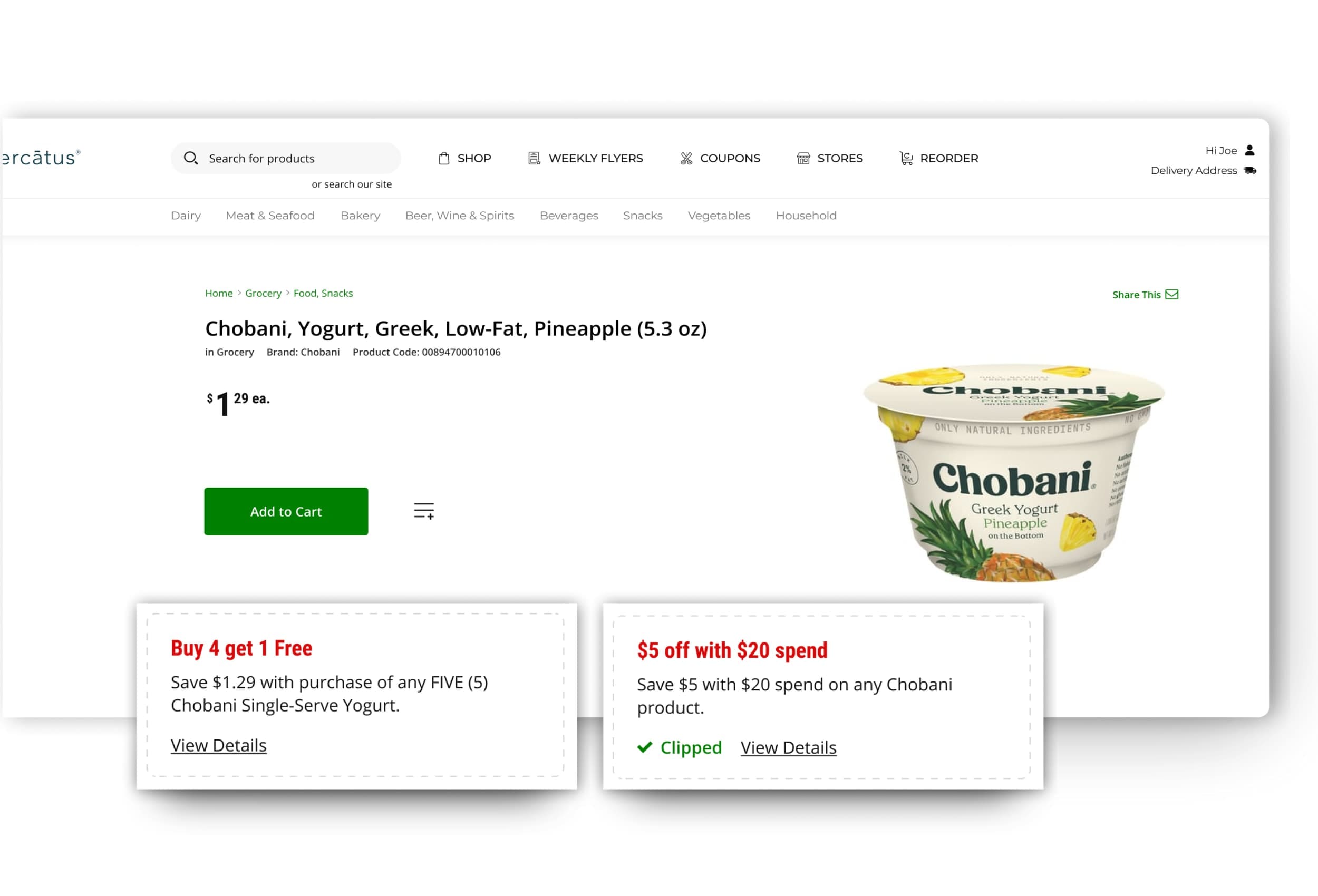 With real-time cart updates (Figure 3), customers will see exactly which promotions have been applied and how much money they'll be saving. This is particularly important as it will help prevent cart abandonment at a critical stage of the shopping process.
Loyalty points accumulation and redemption is now also available through this integration. With a unique Wallet ID, customers can collect points and redeem them at any time. The checkout page has been redesigned to display points balance and makes it easy for customers to apply points before they checkout.
Personalized Promotions & Loyalty with Eagle Eye will be available on web and mobile. Stay tuned for more exciting updates about the new partnership and additional enhancements that will be available in the future.
For Mercatus clients interested in these capabilities, contact your Program Manager to learn more. For prospective clients, contact us at [email protected] for more information and a live demo of our platform.
---
April 2023
[Customer Experience] [Web]
Web eCommerce Enhancements – Spring '23
🌷
At Mercatus, we know that every "bit" (no pun intended) of a customer shopping journey is important. Your customers are busy and anything that introduces friction into their shopping experience can impact cart building and conversions.
Since our last set of web enhancements in Fall '22, we've made even more improvements to our front-end experience. This update brings together UX and UI changes based on user testing and industry-leading eCommerce practice implemented by our Product team.
The theme of the Spring '23 enhancements is on Category Search functionality. Highlights include a refreshed Filter Panel with a re-arranged hierarchy that puts highest usage top-level categories and promotions at the top. A cleaner look and feel with the Category Breadcrumbs to make it easier to navigate your way through the category tree. Filter Chips have also been added to the top of searches for another layer of visibility to help customers easily remove filters that have been applied.
With an improved category search, we're helping retailers improve product discoverability, extend catalog reach, and increase the percentage of unique products sold. Read on below for more on the above updates and other changes we've made for this release.
1. Refreshed Filter Panel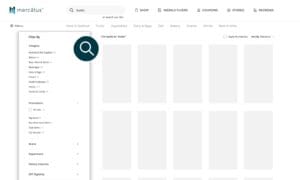 What's new?
We've updated the hierarchy of the Filter Panel by placing the Category and Promotions filter at the top. We've also expanded both filters to make it easier for users to select filters for their search. Other filters such as Brand, Departments, Dietary Interests, etc. are collapsed by default to increase visibility above the fold.
Why the change?
Filters empower the user to narrow down a large generic list of products into a manageable selection of products uniquely relevant to their needs and interests. By organizing the filter panel hierarchy to suit customer needs, we're able to create a positive feeling of control and choice in a sea of options.
2. Category Breadcrumbs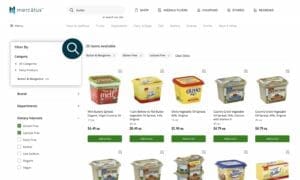 What's new?
Within the refreshed filter panel, we've improved the customer experience with the Category Breadcrumbs. Breadcrumbs are a visual representation of which part of the category tree the customer is in. The new design simplifies the design elements and makes it easier to navigate up and down the tree.
Why the change?
The simplified navigation improves discoverability of related products in a category. In combination with the refreshed Filter Panel which moved the Category section to the top of the search, customers will feel more in control of where they are in the search – improving the overall customer experience.
3. Filter Chips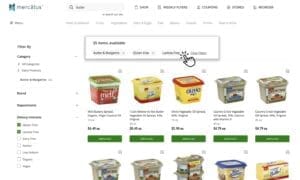 What's new?
Filters that have been applied to a product search now also appear as Filter Chips at the top of the search. Customers can now easily remove a filter by clicking the "x" on the chip.
Why the change?
By showing chips of what filters a user has chosen to refine their results will increase visibility, ease the user's cognitive load, and improve their efficiency.
4. Filter Loading Indicator
What's new?
When filters are applied, the loading indicator will now show a loading circle to ensure the customer knows selected filters are being applied.
Why the change?
On small/mobile and medium/tablet devices, filters and sorting are appalled in a separate overlay. The addition of a loading indicator helps to proactively communicate that the system is working and helps reassure customers that their choices have been registered.
5. Zero Results Page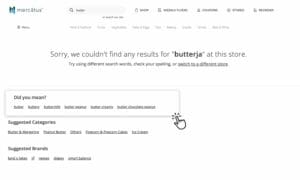 What's new?
Sometimes customers can misspell a product they're looking for which prompts a "zero results page." We've made a small tweak to how product suggestions on searches with no results show up. Instead of a "chip" style design, we're changed the product suggestions to a "link" style.
Why the change?
Changing the chips into links will make it clear that the alternative suggestions are clickable so customers can find the original product they're looking for or click through to an alternative. Links also help preserve space which is especially important for small viewports such as mobile.
And that's all folks! Web eCommerce Enhancements for Spring '23 will be available with our v3.160 release. Please reach out to your Program Manager for an exploratory call to discuss configuration requirements.
---
March 2023
[Fulfillment] [Web] [Mobile]
DoorDash Last Mile Integration
🚗 🛣️
When it comes to achieving omnichannel profitability, choosing the right fulfillment partner is a critical decision. At Mercatus, we believe retailers deserve choice and flexibility to complement their eCommerce strategy.
In December, we announced DoorDash Drive, an end-to-end fulfillment option where DoorDash shoppers (i.e. Dashers) pick, pack, and deliver your orders. Our expanded integration – DoorDash Last Mile – will allow retailers to have Dashers focus exclusively on order deliveries.
For retailers looking to keep picking & packing in-house while tapping into DoorDash's gig workforce, this is a potential path to reduce operational costs. And, of course, all of this is done on the Mercatus white-label platform so your brand stays front and center of the customer experience.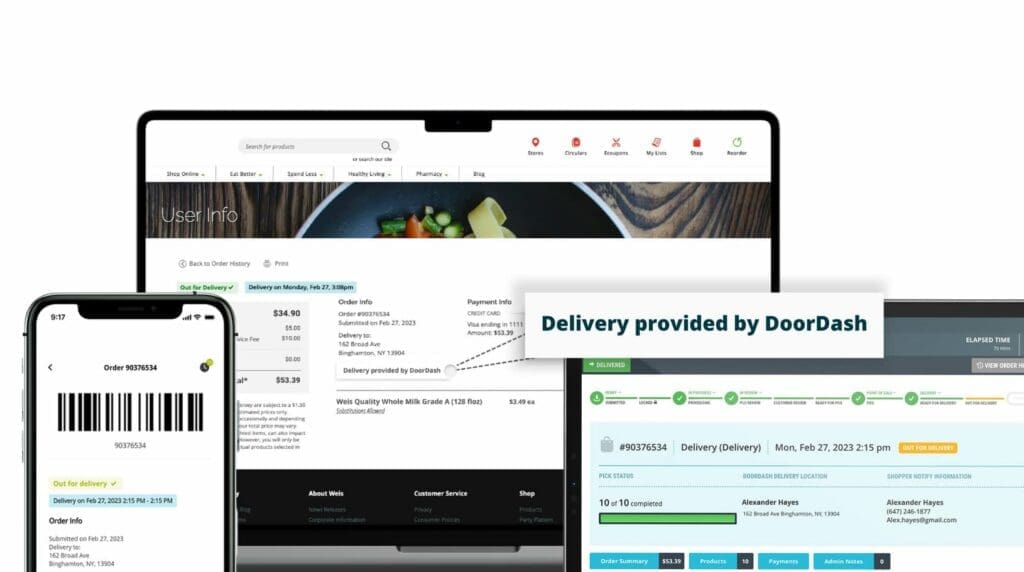 Starting with Weis Markets this year, this new integration will be available to all Mercatus-powered retailers who contract with DoorDash. Retailers will be required to use a Mercatus-approved pick solution to ensure a smooth order fulfillment and delivery experience.
For existing clients, reach out to your Program Manager for an exploratory call to discuss configuration requirements. For prospective clients, contact us at [email protected] to discuss how this solution may work for your business.
---
February 2023
[Retailer Experience] [Mobile]
All-New Mobile CMS 🎨📱
Last month we announced a major upgrade to our mission to advance customer convenience with Mercatus Mobile. The new native mobile app built on React Native offers a modern, intuitive shopping experience to help retailers drive cart conversions, order frequency, and retention.
But "convenience" doesn't just have to be for your customers. Your marketing and merchandising teams deserve a more convenient way to manage your mobile eCommerce strategy. That's why we've introduced an all-new mobile Content Management System (CMS) to provide more configurability and flexibility.
The new CMS allows your team to update your mobile Home Page with just a few clicks. Whether it's a new hero image or featured items on your coupons or weekly ad, you can update the content without having to release an app update. Hoorah!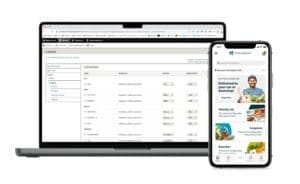 What's more, our CMS is built with Drupal 9.0 – one of the most lightweight, secure systems on the market meaning a fast experience for your customers and minimal risk of downtime for retailers. With more advanced configurability than WordPress, Drupal will offer retailers more ways to showcase engaging content and ensure their website is SEO optimized.
Give your marketing and merchandising team the flexibility they need to crush your revenue targets with the Mercatus Mobile CMS. Contact your Program Manager to learn more about when you'll be upgraded to Mercatus Mobile and our all-new mobile CMS.
Are you looking to upgrade your mobile experience? Schedule a call or learn more on our Mercatus Mobile product page.
---
January 2023
[Customer Experience] [Mobile]
Introducing: Mercatus Mobile 🛒📱
As a regional grocer, your existing mobile app may not be meeting your modern customer's expectations. A mobile app that doesn't deliver customer convenience can lead to lower customer satisfaction, retention and lifetime value.
Data shows that 25% to 30% of US online grocery shoppers regularly cross-shop between regional grocers and Mass Merchants making it critical for regional grocers to offer a comparable digital experience. But with legacy technology that's clunky, expensive to enhance, and hard to build upon, your mobile app may not be delivering on new features and functionality to enhance customer convenience.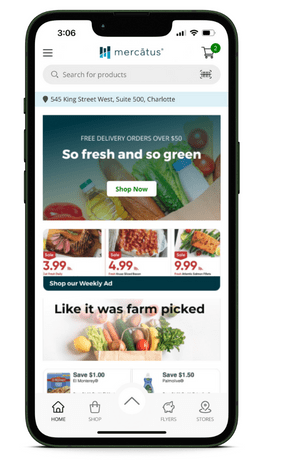 To combat these challenges, it's critical to choose a platform that you can put your brand name on and one that continues to innovate for you. You need a seamless app experience that brings together key features like cart building, personalization, rewards, loyalty, and fulfillment – all to help you achieve omnichannel profitability.
Mercatus Mobile. An entirely new mobile eCommerce experience for grocery retailers.
Purpose built for regional grocers looking to deliver greater customer convenience, Mercatus Mobile gives you the ability to fully control your customer relationships with advanced features and integrations that will drive repeat purchases and lifetime value.
Our white-label app is built upon the leading front and back end frameworks including React Native, and Drupal 9.0, to deliver a fast, responsive, secure, and scalable application. Optimized for cart conversions, Mercatus Mobile also makes it easy for customers to find the items they want quickly and easily.
Additional features of Mercatus Mobile include:
Modern, scroll-style feed to drive cart building actions
Redesigned checkout process for faster cart conversions
Fulfillment integrations with DoorDash Drive and Instacart Connect
Flexibility and control over content configuration with Drupal 9.0 CMS
Edge-to-edge flyer integration with the Flipp SDK
Push notification capability via Airship
Enhanced, single-view couponing experience
Personalization and rewards & loyalty integrations
Support for multiple promotional offers
And this is just the beginning! Our robust product roadmap and a developer friendly platform in React Native will allow for faster feature releases and innovation.
Contact your Program Manager to discuss how you can upgrade to the latest version. For prospective clients looking to upgrade your mobile experience, schedule a call with Sales or learn more on the Mercatus Mobile product page.
---
December 2022
[Fulfillment] [Web] [Mobile]
DoorDash Drive Integration 🚗💨
Hear ye, hear ye! The Mercatus Platform now integrates directly with DoorDash Drive.
The new integration with DoorDash Drive expands the Mercatus ecosystem of white-label fulfillment providers, offering even more flexibility and choice to grocery retailers as they execute on their omnichannel strategies.
In the race to win and retain the online basket, we believe having the ability to work with the right fulfillment partner for your business means greater control of your customer relationships, access to better fulfillment labor models and potentially operational cost savings.
Mercatus-powered online grocery retailers will now be able to tap into the DoorDash fulfillment infrastructure to deliver orders quickly and easily. With this integration, your customers can submit orders for DoorDash fulfillment the same day, next day, or up to 7 days in advance. At the same time, grocers benefit from using Dashers (i.e. DoorDash shopper) to augment or replace in-store labor for order pick, pack and deliver.
Let's jump into how it works:
When a customer places a delivery order (see Figure 1), the order detail is routed from the retailer-owned 1P site to DoorDash on the back-end in a completely seamless fashion. The order submission takes advantage of a back-end API integration to ensure a smooth and scalable exchange of information between the retailer's branded storefront and DoorDash's white-label delivery service.
Meanwhile on the Mercatus Retailer Console, the order is visible and scheduled (see Figure 2). As the Dasher begins the picking process, the order can be viewed in the console and will be synchronized with shopper activities. Once the order is picked by the Dasher, the specifics on what was picked will be updated in the Retailer Console accordingly.
If an order is canceled, the Retailer Console is updated accordingly. And with Mercatus Frictionless Tender, payments are automatically processed after the order is delivered.
If you're looking to expand your 3P fulfillment options, Mercatus' direct integration into DoorDash Drive offers grocery retailers choice in achieving a profitable omnichannel strategy while retaining what matters most, your customer relationships.
For more information, contact us at [email protected] or reach out to your Program Manager.
---
November 2022
[Customer Experience] [Web]
Web eCommerce Enhancements – Fall '22 🍂
We all know how important customer convenience is in grocery eCommerce. Your customers are busy and anything that introduces friction into their shopping experience might be one less item – or worse – one less checkout with your brand.
If you're looking for long-term customer satisfaction, loyalty, and lifetime value, you need a digital experience that evolves with changing shopper behaviors.
Based on analysis of shopper behavior and application of industry-leading eCommerce practices, we're excited to share new features available in our Web eCommerce Enhancements for Fall '22. These enhancements allow for a more seamless web experience that delivers even more convenience to your customers.
Let's jump into the four notable changes for Fall '22:
1. Expanded Header
What's new?
The expanded header now includes two-tiers to make it more convenient for customers to find what they're looking for. In addition to a quick view of product categories on the second tier, a "mega menu" on the left-hand side makes it easier for clients to organize content.  We've also increased the size of the cart status to make it easier for customers to complete their purchase.
Why the change?
Online grocery customers want convenience. They're looking for quick, easy ways to build their cart and checkout. The expanded header focuses the attention of users to the most important activities in their shopping experience: searching for products and building their carts. 
The cart is larger and in a more prominent position encouraging users to complete their order. The user profile right next to the cart also allows for easier access to check order status and update orders.
We've also added a "mega menu" which allows clients to share additional content (e.g. blog, events, healthy living ideas, etc.) without distracting customers from their shopping experience.
2. Responsive Carousel
What's new?
The Home page carousel image can now be set up with responsive images specific to desktop and mobile
Why the change?
While our web experience is built as mobile responsive (and our Home Page carousel will adjust accordingly), we're upping the ante and giving our clients even more configurability.
With the ability to add an image customized for the web (1540×300 px) and mobile (768×860 px), you can give your customers an even more clear and consistent brand experience across all devices. This is especially important as a significant percentage of eCommerce customers shop through their mobile browser. See it an action below:
3. Product Blocks with Horizontal Scroll
What's new?
You can now add product blocks with horizontal scroll for customers to view multiple products with a single click
Why the change?
Make it easier for your customers to build carts with the ability to organize similar products into blocks. Scrollability means you can showcase more items and help customers find what they need – fast. Not to mention, it's a great opportunity to showcase promoted products from CPG partners.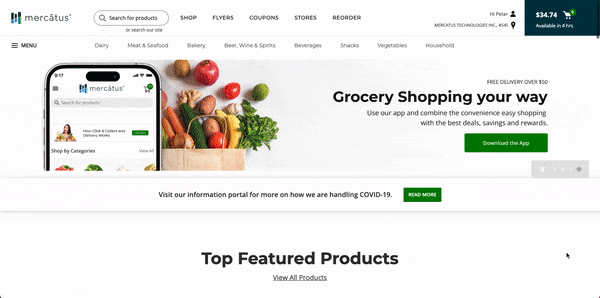 4. Enhanced Product Cards
What's new?
Lots of changes to the product cards! We've expanded the "Add to Cart" button, added an intuitive step counter, and streamlined shopping lists with a "default" option
Why the change?
Product Cards are key building blocks for any eCommerce website. We've increased the size of the "Add to Cart" button (see Figure 1) to match the width of the card. The larger size makes it easier for customers to add the product to their cart and build their basket.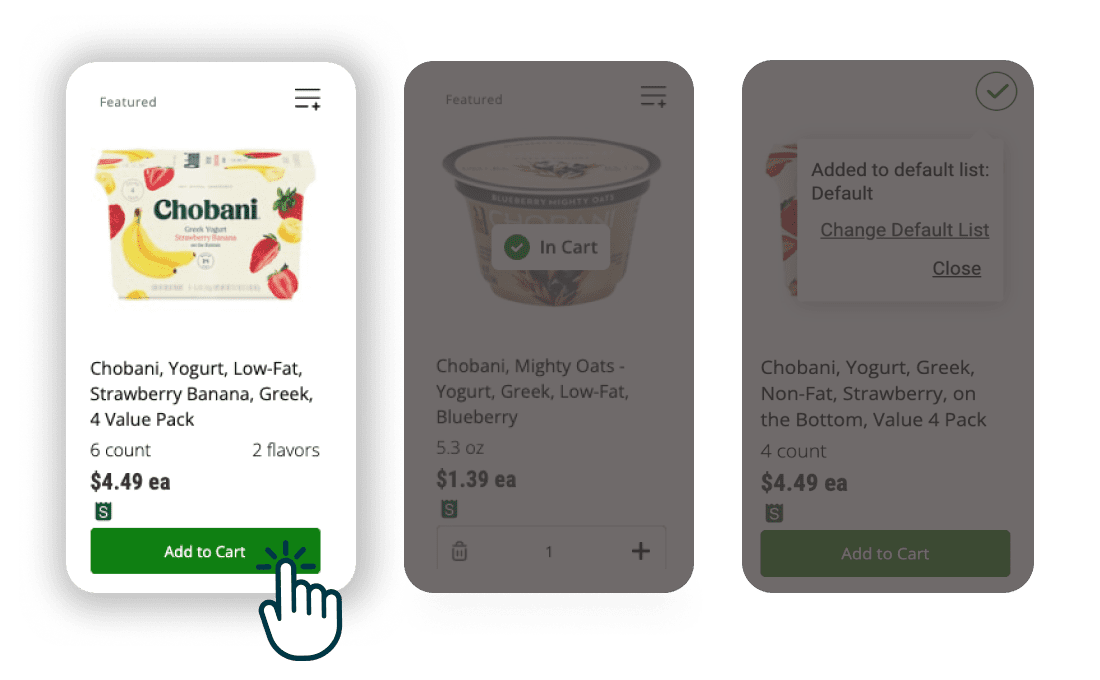 Secondly, to make it easier for customers to add multiple items to their cart, the quantity step counter appears after the item has been added (see Figure 2). The step counter remains on the screen in case they change their mind about the number of items they'd like to add. The step counter also provides a button to remove the item from the cart without having to switch screens – reducing friction in the shopping process.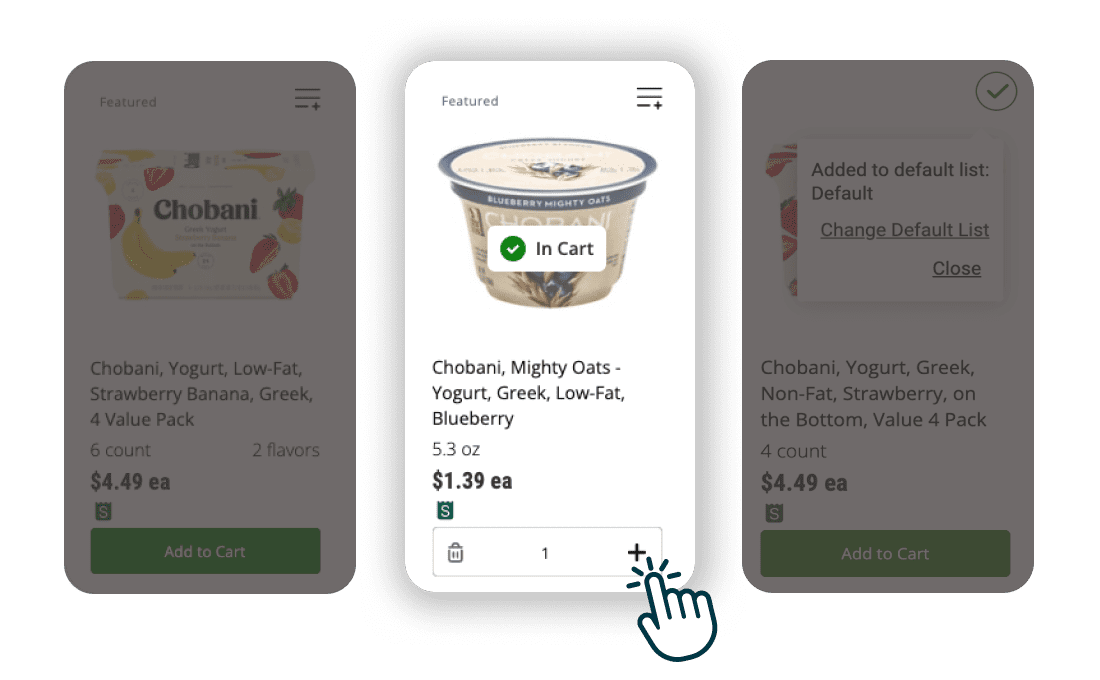 Finally, for shopping list users, we've made the process to add to their lists just a bit easier. Instead of having to select a specific list when you add an item, all items will be added to a default list (see Figure 3).
Based on user research, most users prefer to simply add items to a main default list rather than sort them out during the shopping process. With an automatic add to the default list, this keeps the shopper's focus stays on cart building experience.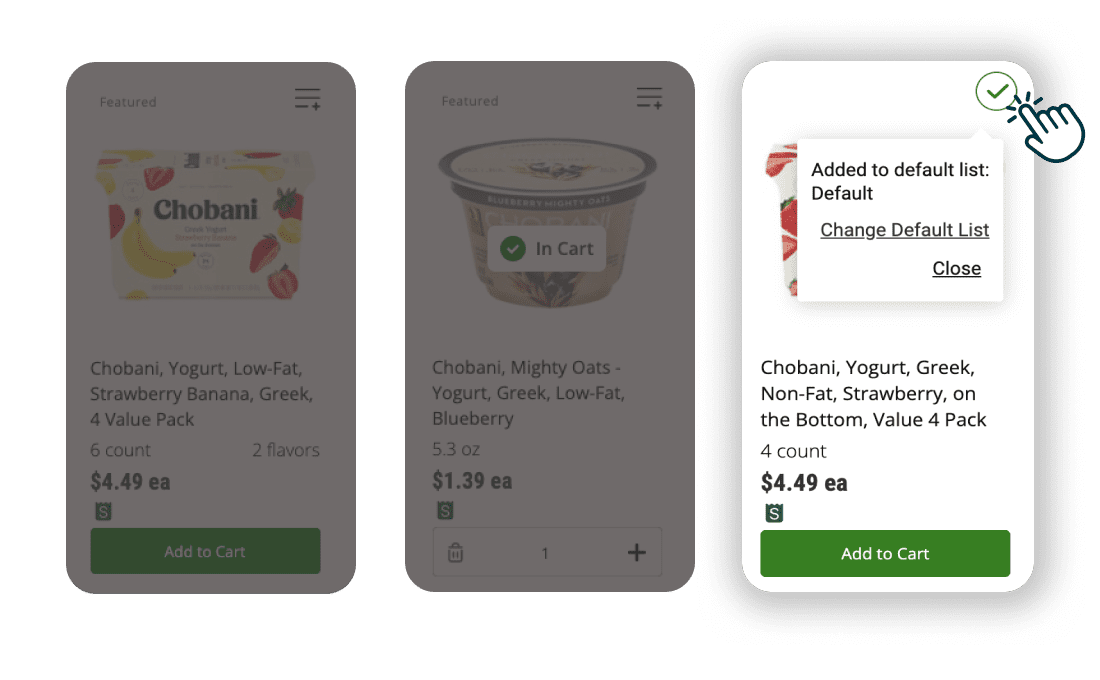 The Web eCommerce Enhancements – Fall '22 are now available for all Mercatus clients on version 3.146.0 or higher.
New to Mercatus? Email us at [email protected] to learn more about our platform features and capabilities.
---
September 2022
[Customer Experience] [Mobile]
Integrated Voice of Customer 💬
If you've downloaded an app, it's likely that you took a look at the reviews before you decided to download it. The higher the rating – the more likely you are to download it.
In fact, insights from the 2022 Mobile Customer Engagement Benchmark Report from shows that an increase in a single star from 3 to 4 stars can lead to an 89% increase in app downloads.
At Mercatus, we know how hard grocery retailers work to maintain brand affinity with customers. In an omnichannel world, this is even more critical. We're excited to provide a brand new VOC feature newly integrated into your customers' mobile shopping experience.
Let's take a look at how it works:
After a new user submits their order, they'll be prompted with a "Love Dialogue" asking them if they love the app.
If the user chooses "Yes," they will be prompted to leave a rating and a review. Ratings will automatically be linked to the App Store or Google Play Store.
If the user chooses "No," they will be prompted to fill out a feedback form to provide more details.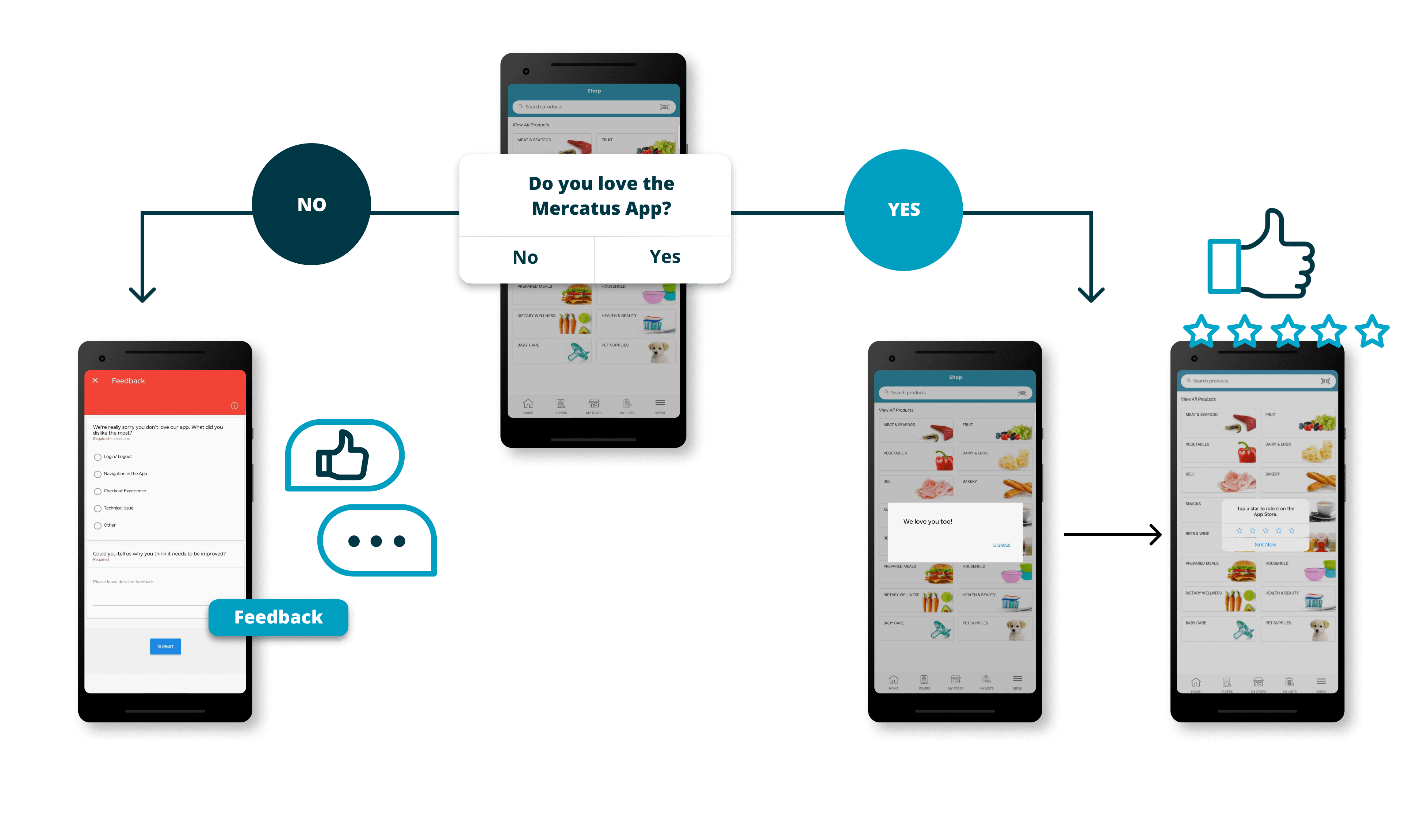 With an average 94% engagement rate with the Love Dialogue, the impact on brand reputation and new user downloads is significant. Let's take a moment to quantify it.
For an average app that gets 100,000 visits per month on the app stores, an improvement from a 3-star to 4-star rating means 45,000 more downloads. With a first-time user conversion rate of 1% and an average basket size of $100, we're talking about $45,000 additional in top-line revenue.
Amplify the voice of your most loyal fans, resolve negative experiences quickly, and grow your customer base with the Integrated VOC.
Integrated VOC is available today for all Mercatus clients. Ask your Program Manager today for more details.
New to Mercatus? Book a demo with our team to see this feature and our platform in action.
---
July 2022
[Customer Experience] [Mobile] [Web]
Item Alterations for Pickup Orders 🛒
Customers love having flexibility. In fact, our research shows that "73% of customers prefer self-service for order cancellation or modification vs. talking to customer service."
It's why we're excited to announce item alterations for pickup orders. With this update, customers can now make changes to their order items (e.g. add/remove products, update item quantities, picking instructions, or substitution preferences) up to a customizable number of hours before their pickup time.
Let's look at a real life example of how order alterations benefits your customers:
Tanya's kids want to film Taco Tuesday for a TikTok. It's Monday evening and her weekly grocery order has already been placed for pickup on Tuesday. Fortunately, with the ability to make alterations, Tanya is able to add all her kids' favorite taco ingredients.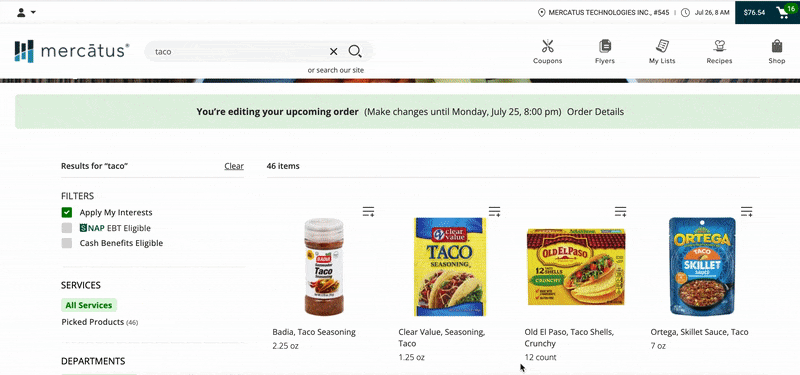 Later on that same evening, she finds out that her kids have invited friends and one of them is vegan. No problem – she can double up her taco ingredients, add a vegan substitute, and even leave specific instructions about substitutions. 👇
And voila! Her pickup order is updated and ready for Taco Tuesday. 🌮
Better customer satisfaction, reduced order cancellations, and lower operational stress on your customer service staff. That's what we're taco'ing about!
Upgrade to the latest version* of the Mercatus platform to activate this feature or contact your Mercatus Program Manager for more details.
*Only available for customers using the Mercatus Pick App.
https://www.mercatus.com/wp-content/uploads/2021/11/202-chat-outline-edited.json
Want a live walkthrough of a feature? Contact your Program Manager or request a live walkthrough with a Mercatus platform specialist.
Get in touch