US eGrocery Sales Trends with Brick Meets Click – July 2023 Insights
July U.S. eGrocery Sales Show a 7% Decline from Last Year, Totalling $7.2 Billion
The numbers from the July 29-30, 2023 Shopping Survey are in. The U.S. eGrocery market saw sales reach $7.2 billion, reflecting a 7.0% dip year-over-year (YoY). This decline was shared across all receiving methods, primarily due to a decrease in order frequency combined with less spending per order, even though there was a larger base of monthly active users (MAUs) compared to last year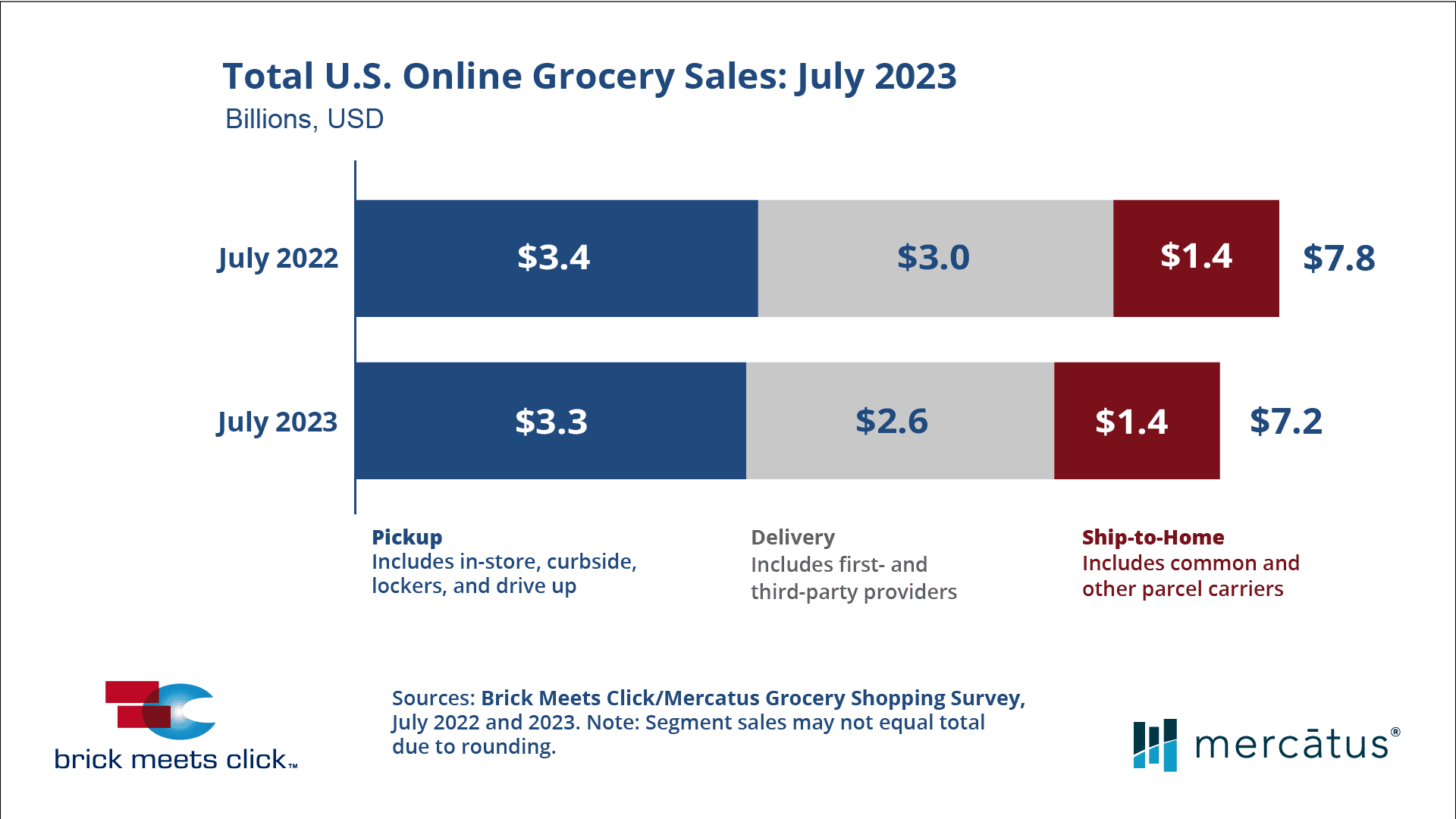 Convenience in Online Grocery Shopping
Delivery experienced the most significant drop, emphasizing the importance for regional grocers to adapt towards pickup services. This is especially pertinent given nearly 70% of online shoppers' preference towards the pickup shopping format.
Shifts in eGrocery Sales Share
The share distribution of eGrocery sales experienced notable changes in July:
Pickup took the lead with a 45% share of eGrocery sales, gaining more than a point from July 2022, even though its sales saw a 4.5% decrease.
Ship-to-Home increased its share by over a point, ending July with a 19% sales share despite a 1.0% dip in sales.
Delivery, on the other hand, lost almost 2.5 points, wrapping up the month with just under a 36% share as its sales plummeted by 12.8%.
The eGrocery landscape is in a state of change, with each service format vying for consumer attention and loyalty. The rise of Pickup, even amidst a sales decrease, indicates an important evolution in consumer shopping behaviors. Shoppers are no longer just seeking the ease of online shopping; they're looking for a balanced blend of convenience and cost control. Pickup offers this balance by allowing customers to schedule a pickup at their convenience, avoiding delivery windows, additional costs and potential missed deliveries.
Differing Performance Between Mass and Grocery
The Mass and Grocery sectors continued to show stark performance differences:
Mass saw a surge in its customer base while Grocery experienced only a marginal increase in MAUs during July.
Order frequency declined for both formats, but the drop was more pronounced for Grocery.
The average order value for Grocery dipped by more than 5% whereas Mass saw a minimal increase.
The surge in Mass's customer base could be attributed to its broader product offering and perceived value-for-money proposition. In contrast, the modest uptick in Grocery's MAUs suggests that localized offerings might not be resonating as strongly with consumers in the current economic climate. The drop in order frequency for Grocery raises questions about consumer loyalty and satisfaction.
The Importance of Customer Engagement and Value
Sylvain Perrier, president and CEO of Mercatus, emphasized the importance of providing value and convenience to customers. "To drive continued engagement, regional grocers need to offer their customers value for their money and more convenient ways they can save," he said. He also highlighted the significance of integrating loyalty programs in a manner that rewards are easily accessible and at the forefront, reminding customers of the monetary value they're receiving.
Key Findings from the July 2023 Shopping Survey:
Online grocery sales in July '23 totaled $7.2 billion, down 7.0% versus a year ago, due to across-the-board declines for all three receiving methods.
Pickup finished the month with a 45% share of eGrocery sales, up more than one point compared to July 2022 as its sales slipped 4.5%.
Ship-to-Home gained over one share point in July, ending with a 19% sales share, with a 1.0% dip in sales. And Delivery ceded nearly 2 and one-half points, completing the month with just under a 36% share as its sales fell 12.8%.
The total number of U.S. HHs that bought groceries online increased during July 2023 nearly 5% versus last year, driven exclusively by gains in Pickup.
The average number of orders per MAU dropped to 2.48, down 9.8% compared to a year ago, driven largely by much weaker demand in Delivery and a large drop within Large Metro areas.
AOVs were under pressure in July '23 versus '22 with very low growth, if any. The AOVs for Ship-to-Home increased just 1% while Delivery grew less than 0.5% and Pickup declined 2% during that time period.
Mass finished July '23 with its highest repeat intent rate to date and its largest gap compared to Grocery, driven by YOY performance differences for Pickup and Delivery services in each retail format.
Weekly HH grocery spending in July '23 increased 7.4% to $200 versus $186 in July '22, while online's share of grocery spending declined to 13.2%, falling 130 bps versus last year.
Key eGrocery Strategy Recommendations for July 2023:
Prioritize Cost & Convenience
The significant preference for pickup services suggests the continued importance of balancing cost and convenience in online grocery fulfillment. Offer a range of affordable options to cater to the diverse needs of customers, and make pickup services more efficient and user-friendly.
Have a Pricing Strategy
Improve profit margins and manage the costs of online order fulfillment with a bifurcated pricing strategy.
Enhance Customer Experience
Provide a seamless, convenient, and positive shopping experience to boost customer loyalty and repeat purchases.
Leverage Satisfied Customers
Utilize positive feedback and recommendations to attract new users to online platforms, potentially expanding market share.
Closing Thoughts
July 2023 marked a 3-month YoY slide in US eGrocery Sales to $7.2 Billion. The shifts in consumer preferences, combined with the challenges of the current economic climate, underscore the need for adaptability in the online grocery sector. As we make adjustments to our strategy, we can better leverage a cost and convenience balanced service to drive greater sales results.
Thank you for joining us in this deep dive into the July 2023 eGrocery sales trends.
Speakers