New Research Shows How Grocery Shopping Behavior Has Changed
Grocery shopping behavior has evolved significantly over the past year, based on our new survey. Here's what you need to know to shape your strategy.
The pandemic brought a new reality to eGrocery, one that has transformed our industry. But what exactly does that transformation look like? And what lies ahead? Those are the questions we wanted to explore in this year's Mercatus Grocery Shopper Survey, a follow-up to our 2020 survey, eGrocery's New Reality.
Uncovering trends in grocery shopping behavior
Over a four-week period in July 2021, in collaboration with Incisiv, we asked U.S. consumers about their retailer of choice, online buying preferences, preferred product categories, and changing modes of order fulfillment. The survey analyzed more than 40 million data points, collected from more than 41,000 respondents across 20 states.
Results are summarized in our report, eGrocery Transformed: Market projections and insights into online grocery's elevated future.
View the Full Survey Results Now
Analysis of the survey results revealed four key insights about how grocery shopping behavior in the US has transformed. The trends we uncovered highlight not only what's going on right now – but also what grocery shopping will look like in the future. This is important information that can help you refine your strategy and plan for the technical innovations that will help you stay relevant to shoppers and capture higher returns and growth. Let's take a quick look at these four key trends.
1. Online adoption continues steady growth
As restrictions were lifted and consumers were able to return to in-person shopping, an interesting pattern in their grocery shopping behavior emerged: online adoption continued to grow. Our research saw online adoption rise 14% from 2020 to 2021.
While shoppers were eager to head back to the store, they had also grown accustomed to online grocery shopping's benefits – many of which will outlast the pandemic. When asked why they shopped online, nearly three-quarters (72%) of respondents cited convenience as their motivation, with time-saving coming in second at 45%. Only a little over a quarter said COVID health concerns were driving them to shop online.
While online average order values (AOVs) dropped by 14% and there were fewer online shopping trips, almost half of respondents purchased from more categories in 2021. These numbers indicate that while panic buying and hoarding behaviors are down, consumers are more comfortable now buying groceries online as part of an omnichannel shopping experience.
Going forward, we predict that the increase in consumer adoption will offset the marginal reduction in monthly online shopping trips. After considerable market analysis, Incisiv is projecting that the online share of grocery revenue will continue to grow and will account for 20.5% of total grocery sales by 2026.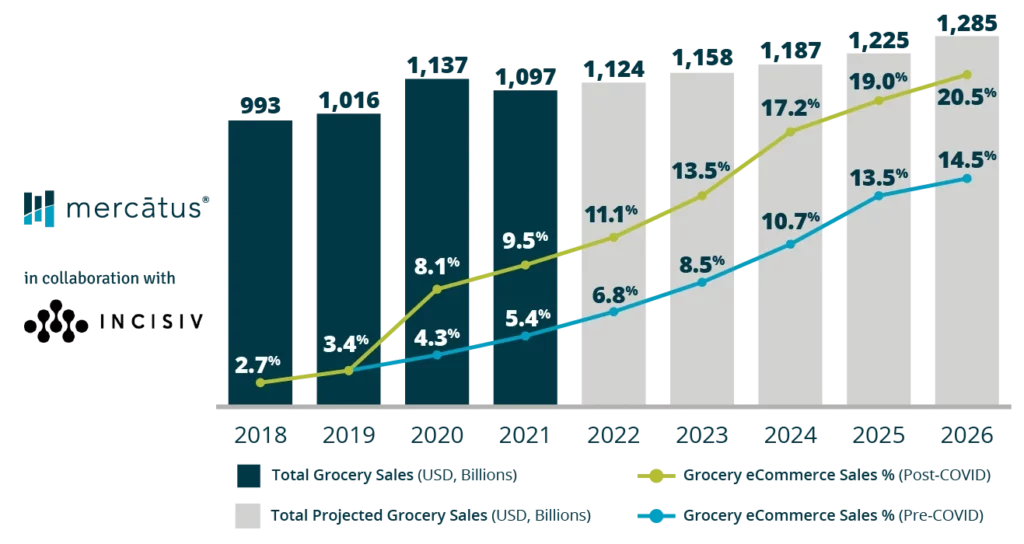 CAGR for Online Grocery
What you need to know: The online market will continue to be there in a significant way. Many shoppers enjoy the option of having both in-store and online available to them. It's important to continue to strengthen your online offering to attract and retain shoppers.
2. Demographics reveal important differences in grocery shopping behavior
In this year's survey, we included additional demographic breakdowns in the data collection. We broke down responses according to age groups and looked at grocery shopping behavior based on respondents' ethnic backgrounds.
We discovered that millennials and African Americans had the highest online adoption rate, number of monthly online purchases, and average order value.
What you need to know: Understanding your customer's needs and preferences is key to eCommerce success. Review the survey findings to learn where you can adjust your strategy to better serve the demographic makeup of your particular customer base.
How can you appeal to your shopper demographics? Find out by downloading our survey report.
3. Brick-and-mortar stores are the bedrock
Fulfillment is an integral component of the online shopping journey, so our survey takes an in-depth look at how orders get into the hands of shoppers.
Our key takeaway from the 2021 survey: the brick-and-mortar store continues to be central, even to the online experience. That's because so many shoppers are submitting their orders, then heading to the store to pick them up.
Adoption of curbside pickup increased by 9% in 2021, with 61% of shoppers using the service. In contrast, the adoption of home delivery was stagnant, remaining at the same level as in 2020, with less than half (46%) of shoppers using the service.
During COVID restrictions, 69% of online orders were fulfilled at the store, either through in-store pickup or curbside pickup. Post-COVID, we expect a full 75% of online orders to be fulfilled via pickup services.
Delivery, in contrast, is expected to shrink to below pre-pandemic levels.
What you need to know: Brick-and-mortar stores will be the bedrock of fulfillment. Making the right investments to ensure a quality pickup experience for your customers is pivotal to a successful future.
How well did grocers perform this year on Customer Satisfaction scores for fulfillment capabilities? Download the survey to find out.
4. The future is mobile
One fascinating and incredibly important finding of this year's survey is that shoppers are increasingly using their retailer's mobile app – often for assistance during in-store shopping. For example, a shopper might use it to locate a specific product, check for promotions and deals, or for self-checkout.
It's not surprising to learn that in the next two years, they intend to shop for groceries on their mobile phone at a rate three times higher than on their desktop.

The transition to mobile is a trend that's occurring in many industries: banking, retail, healthcare, entertainment, and foodservice. It makes sense that grocery shopping – inherently an "on-the-go" activity – would follow suit.
What you need to know: A fully omnichannel experience that offers the ability to shop in-store, online, and by mobile app is now essential. If you haven't yet invested in a shopping app, or if the experience on your app needs improvement, this is the time to address it. See how you can attract new shoppers and deepen your relationships with existing shoppers with Mercatus Mobile.
Stay up to date on what today's shoppers want and learn how grocery shopping behavior has changed since 2020. View demographic breakdowns, market projections, and insights for grocers in the new Mercatus shopper survey, eGrocery Transformed. Download your copy of the report.
Looking for more ways to refine your eCommerce strategy? Check out these resources: