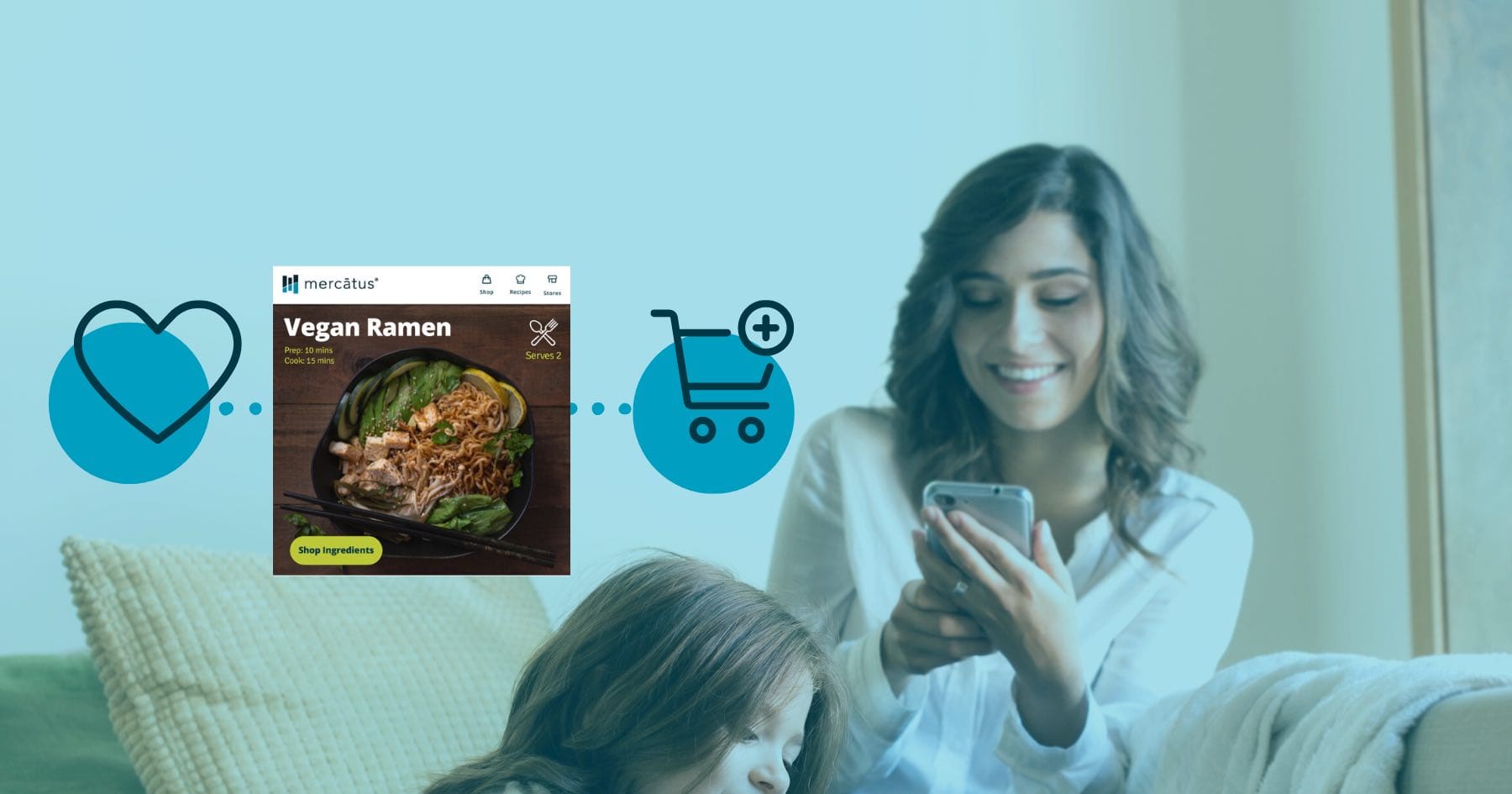 Online Grocery Store Marketing Tactics to Deliver Delightful Omnichannel Shopping Experiences
With the pandemic challenging decades of deep-rooted business practices, grocery retailers were forced to adapt at an unimaginable pace to accommodate evolving consumer preferences and shopping patterns. Digital marketing, in particular, has become a core function for retailers to attract, convert, and retain customers.
In order to compete in today's online-first environment, grocers need to build their strategic and tactical know-how in the digital marketing space. In fact, it's the only way they can drive traffic to their website, engage their customer base, and drive customer lifetime value. Thus, a deep understanding of online grocery store marketing tactics is critical to driving profitable growth hereon.  
2020 was the year of evolution. 2021 saw online grocery shopping become the norm. 2022 is turning out to be the year that will define what the future holds and determine the fate of national and regional grocers. September eGrocery sales have dropped nearly 3% compared to the same time last year. This confirms that shopping patterns have evolved further in the past 12 months and it is going to be a challenging year for grocers, in terms of maintaining steady profitability and keeping up with changing consumer expectations.
As inflation begins to hurt shoppers' wallets and grocers' bottom line, online grocery pickup emerges as the most preferred fulfillment method, and consumers begin to value convenience over brand loyalty, marketing teams are faced with the complexities of having to overhaul their strategies to drive traffic to their online stores, enhance basket size, and build loyalty.
In this blog post, we will look into 11 marketing tactics that are sure to move in the needle when it comes to achieving success with your online grocery fulfillment program:
11 Online Grocery Store Marketing Tactics That Will Help You Win in 2022
1. Build an effective SEO strategy for your online grocery store
Optimizing your site pages for search engines will enable you to expand your reach to shoppers who are in the market looking for products that you sell. However, to get the desired results, your strategy needs to be built on targeting the right keywords. So, before jumping right into the optimization process, take your time conducting keyword research to zero in on the high search volume and high intent phrases you should be going after. Try not to target keywords that are highly competitive or ones that don't have much traffic; neither of these will help drive the intended visitors.
Also, target low-hanging fruits such as optimizing product titles and category names to include high search volume keywords. This will ensure your pages start ranking steadily, without much effort. Next, look towards optimizing page load speed to reduce bounce rates – one of the leading challenges that online retailers need to solve.
2. Invest in grocery store digital advertising to boost revenue
Once you've managed to drive traffic to your store, you can't simply wait for customers to fill out their baskets and checkout. Native digital advertising allows you to deliver ads as part of your customer's digital experience without interrupting their process. Thus, you can enrich your customer experience with engaging ads that improve basket size and drive loyalty by making it more convenient for customers to add items to their cart, improving product discovery, and boosting conversions by offering relevant product recommendations. 
Since native ads are meant to blend seamlessly into the page experience, make sure your ad copies are completely relevant and meaningful to your target audience, instead of focusing on making them catchy to gather clicks. To enhance the effectiveness of your native ads, A/B test multiple variations of each ad to allow data to conclude what works best with your target audience. Be it the headline, image, or CTA, automating your optimization process and letting the audience decide the winning variation is the simplest way to increase your conversion rate and ad revenue.
Also, choose a platform that comes with professionally managed services that will support you with driving sizeable advertising revenue through native ads by improving customer engagement.
3. Leverage email marketing to share grocery promotions and flyers
When it comes to online grocery store marketing tactics, this one is a no-brainer. Email has always been known as an effective direct communication channel to share updates with shoppers about the latest promotions, deals, and offers. However, with the amount of noise that makes it to your customers' inboxes today, standing out remains to be one of the most critical challenges.
To cut through the clutter, make an effort to understand what customers really care about and what exactly would move them to take the desired action, so you can target them with personalized campaigns. For example, if a certain segment of your audience has displayed consistent interest in a particular product category, you want to tailor your product recommendations, promotions, and deals to suit their preferences. Or if another segment has been a consistent user of your loyalty program, you want to use email marketing to share tips on how they can maximize their rewards.
Even if you are running campaigns around seasonal and holiday sales, sharing digital coupons, promos, and flyers, be sure to first create intelligent customer segments based on customers' purchase history so you can tweak your content based on what is most likely to engage and convert.
Emails are also proven to work effectively in combating cart abandonment. So, you can trigger email drips that feature exclusive, time-bound coupons that instill a sense of urgency to target shoppers who've expressed purchase intent but abandoned their baskets before checkout.
4. Double down on social media marketing for your online grocery store
Social media is where brands have the most candid relationships with their potential customers, and it has grown to become a necessary evil to continuously improve reach, maintain top-of-mind awareness, and foster engagement. However, to build a social presence that stands out, the key is to customize your strategy around content that resonates with your target audience.
For instance, visual content around recipes really helps engage followers by offering them real value or behind-the-scenes videos can help generate more awareness around your private-label brand and how products are manufactured. Since user-generated content helps build unparalleled credibility for your brand name, you can incentivize your loyal customers to create and share their online shopping experiences on your site. You can even partner with lifestyle and health influencers to talk about leading a balanced life on your channel – something that your followers find meaningful and helpful.
5. Regularly create and distribute useful content relevant to grocery shoppers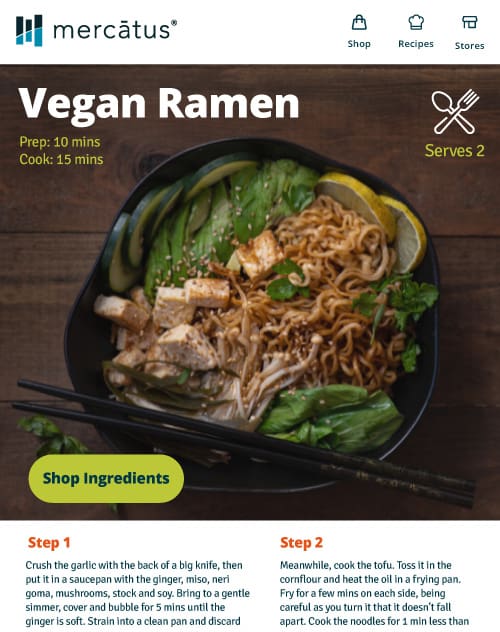 As a top-of-the-funnel strategy that enables grocery retailers to generate brand awareness and traffic, content marketing is anything but new. However, the real challenge lies in creating content that engages customers, while standing out from the noise to retain their attention. And when it comes to online grocery, content that simplifies customers' shopping and meal planning experience is highly rewarded.
For example, blog series around healthy and sustainable living, weekly newsletters around innovative recipes, interactive video sessions with experts on optimizing nutrient intake while on special diets, etc. are the kind of content formats and topics that would interest today's smarter buyers. 
Take Whole Foods, for instance. The tips and ideas that they share on their blog are all centered around healthy eating and making the most out of products in everyone's fridge, freezer, and pantry. Over the years, they've mastered the art of creating relevant, meaningful, and engaging content for their grocery customers.
Similarly, Kroger's blog is full of seasonal recipes that make it extremely easy for customers to purchase the required ingredients at the click of a button.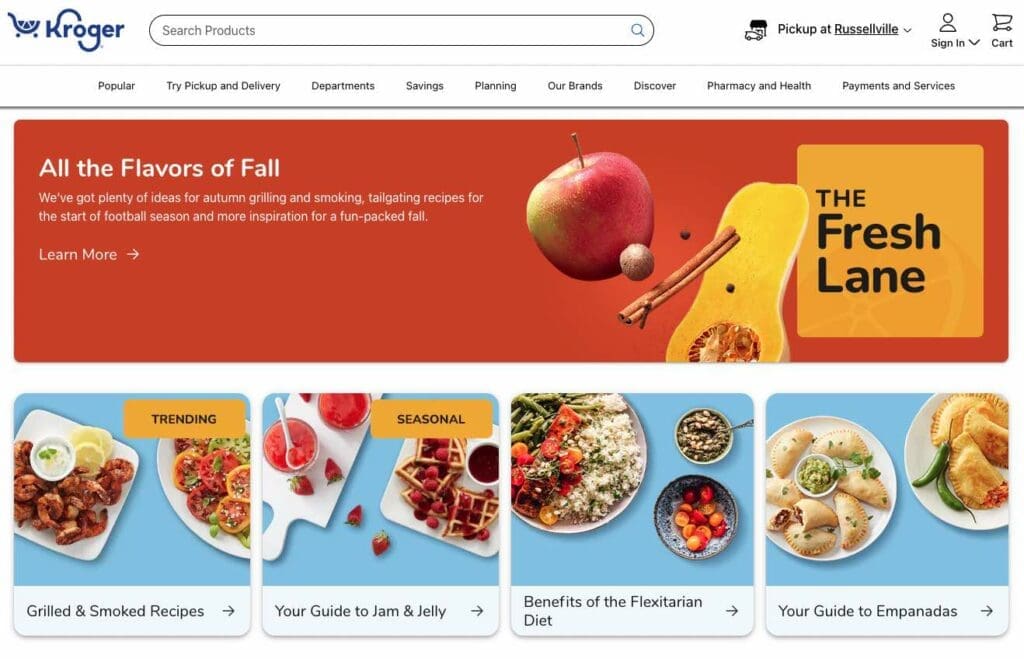 6. Go mobile-first with your online grocery store
With as many as two-thirds of all online grocery orders being placed on mobile, going mobile-first is the only way to sustain and scale in this landscape. Apart from optimizing your grocery website for a seamless experience on mobile devices, developing an app that allows customers to place their orders is just as important. This will not only allow you to meet the changing preferences of grocery shoppers but also drive more diverse traffic to your online store and maximize your revenue. 
Going mobile-first is a big step towards thriving as an online grocery store today, but not the only one. You need to go the extra mile to match grocery shoppers' evolved preferences. Voice search, for example, is slowly becoming the preferred way to look up grocery items online while being occupied with a parallel task. Similarly, investing in push notifications will allow you to target your mobile grocery shoppers with relevant promotions and updates that are likely to drive them to the app and convert. 
Check out Mercatus's Mobile Grocery eCommerce platform to see how you can foster fully optimized mobile shopper experiences.
7. Incentivize sharing grocery product ratings and reviews
With 82% of grocery shoppers admitting to reading reviews before buying products, collecting and promoting reviews can really help move the needle in terms of boosting basket size. From sharing reviews and ratings on the grocery commerce website to posting post-purchase experiences on social media, retailers can make the process simpler, rewarding, and engaging for their customers. For example, each review could earn loyalty program members certain points that add up towards a discount on their future baskets. You can even create an online community on a popular forum and share informational content while inviting customers to share their reviews, feedback, and tips with fellow shoppers.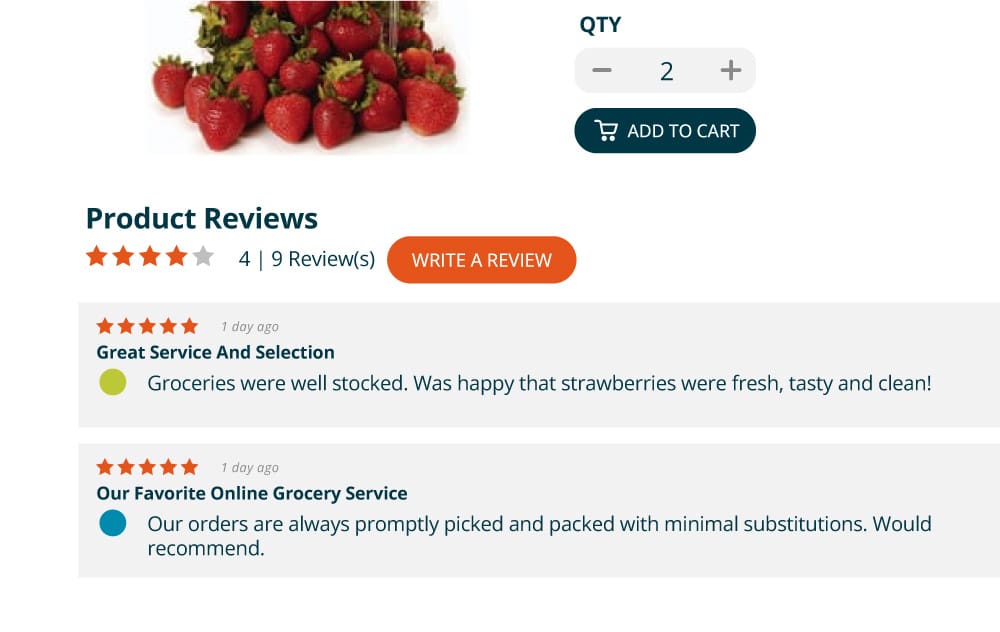 8. Use SMS marketing to drive high-intent grocery shoppers
It's a common misconception that SMS marketing is a medieval channel that has lost its effectiveness over time. However, with average open rates of 99% and click-through rates of 45%, SMS seems to be showing no signs of slowing down in terms of driving marketing ROI. When it comes to online grocery stores, SMS marketing can be leveraged by retailers to share personalized coupons and promotions, post-purchase thank you messages, loyalty points reminders, updates on upcoming seasonal sales, send inventory alerts, pickup and delivery alerts, weekly bestsellers, and so on.
With promising click-through rates, SMS campaigns can turn out to be one of the most effective ways to drive high-intent traffic to online grocery stores.
9. Develop a sampling program to simulate the in-store grocery shopping experience
In-store grocery shopping is so much more than just picking products from aisles and adding them to baskets, and online grocers are having a hard time replicating that experience on screens. One way to make the online grocery shopping experience more rewarding is to create a sampling program around sending freebies along with customers' ordered items to build awareness around new products while giving buyers something different to look forward to. 
You could invite customers to select the samples they wish to try out or randomly hand them out depending on the basket size. Either way, you are sure to boost engagement with buyers who still prefer the in-store experience. 
10. Build a digital loyalty program or subscription-based offer
Exciting loyalty programs are known to boost customer lifetime value and make acquisition easier. And we know that it's way harder to move the needle on both of those metrics with online grocery compared to traditional in-store shopping, where customers can be nudged to sign up during checkout. Therefore, e-grocers need to develop a program that not just improves customer engagement and retention by nurturing long-lasting relationships, but also one that online shoppers see value in and are eager to sign up for. 
Try to think of how you can gamify the points-earning experience to add an exciting dimension to the program, along with the standard way to earn points with each purchase. You can also incentivize shoppers who opt for product subscriptions with additional points. Another way to promote your brand would be by introducing a VIP tier, that allows shoppers to avail of additional services with no extra charge (think free delivery, priority shipment, etc.). 
Also, since personalized offers take the cake over universal promotions, you can introduce customized ways of redeeming points to keep up the excitement and hype of your loyalty program.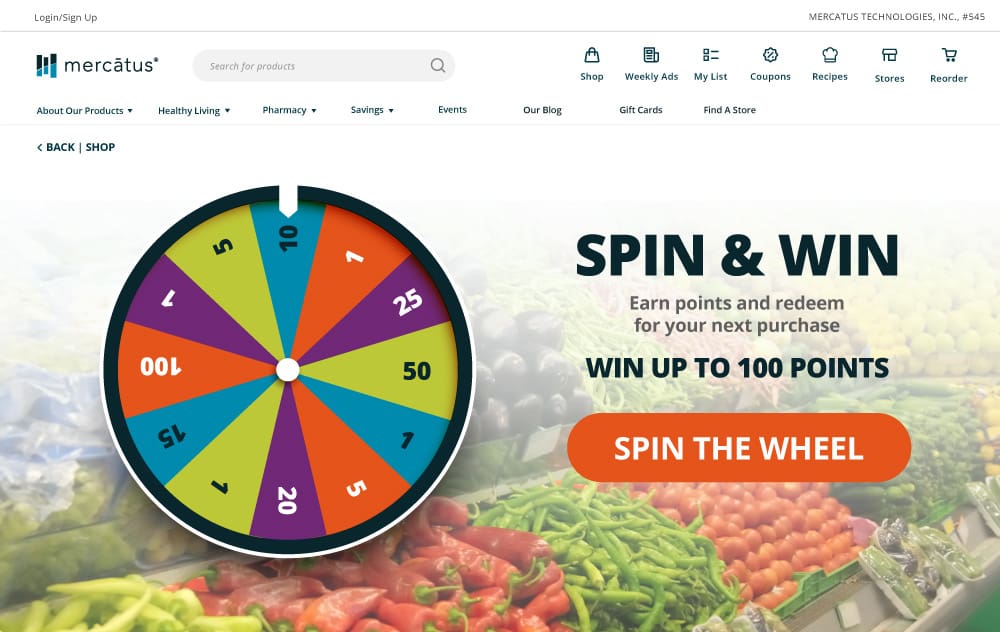 11. Utilize onsite and in-app banners and content cards to create urgency for products
Apart from native ads that push customers to try out products that they are likely to find useful, onsite and in-app banners provide subtle nudges that add to the overall shopping experience. You can utilize these to display time-bound deals, products that are running out, seasonal promotions, and virtually anything you would find on a banner in a grocery store. Not only can you boost your average order value, but also simulate the in-store shopping experience to give grocery shoppers more ways to engage with your online brand and explore your store to the fullest.
Content cards are another fantastic form of promising rich media that you can embed onto your grocery website or app. Content cards allow you to boost engagement rates by delivering personalized experiences in the form of promotions, product recommendations, and subtle nudges to complete checkout. Moreover, as per statistics shared by Braze, a multi-channel customer engagement platform, content cards can improve conversion rates by 22%. So, in an effort to deliver dynamic and targeted grocery experiences, content cards are definitely worth experimenting with. 
Partner With Mercatus to Boost Your Marketing Efforts and Achieve Limitless Growth for Your eGrocery Business
When it comes to online grocery, we understand that grocers have a lot of choices. Whether it's sticking with existing marketplaces, building your own site, or selecting the right eCommerce vendor for your business, there are viable options with pluses and minuses for each.
At Mercatus, we believe finding the right solution shouldn't come with a compromise. Omnichannel grocers deserve an option that delivers the best of all worlds:
Ownership of your customer data to preserve loyalty & profit
Flexibility to integrate into existing systems and processes
Advanced features such as endless aisles, prepared food, recipe lists, etc.
Proven and trusted by other grocers
All-in-one vendor from implementation, training, and support
From distributing digital coupons and flyers to managing ad campaigns, the powerful and robust Mercatus platform comes with the required tech sophistication to handle it all for you, so you can effortlessly engage shoppers and drive them to your online store.
When it comes to online grocery store marketing tactics, Mercatus is designed to manage your campaigns so you can divert your focus on growth strategies. The best part is that you can achieve all this while having complete control over your shopping experiences and not compromising on customer loyalty.
The Mercatus platform is designed to enable you to stay connected with your customers at every stage in the funnel and deliver omnichannel consistent multi-channel shopping journeys that convert far better. Witness the platform in action by requesting a demo by one of your experts, and you won't be disappointed.