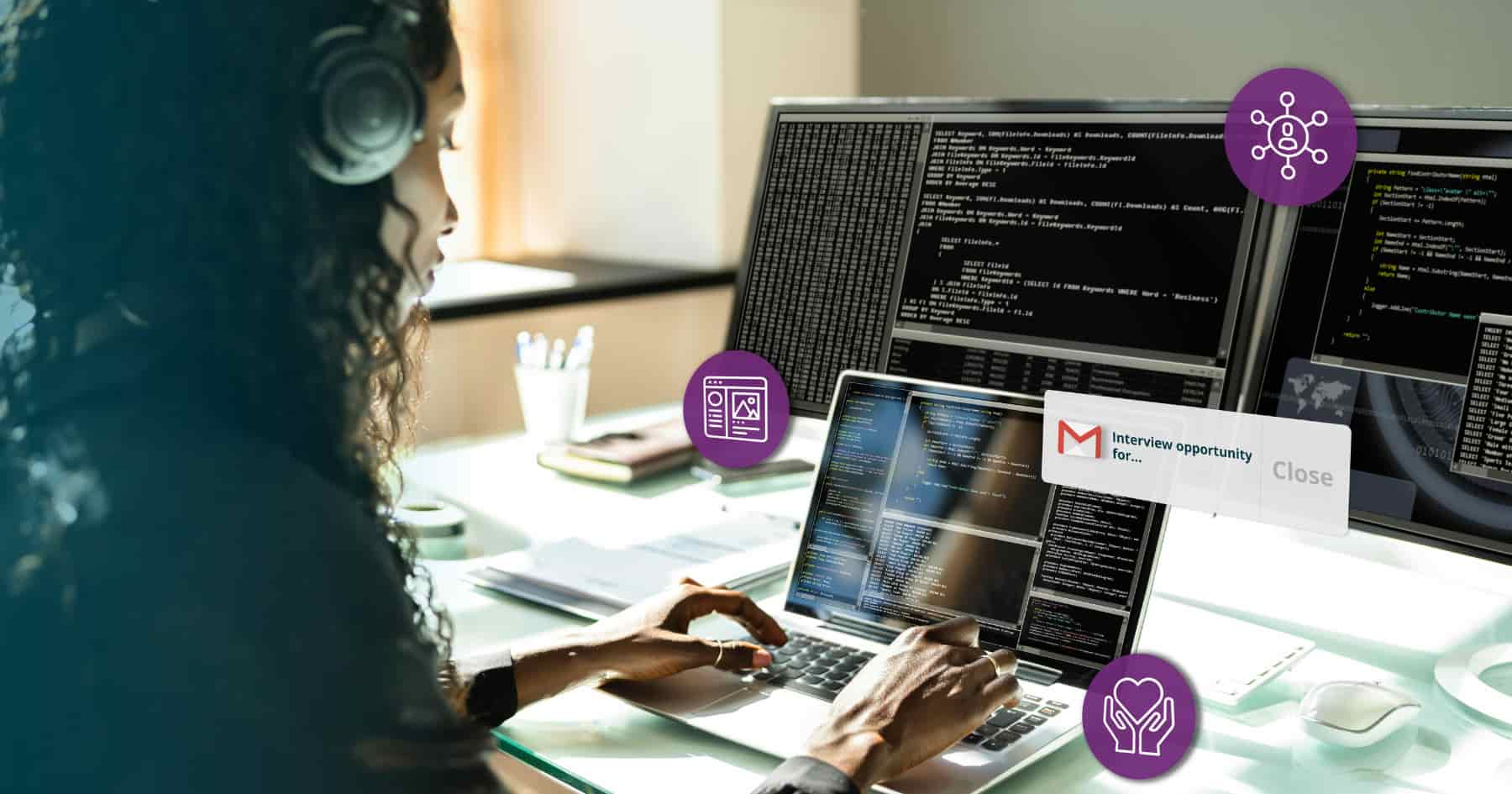 How to get a job in tech – A Guide to Finding Your Next Career Opportunity
Calling all tech enthusiasts! For those of you trying to get a job in tech, the current market can seem overwhelming. Especially if you are just entering the job market or are new to the tech space. There are plenty of job postings across several job boards and finding the right opportunity takes time and skills. Further complicating your path to tech employment are the many other highly skilled individuals vying for the same positions.
It can be challenging to stand out as an applicant when you are trying to get a job in tech. However, with the right strategies and mindset, it is possible to differentiate yourself and succeed in your tech career journey. Lucky for you, we've prepared the following guide that could help secure your next tech job.
Here are 5 tips for job seekers looking for their next career opportunity.
Put yourself out there
To be visible to recruiters and companies, you need to establish a professional online presence. This differs from personal social media profiles, where you can share hobbies and activities with friends and family. A professional online presence allows you to showcase your work experience and skills.
LinkedIn is an excellent place to start displaying your tech skills and work experience. Recruiters often use LinkedIn to post job openings and source new talent. Set up your LinkedIn profile by adding your work experience and relevant skills. Make sure to use keywords related to your desired tech-related field to be found by recruiters. For example, if you're an aspiring software engineer, include that keyword throughout your LinkedIn profile.
In addition to a LinkedIn profile, you can visually showcase your work experience and tech skills. Hiring managers often ask for a portfolio, so it's important to have one on hand. You can use your portfolio to showcase your best work.
Taking it a step further, consider launching your own website. This will offer recruiters a more in-depth look into your work experience. If you are a software developer, confirm that your website is accessible and that your licenses aren't due to expire during your job search. If you are an aspiring web designer, ensure your website is visually appealing.

Know where to look
Many companies post on job boards every day through Applicant Tracking Systems (ATS). Hiring Managers will use an ATS to send postings to industry-standard job boards, such as LinkedIn and Indeed. LinkedIn and Indeed have filtering options for applicants looking to get a job in tech specifically.
Both LinkedIn and Indeed have tons of tech-related job postings because that's where companies are most likely to post them. They're a great place to start looking for roles relevant to you. However, it's also important to broaden your horizons and look beyond the industry standard. Sometimes, when organizations are actively trying to increase Diversity – they will post on related job boards.
If you're looking to join an organization that prioritizes diversity, equity and inclusion, check out these related job boards:
Tech Ladies is a worldwide community of women trying to get a job in tech. In addition to an exclusive job board, they also provide women in tech opportunities to learn, network and grow their careers.
PowerToFly's mission is to promote diverse, inclusive, and equitable workplaces. They connect diverse talent with company decision-makers and have a dedicated job board with over 50,000 job postings. Additionally, they host virtual job fairs to create networking opportunities for underrepresented groups in tech.
Believe in yourself
It's important to take the time to reflect on your strengths and weaknesses. What value are you bringing to a potential employer? Knowing your value will give you the confidence to apply for job roles you don't feel 100% qualified for.
You may not always meet all the requirements listed in a job posting. Apply anyway! Consider transferable skills from previous work experience, volunteer work, or education that will make you a successful candidate. Recruiters are looking for folks who are passionate about the role and willing to learn new skills along the way.
Building a network of support
Networking is excellent for individuals looking to get a job in tech. Start by reaching out to your existing network and see if any opportunities are available. LinkedIn is a great tool for expanding your network. Check LinkedIn to see if you have any connections at companies you are interested in, and conversely, check where you have connections and see if those companies are hiring.
If you're pivoting to a career in tech, consider joining industry groups where you can meet like-minded people and learn more from them. Attending information sessions can also be a great way to network and get your name out there.
Lastly, consider attending virtual or in-person networking events. These events will have a high percentage of recruiters and can allow you to bypass the resume filter. You never know who you might end up speaking with; it could be a peer from your field, recruiter, startup founder, engineering manager, or VP of a large company. Make a good impression and you'll be top of mind if their organization has any roles that might be a fit. Be sure to connect with the attendees you spoke with on LinkedIn after the event to keep the conversation going.

Take care of yourself
Trying to get a job in tech can grow tiresome, especially after a lot of back and forth between companies with no final answer. During this time, it's essential to take care of your mental health. Do not let rejection discourage you from finding the perfect role and company.
Make sure to spend time with family and friends and keep yourself busy with hobbies and activities. Focusing all your time on the job search leaves little time for self-care. Ensure you are eating healthy, exercising, and getting plenty of sleep.
If you find yourself struggling mentally, talk to the people in your life about what you're struggling with. It's likely that they have also gone through what you're currently experiencing and can support you through this time. If necessary, seek professional advice.
Now that you have tips for getting started. How can you stand out as one of several job seekers in tech? Here are some tips for creating a unique application.
Prepare your references
Before applying for jobs, make sure to have a list of 3-5 references ready. Ask past managers, co-workers, mentors, career counsellors, professors etc., if they would be willing to be a reference for you. If you have previously carried a managerial role, make sure you have at least one past manager as a reference. Many technology companies use 3rd party services to check references. Ask the recruiter what the process is so you can prepare your references for what to expect and when.
Customize your job application
Recruiters and hiring managers often review hundreds, if not thousands, of applications. You can make yourself stand out as a candidate by tailoring your resume and cover letter to fit the job description.
Pay attention to the skills and tools outlined in the job description. If you have worked with the same or similar tools in the past, include them as keywords in your resume and cover letter. You should also try to customize the tone of your applications. Research the company's hiring managers to see if they are using casual language, sharing hobbies, activities etc. If so, consider applying a similar tone to your application.
You'll notice that some applications will ask preliminary questions. Take the time to fill these out, even if they are optional. These are another opportunity for you to stand out from the other applicants.
Prepare for your interview
You've finally landed an interview, great work! Before heading in for your interview, research the company's product or service offering, the hiring manager who will be interviewing you, and the company culture. This information can be found online through the company website or on LinkedIn.
Make sure you have a good understanding of the skills and knowledge required for the role. Brush up on any relevant technologies or concepts you may have experience with. The interviewer will ask behavioral and situational questions, so prepare stories that speak to your expertise.
It's important to note that while you're being interviewed, this is also an opportunity for you to determine if the company is a good fit for you. Prepare questions in advance that will help you learn more about the company culture and role you are interviewing for. Don't be afraid to admit if the position wasn't as great a fit for you as when you applied.

Post-interview follow-up
After the interview, it's essential to follow up with the interviewer within 24-72 hours. Thank them for their time and reiterate your interest in the role. Mention a specific conversation point that was meaningful to you and ask any questions you may have left over. If you don't hear back from the interviewer within a reasonable timeframe, don't be afraid to reach out and inquire about the status of your application.
Come work with us!
We're hiring for many different positions, and we welcome you to apply. Read more about our company culture and open roles on our careers page.