US eGrocery Sales Trends with Brick Meets Click – January 2023 Insights
Overview
In January of 2023, the US eGrocery Sales experienced a slight decline of 1.2% from the previous year, with total sales coming in at $8.4 billion. This change in total sales was characterized by a 15% drop in the Ship-to-Home segment, which fell to $1.3 billion. However, Pickup orders posted a strong increase, with almost 3% year-over-year growth to $4.1 billion, while Delivery orders remained relatively stable at around $3.0 billion.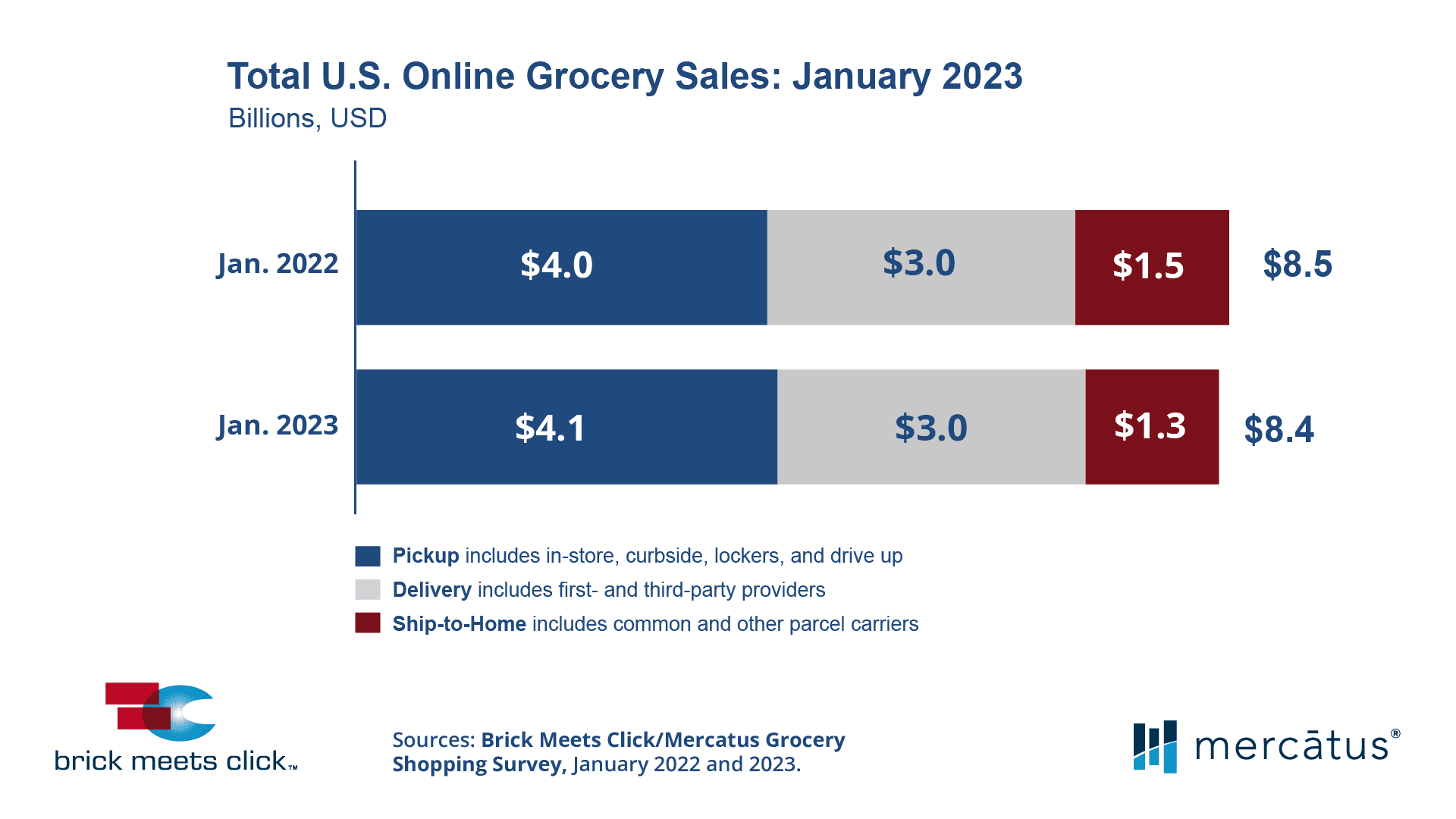 These figures are part of the monthly Brick Meets Click/Mercatus Grocery Shopping Survey fielded in late January 2023; which also found that the total overall eGrocery user base for January dropped 1.6% compared to last year. This decline was driven by a 2% decrease in Delivery monthly active users (MAUs) and a 10% drop in Ship-to-Home MAUs compared to the previous year. In contrast, Pickup MAUs grew by 1%, expanding its respective user base.
The regression of MAUs was driven by the 30-44-year-old age group, which was down 5% from the prior year, and the 60-and-over age group, which contributed to the softening with a 4% drop.
US eGrocery Sales survey also found that Mass retailers continued to see strong demand, with a more than 20% increase in monthly active users during January compared to the previous year, while the overall Grocery MAU shrank by 6%. Cross-format shopping between Grocery and Mass remained close to 30% for the month and was up slightly versus a year ago.
Order frequency trends varied between MAUs of Mass and Grocery, with Mass seeing a 4% increase in order activity compared to last year, while Grocery experienced order frequency growth of less than 1%.
Meanwhile, the decline in repeat intent was concerning, with the likelihood that a customer will use the same service within the next 30 days dipping approximately two percentage points versus last year to 60%. The Grocery repeat intent rate now hovers just above 50%, trailing Mass by over 14 percentage points in January, the largest gap since measurement started.
Concerning current health issues, the focus is no longer solely on COVID. The flu and RSV have also become sources of anxiety for customers. According to the research, it is estimated that approximately 7% of the total Pickup and Delivery monthly active users for January 2023 were partly driven by these health concerns.
According to Sylvain Perrier, the President and CEO of Mercatus, grocery stores should concentrate on efforts that promote repeat engagement and customer loyalty in order to increase their share of customer spending. Perrier stated that customers now anticipate retailers to connect with them based on their individual tastes and buying behaviors. To create a more personalized experience, a retailer's first-party data can be utilized as a starting point to categorize customers.
Overall, the survey results suggest that the US online grocery market is undergoing major transformations, with some segments growing while others are declining. To address the decrease in repeat intent rates, grocers should examine the root causes and implement strategies aimed at boosting repeat engagement and loyalty. This will enable them to increase their share of spending among their existing shoppers.
Want more insights? Make sure to read the complete press release here.
Speakers