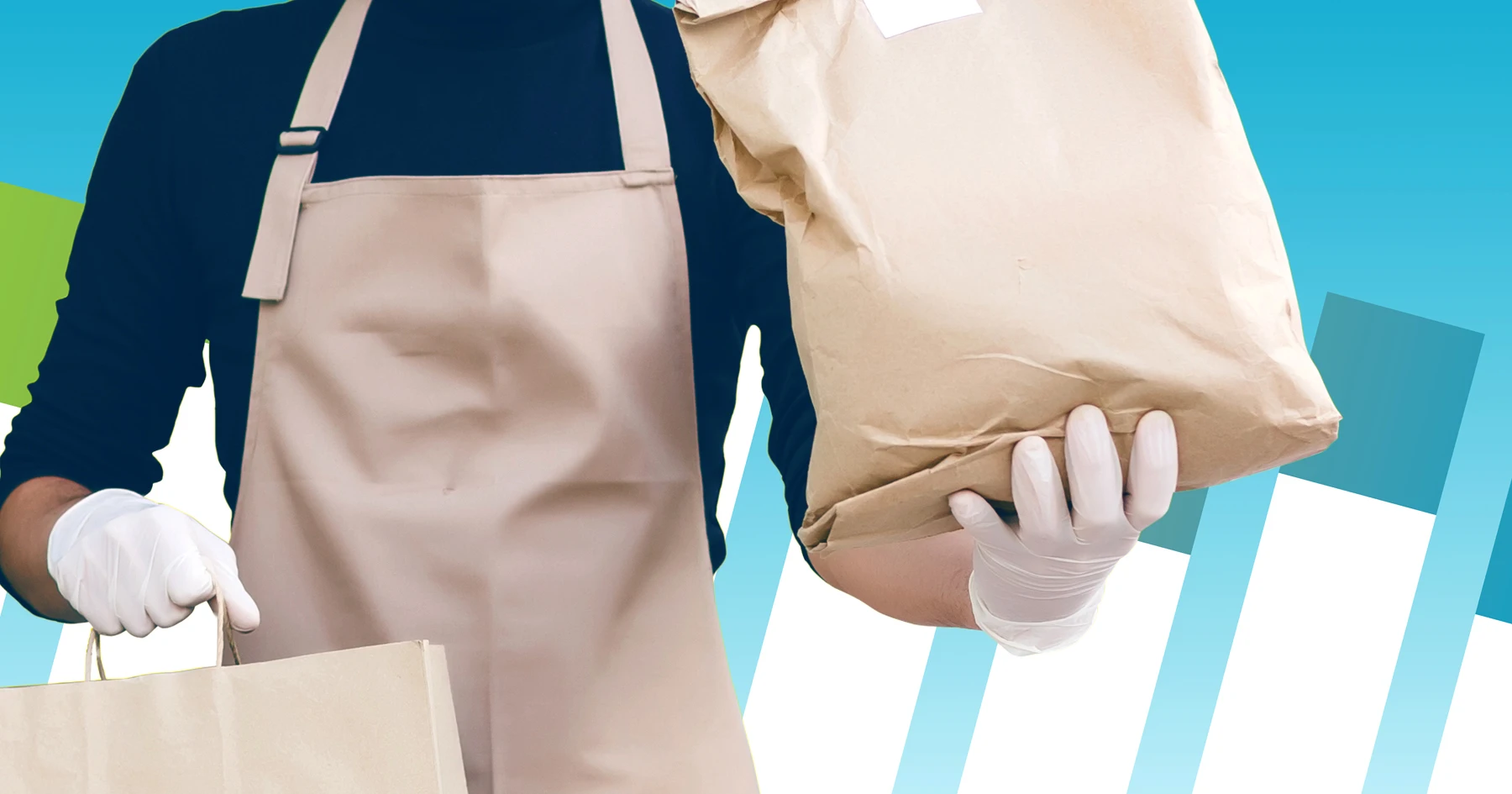 Curbside Grocery Trends: How to Win the Pickup Battle
February shopper survey data points to key curbside grocery trends. Here's how regional grocers can differentiate to win over shoppers.
While the number of total online grocery orders decreased in February 2021 compared to January, pickup orders gained sales share and captured their highest share to-date. This is consistent with curbside grocery trends since 2020 and reinforces the fact that offering successful curbside pickup should be a key area of focus for grocers. Of concern, however, is the decline in customer satisfaction, as indicated by intent-to-repeat rates, particularly in the all-important first-time user segment.
These were some of the key findings of the Brick Meets Click/Mercatus Grocery Shopping Survey fielded Feb. 26-28, 2021. The survey is part of an ongoing and independent research initiative created and conducted by Brick Meets Click and sponsored by Mercatus. We explored some interesting insights in a recent chat between Mercatus' Mark Fairhurst and David Bishop from Brick Meets Click.
Here's a sneak peek, but you can watch the full video here.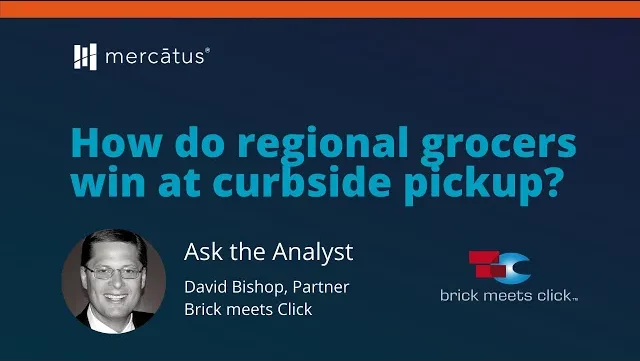 <iframe title=""YouTube" src="//www.youtube.com/embed/NzdL26u8l7E" width="560" height="315" frameborder=""0"" allowfullscreen="allowfullscreen">&lt;span data-mce-type="bookmark" style="display: inline-block; width: 0px; overflow: hidden; line-height: 0;" class="mce_SELRES_start">&lt;/span></iframe>
What are the implications of these curbside grocery trends? And how can you use this information to your benefit to grow market share? Let's take a closer look to find out.
Curbside grocery trends: pickup sales are dominating
Online grocery spending dropped 14% to $8 billion in February, down from January's record high — a change that was not unexpected given that change was foreshadowed by customer sentiment measured in the January wave. A breakdown of that figure reveals that delivery and pickup services together accounted for over three-quarters of online sales, or $6.1 billion. Of particular note: pickup numbers in February increased 5% from January, grabbing nearly 48% of online sales in February. This share is higher than at any point since August 2019 — including all through the stay-at-home orders of 2020 — making pickup the dominant leader in fulfillment of online grocery sales in the U.S.
Part of the reason for this growth is that people requesting curbside pickup are spending more. The average order value (AOV) for pickup increased by $6 in February, whereas delivery's AOV declined by $7.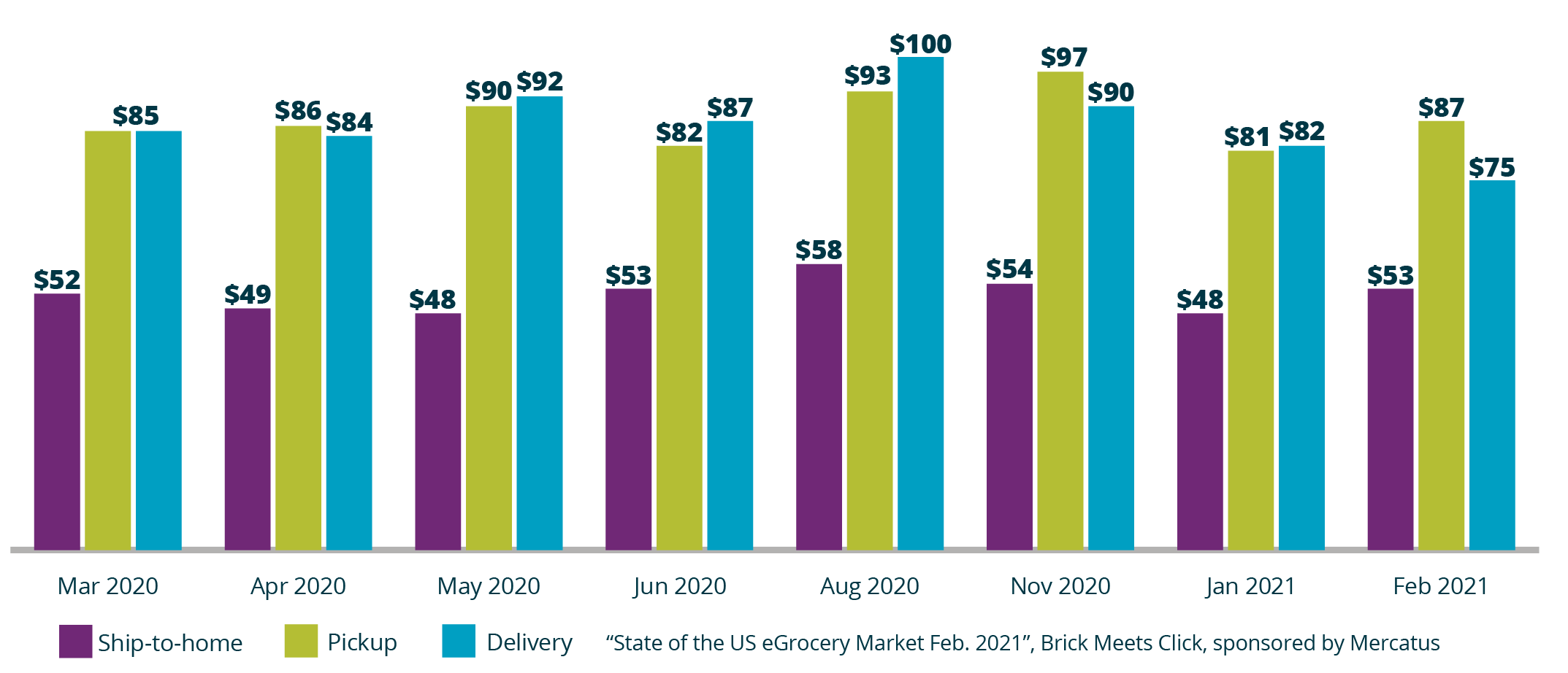 The dominance of pickup over other fulfillment methods is especially notable in markets outside of large urban centers. In the medium (250K to 999K people) and small (50K to <25K) metro markets, and even smaller markets (<50K), grocery pickup was clearly the preferred choice over delivery and ship-to-home. In large metro areas, the three fulfillment methods ranked more or less equally.
As a service that offers convenience at an economical price, it's no surprise that curbside pickup is capturing an ever-larger share of online grocery sales, dominating certain markets, and enjoying a higher AOV than other fulfillment methods. It's clear that succeeding in curbside pickup is of pivotal importance to regional grocers.
Many First time customers were not impressed
Given the importance of grocery pickup as a preferred fulfillment channel, ensuring customer satisfaction in this area is critical to ongoing success. But is this happening? Well, yes and no.
Overall, satisfaction rates in February were basically equal for both pickup and delivery customers. But for customers using these services for the first time, there is a dramatic difference. Repeat intent scores for shoppers using pickup for the first time were below 30%. That's more than 10% lower than the scores for first-time delivery customers.
In this month's Q&A video, David Bishop notes that "These scores are concerning as pickup is only becoming more vital to brick-and-mortar retailers for both strategic and economic reasons."

The online shopping battleground is now curbside pickup, not delivery, making it essential that grocers provide "a frictionless curbside fulfillment experience that wins the customer the first time, every time," according to Sylvain Perrier, president and CEO, Mercatus.
But this is becoming a challenge. Consumers are experimenting with more online and fulfillment services than ever before. As a result, they hold up every new retail interaction against these other experiences. This includes a comparison against retail giants like Walmart and Target. These large chains have been investing heavily in fulfillment technologies, so not only can they deliver on price, but also on speed and convenience.
Making a good first impression is essential to ensure that new customers return, so you can capture loyalty and build a higher customer lifetime value (CLTV).
So, how can regional grocers step up their game?
How regional grocers can win over shoppers at curbside
As we explore in the Q&A video, it's important for the regional grocer to remember that there are many reasons shoppers choose their brand over a retail giant's brand. Don't try to compete on the big box store's terms — compete on the basis of your own strengths. Depending on your brand strategy, your competitive advantage might be premium quality, product variety, or friendly customer service, for example — benefits a big-box online experience may be hard-pressed to deliver.
Whatever your competitive advantage, there is one critical thing all regional grocers should take note of what is the actual curbside pickup experience from the point of view of the customer? And how can you use that insight to improve the customer experience and therefore the repeat intent rating?
Wait times, for example, are a key success factor for curbside pickup, and a pet peeve of many pickup customers. Again, it's a matter of compared experiences. If a shopper has used a pickup service that brings the order to the car in the gold standard of two minutes or less, and then uses another pickup service where they wait five minutes, or perhaps even 10 minutes or more to receive their items, it's an automatic failure.
But with the right technology to help you pick and pack orders faster and track shopper location to ensure a smooth order handoff at the curbside, you can meet that gold standard.
Discover how you can optimize fulfillment and reduce shopper wait times at curbside to 2 minutes or less with Mercatus Enhanced Fulfillment.
This is just one example of how the customer perspective can suggest which areas need attention. There are many others: Does the customer struggle to find a parking spot? Is the signage clear so new users know where to go and what to do? Is the customer put on hold when they call in their arrival? Taking a customer-centric view can help identify weaknesses and improve your pickup program.
Access the full monthly data insights and learn how you can win the grocery pickup battle.