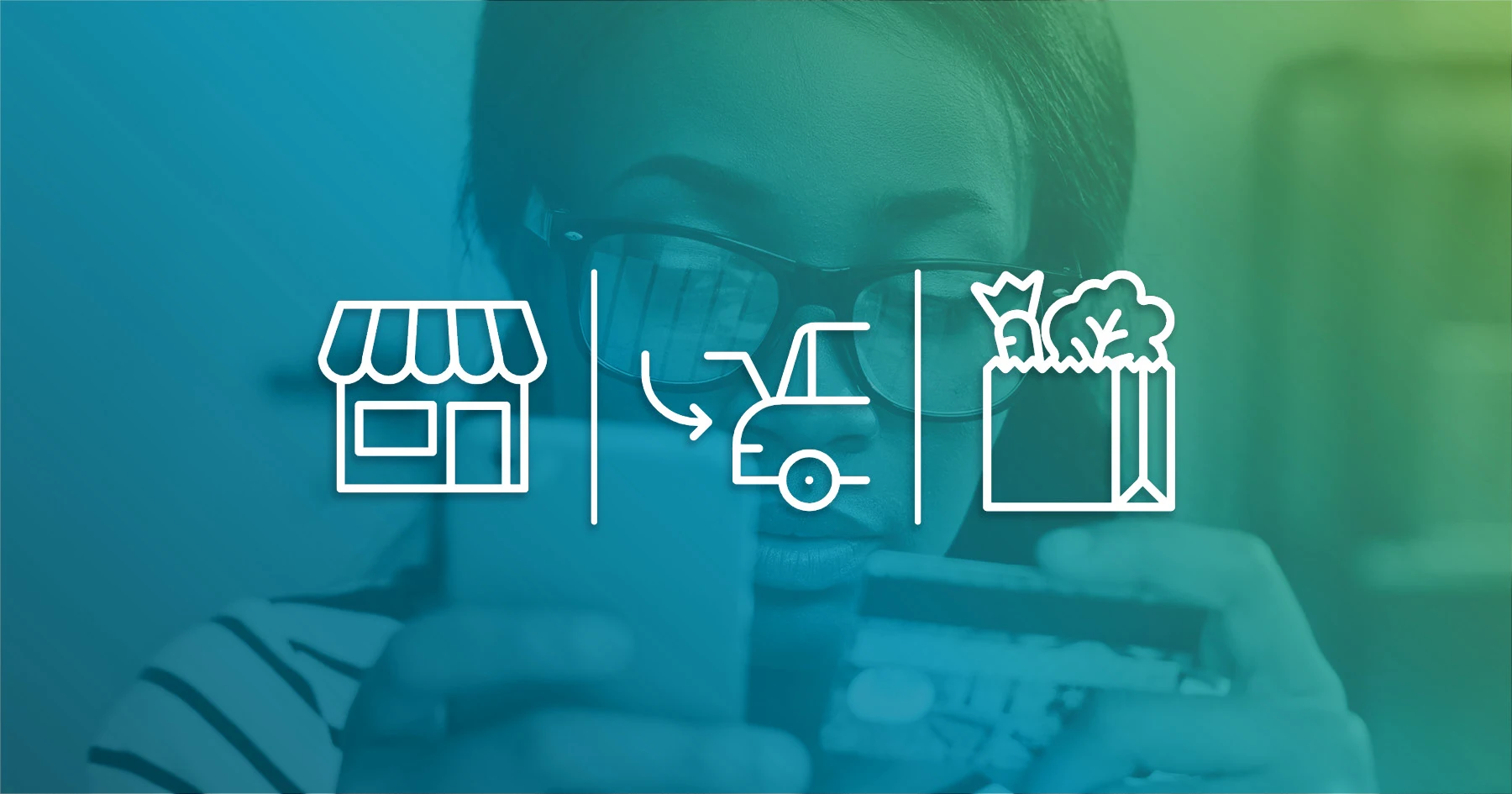 Grocery eCommerce Growth: What the Last 2 Years Have Taught Us
Grocery eCommerce growth has boomed over the past two years. Two years of insights reveal the consumer trends and the takeaways for grocers.
To measure grocery eCommerce growth and shopper behavior through the pandemic, in March 2020 Brick Meets Click began conducting a monthly Grocery Shopping Survey, sponsored by Mercatus.
Pre-pandemic, the survey was conducted annually since there was a modest grocery eCommerce growth rate at the time. But when the pandemic reached the U.S., Brick Meets Click anticipated that this was a very disruptive moment for grocery shopping and grocery retailers. 
"COVID demonstrated how quickly circumstances can change," says David Bishop, Partner, Brick Meets Click. "And because of the uncertainty triggered by this, monitoring buying behaviors monthly not only makes more sense, but it also helps us better understand why those shifts are occurring."
Using Brick Meets Click's last annual survey before the pandemic, which was completed in August 2019 – the monthly surveys provide an invaluable comparison of the online grocery industry pre- and post-pandemic.
This high-level view of grocery industry trends helps inform where the industry is heading. It also offers valuable insights into what's required for grocers to succeed. Here's a recap of what we've learned.
Trend: Online Is Here to Stay
The changes in shopper behavior over the past two years have shed light on the evolution of online grocery shopping and its role in American households. The numbers suggest that what began as a niche market has gone mainstream.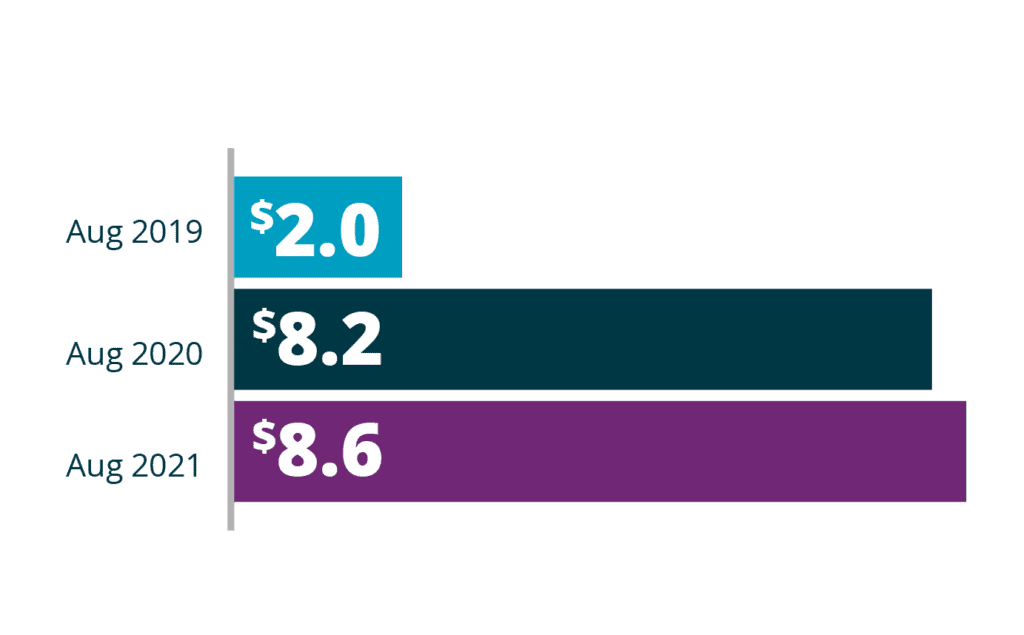 From August 2019 to August 2021, monthly online grocery sales grew 430%, rising from $2 billion to $8.6 billion, according to Brick Meets Click's insights.
Projections indicate that online sales will continue to grow. Mercatus' annual grocery consumer survey (eGrocery Transformed) conducted with Incisiv Research, anticipates that online grocery sales will reach 11% of total US grocery sales next year.
Although this may be considered welcome news for grocers who invested in developing eCommerce capabilities, it also points to challenges that grocers need to tackle.
"It's clear that while most grocers were planning for the future, no company – and I mean zero – were prepared to live it today," says David Bishop.
The central challenge going forward is improving the profitability of online shopping services so that they're more self-sustainable and less dilutive to enterprise earnings. 
Takeaway: One way to achieve this is to add an owned eCommerce experience that sits at the center of your eCommerce strategy. This helps you build stronger customer connections, gain control over your eCommerce and manage costs more effectively.
Owning your eCommerce means you have more opportunities to increase profitability. You can collect additional revenue through digital advertising, and by upselling and cross-selling to your customers.
And with control over the experience, you can build out profitable fulfillment processes that get orders into customers' hands faster, improving satisfaction and loyalty. This brings us to the next two-year trend….
Trend: Shoppers Prefer Pickup
Going into the pandemic, ship-to-home was the dominant fulfillment method. The monthly surveys tracking grocery eCommerce growth also tracked the ongoing race between ship-to-home, delivery, and pickup. 
Eventually, the dust settled, and pickup emerged as the clear winner. In the August 2021 survey, fielded August 29-30, ship-to-home sales had dropped nearly 22% compared to the previous year, to $2 billion. Meanwhile, the combined delivery/pickup segment grew more than 16% to $6.6 billion.
Moreover, the Mercatus report eGrocery Transformed clearly indicates pickup as the most preferred fulfillment method, with 75% of survey respondents preferring store pickup.
"Circumstances created by COVID-19 may have motivated households to shop online for groceries, but as that's happened more of them are using pickup. There are two reasons many customers prefer pickup: cost and control," says Brick Meets Click's David Bishop. 
Pickup is less expensive, with the fee usually being around half that of delivery for grocery retailers, while it's free at most mass formats. And the cost differential is even greater when the tip is factored into the equation as delivery often involves one, while pickup doesn't.
Pickup gives the customer more control over the experience through certainty and quality. Customers choose when to arrive at the store during their designated time window, which improves the level of certainty about how long they'll need to wait to receive an order. With delivery, a customer needs to be prepared to wait around for the entire receiving window, which could be 1 to 3+ hours long. Customers also tend to receive products that are in better condition via pickup as the chain of custody is better managed up to the transfer point, helping to keep frozen foods frozen, for instance. This is challenging with delivery – especially when drivers are batched out multiple orders and often lack the necessary resources to maintain products at the proper temperatures.
Takeaway: If you signed up with a third-party marketplace in the early days of the pandemic as a manageable way to make online shopping and delivery available to customers, it's important to also offer pickup, whether curbside or in-store. This will help you attract and retain the greatest number of customers.
Using advanced picking and packing methods and technologies can speed up the fulfillment process for both pickup and delivery orders. And the ability for customers to notify the store when they arrive shortens their wait time at pickup, improving the customer experience.
Trend: Cross-Shopping
Online grocery shopping makes it easier to do the weekly household shop – and easier to shop around.
The monthly insights show that a sizable share of consumers who shopped with a regional grocer also shopped with a mass merchant retailer in the same month. In August 2021, the crossover rate was nearly 26%, more than eight percentage points higher compared to August 2019. Why is this important to know?
When shoppers make a purchase elsewhere, they form new expectations around price, quality, and convenience. And those expectations will affect how they evaluate experiences at your store, for example: 
How long do they wait in your parking lot before order handoff?
Does the quality of the produce live up to expectations?
Were substitutions handled to their satisfaction?
What was the overall quality of the experience?
Takeaway: It's more important than ever to focus on building a best-in-class experience that satisfies the escalating expectations of your shoppers as they become more seasoned online shoppers.
Efficient, high-quality picking and packing operations, choice of pickup and delivery windows, speedy order handover, and smart substitutions are some of the ingredients for an exceptional experience. By honing your execution, you'll satisfy your customers' need for control and create a stronger connection. This in turn boosts loyalty and customer lifetime value. 
Understand Your Customers' Needs
The Brick Meets Click/Mercatus monthly insights are an important way to monitor and measure the evolution of US households in connection with the role and impact of technology.
The ongoing initiative also measures customer behaviors at other, meaningful levels. This includes first-time versus repeat users, age groups/generations, and urban versus rural locations. These types of demographic and behavioral breakdowns can provide regional grocers with insights on how to appeal to their specific shopper base. 
The monthly insights have proven to be an invaluable guide to measuring grocery eCommerce growth throughout the pandemic. They continue to help grocers understand how they can leverage technology to drive greater efficiencies and effectiveness that improve the experience for customers and profitability for retailers.
Don't miss out on the important insights provided by the Brick Meets Click/Mercatus Grocery Shopping Survey. Subscribe now