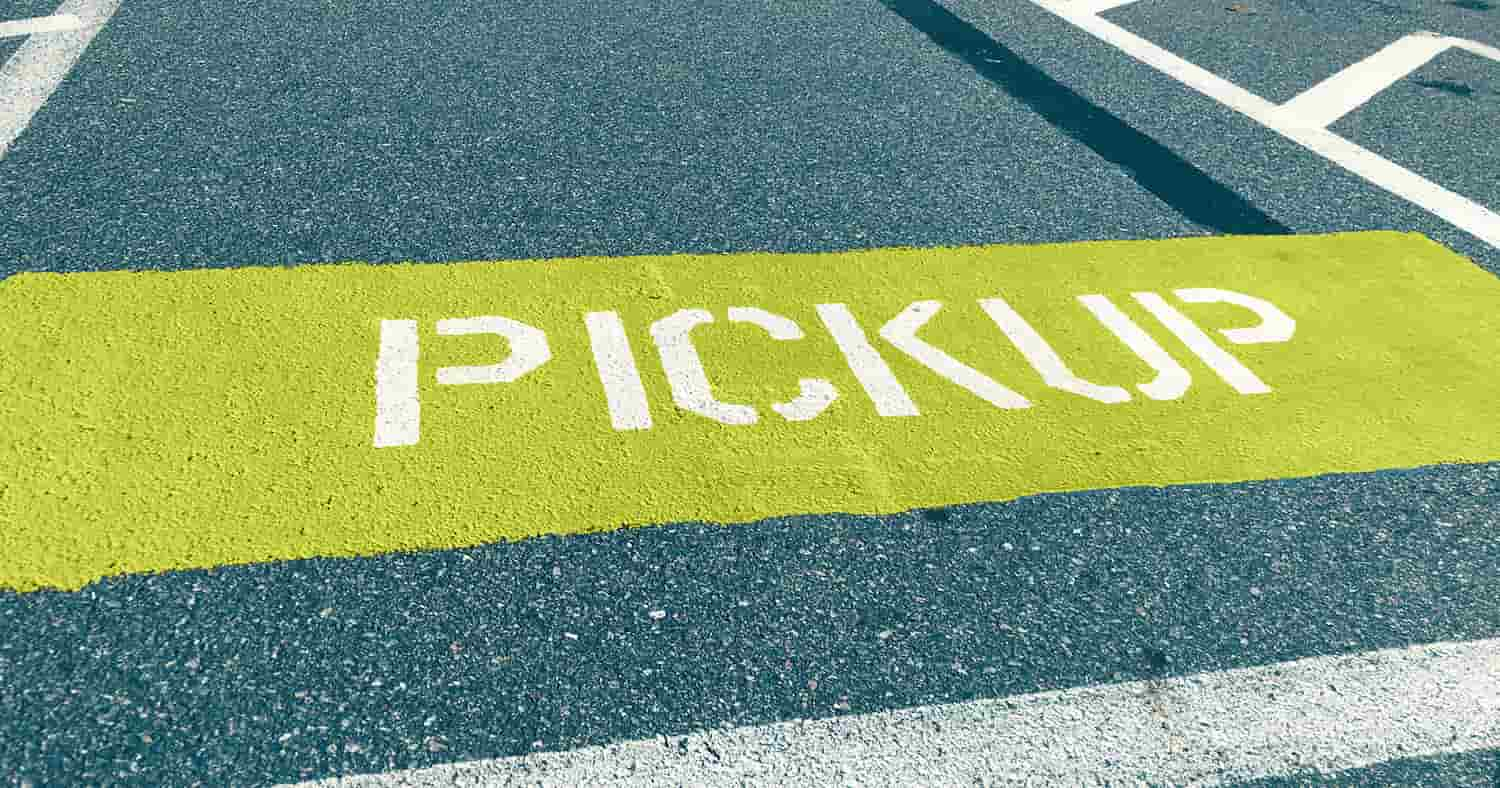 The Secrets of Online Grocery Pickup Revealed
Online grocery pickup success is more important than ever. Ensure your pickup program is effective and future-forward with these best practices.
Online grocery pickup and delivery services, which were already showing impressive growth before the pandemic, skyrocketed with COVID lockdowns and persisting health concerns. While demand for grocery delivery peaked during the course of the pandemic, customers' preferences shifted as the situation evolved and their pain points changed. Over time as restrictions eased, pickup emerged as the preferred fulfillment method among online grocery shoppers.
Total online grocery sales surged from a pre-COVID baseline of $2 billion to $8.6 billion in 2021—a 430% increase. Sales in April 2022 were down slightly ($8.1 billion) but still far above pre-pandemic levels, according to the Brick Meets Click/Mercatus Grocery Shopping Survey for April 2022.
Whether it is dominated by delivery or pickup, online grocery shopping is expected to continue its growth trajectory, accounting for as much as 20.5% of total grocery sales by 2026—or an estimated $263 billion, according to the Mercatus and Incisiv 2021 Grocery Shopper Survey. This makes it more important than ever for retailers to invest wisely in their grocery delivery or pickup offering.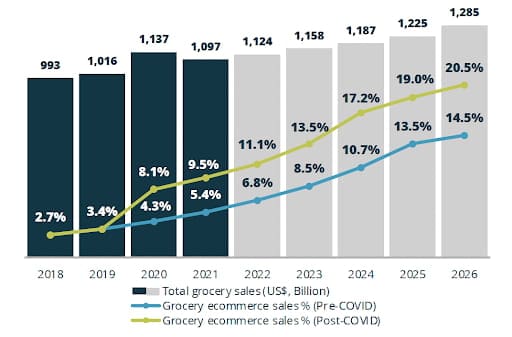 Battle of the fulfillment methods: Online grocery pickup wins over delivery
Among online grocery shoppers, a clear preference for curbside pickup ("click and collect") over home delivery has emerged:
75% of online shoppers intend to pick up their order at a brick-and-mortar store
24% of shoppers plan to use home delivery—lower than pre-pandemic levels
Source: Mercatus, in collaboration with Incisiv, 2021 Grocery Shopper Survey, eGrocery Transformed: Market projections and insights into online grocery's elevated future, fielded July 2021.
With curbside pickup being such an important part of the eCommerce experience, and with the projections showing that online grocery overall will continue its upward trajectory, it's imperative that grocers invest wisely in their eCommerce and curbside pickup offerings. 
A successful online grocery pickup program delivers to shoppers a seamless order experience that meets their needs for safety, convenience, and cost while allowing you to both increase your order fulfillment capacity and ensure your fulfillment processes are efficient and cost-effective.
There are five key areas to focus on in optimizing your curbside pickup program: fulfillment source, order assembly, staffing, measuring success, and choosing the right partner.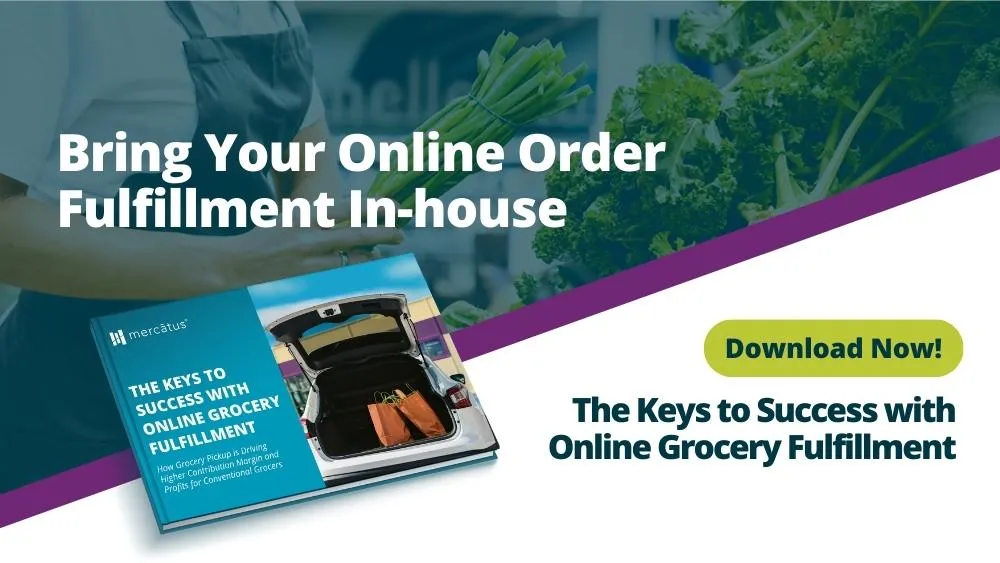 1. Sourcing or collecting customers' baskets
Some of the most fundamental decisions you will tackle in developing or improving your grocery pickup program are around fulfillment sourcing. Simply stated, you need to determine where the items in the shopper's basket will be collected from.
Will the items be retrieved from your store shelves, a dark store, a warehouse, or a micro fulfillment center (MFC)? Or will they come from a combination of sources? There are advantages to each, and your decision must be based on your unique business situation. This will involve balancing key factors like floor space and layout, order volume, and available budget.
2. Assembling online baskets for curbside pickup
Related to the fulfillment source is how the orders will be assembled. The picking method you choose must match up with the particulars of your business such as staffing and fulfillment source(s). With the right picking method, you can vastly improve your stores' capacities to fulfill orders.
Picking options include single-order pick, multi-order pick with a zone path, or multi-order pick with a wave path. Mercatus Enhanced Fulfillment empowers grocers to use a combination of zone and wave picking to optimize efficiency with fewer pickers needed.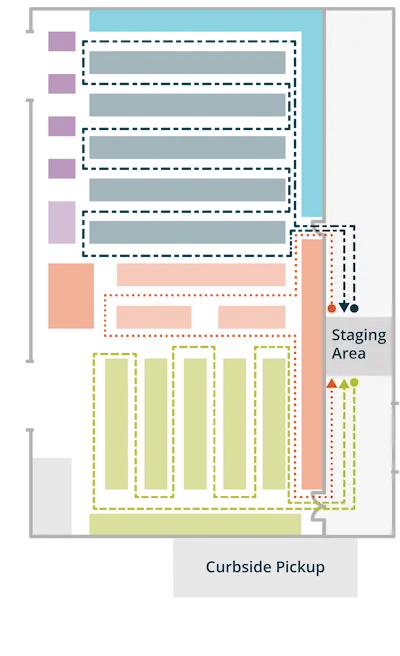 Regardless of your chosen fulfillment source(s) and order assembly method, Mercatus solutions arm your team with the tools you need to increase the order fulfillment capacity of your online grocery pickup program and reduce curbside wait time for customers. This results in satisfied customers and a more efficient and profitable click-and-collect program.
It also offers an optional third-party delivery service, so you can provide even more choices to your customers. Research shows that offering customers the choice of pickup or delivery yields stronger sales. 
3. Overcoming internal integration challenges
To ensure a successful and efficient pickup program, you need to develop a high degree of interaction and integration between your IT, Operations, and Fulfillment teams. Identify leaders with both the knowledge about their area of business and the skills to communicate their knowledge to others. Keep in mind that these knowledge experts may be found in every corner and level of the organization, from head office to in-store to warehouse.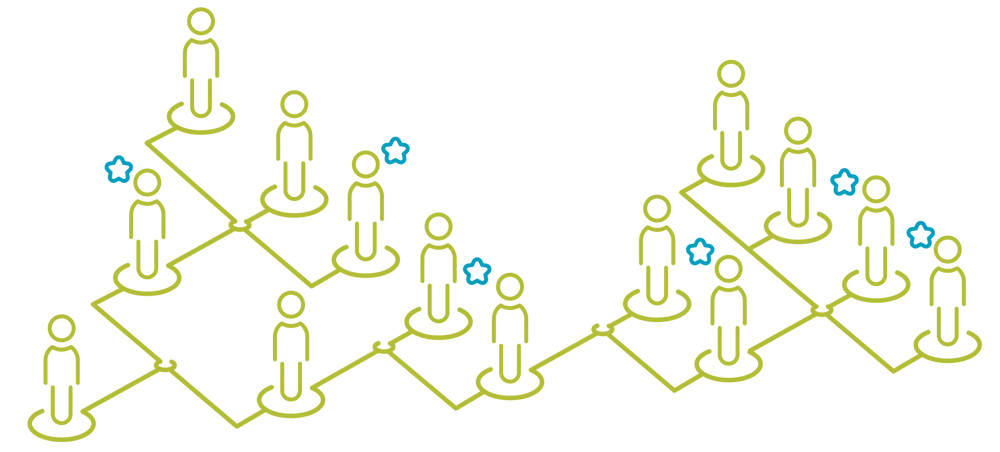 It's important to deploy clear, consistent, and regular communications across a variety of channels. This ensures everyone is up to date on strategy and processes across the organization.
4. Measuring the success of your online grocery pickup program
How will you know if your grocery pickup program is successful? You'll want to start by looking at the level of consumer engagement both online and in-store. By deciding in advance which metrics you will use, you can build methods to capture the appropriate data needed. This also helps set a baseline measurement and identifies how you compare to industry benchmarks, so you can track ROI from launch and beyond.
For example, average wait time at curbside pickup is one of the 10 key metrics we recommend to measure your success. Grocers using Mercatus Enhanced Fulfillment can measure against our industry-leading benchmark wait time of 2 minutes or less.
5. Choosing the right partner to develop a futuristic pickup program
Setting up an effective online grocery pickup program doesn't have to be a complex undertaking. Set yourself up for success by engaging a business partner with deep experience in grocery fulfillment and an extensive network of carefully screened technology partners. You'll want to select a partner who offers solutions that complement your existing infrastructure for a smooth and seamless setup.
Partner with Mercatus to deliver seamless online grocery pickup experiences
The Mercatus Enhanced Fulfillment solution empowers grocers to offer a world-class fulfillment experience to their online customers, from placing the online order to picking it up at curbside, and everything in between. With our seamless online ordering solutions, you have the option of tapping into industry-leading fulfillment technologies. These include:
ADC ShopperKit scales to your business as order volume rises by automatically sorting into optimized preparation times and wave and zone pick paths. This enables your team to source, pick and pack orders in the most efficient way possible.
Flybuy Pickup features advanced location-based communications capabilities, which help optimize your operations and your shoppers' experience from end to end. Flybuy Returns allow fast and simple returns for in-store or curbside pickup, for greater customer satisfaction. 
These are just two of the many seamless technologies you have access to when you choose Mercatus as your partner. At Mercatus, our aim is to ensure that you are able to drive tangible results from your online grocery pickup program – in the form of reduced operational costs, increased profit margins, higher customer satisfaction, and improved buyer loyalty.
In our experience, retailers who implement an optimized online grocery pickup program enjoy benefits to their bottom line and to their customers. Grocers see an average of 30% reduction in labor costs and an increase of $10K+ profit per store (for stores averaging 70+ online orders per week). And their customers enjoy the benefits of optimized fulfillment through a convenient grocery pickup experience, waiting only 2 minutes or less at curbside for their order.
These numbers clearly indicate that the future of online grocery is pickup and retailers who jump on the bandwagon can guarantee themselves a higher share of wallet from online grocery shoppers.
With Mercatus' integrated solutions, you can build a state-of-the-art online grocery pickup program that enables:
Contactless curbside pickup and grocery delivery
Real-time communication for order substitutions and upsells
Delivery provider integrations
Fulfillment performance reporting and tracking
Learn how you can build a best-in-class grocery pickup program or improve and expand your existing one. Download your free copy of The Keys to Success With Online Grocery Fulfillment.
Want to learn more about how you can expand your grocery eCommerce program? Check out these resources: