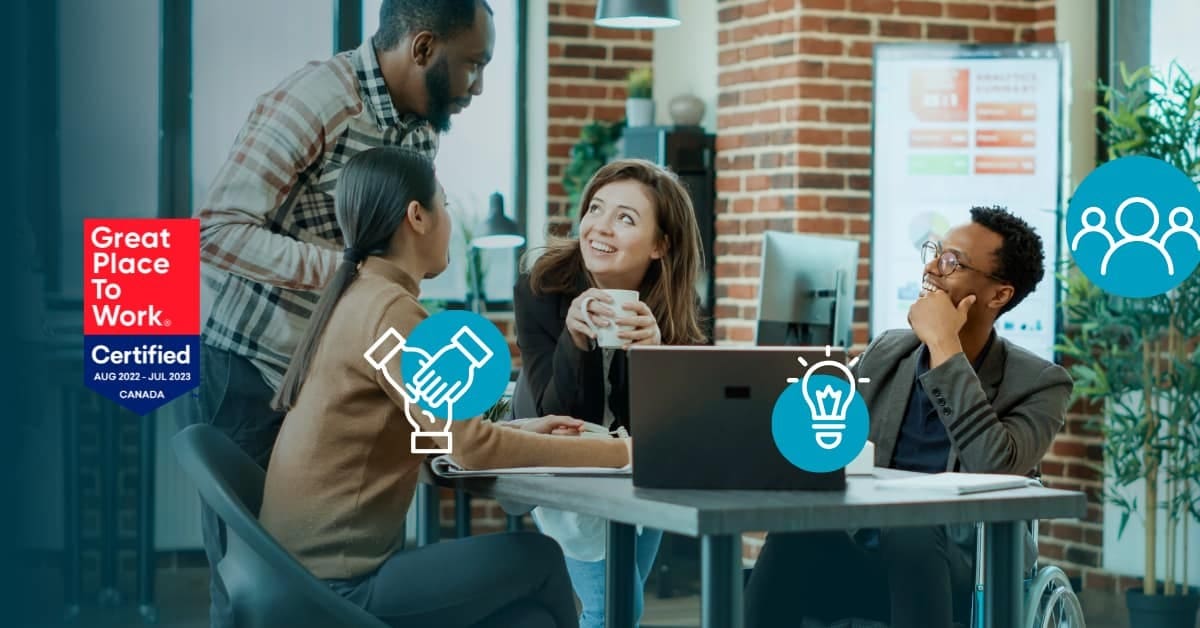 How Mercatus Cultivates an Inclusive Workplace Culture
To foster an inclusive workplace, we must acknowledge that the workplace is constantly changing. When we transitioned to a remote-first team, we learned that our strong relationships and living our core values were the glue that would keep us together. So, throughout this constant change, we continue to cultivate a company culture that upholds our core values:
BE PASSIONATE | TEAM UP | TIME TO REFLECT | TAKE OWNERSHIP | BE COURAGEOUS | STAY REAL
As leaders in grocery eCommerce, we understand that our innovation is only possible with the talent and dedication of our inclusive workforce. This is why we have established inclusive initiatives, shepherded by our employee-led Culture Committee and IDEA teams, to deliver the best possible employee experience.
Our efforts in doing so have been recognized by Great Place to Work Canada, as we have been certified as a Great Place to Work for five consecutive years. Recognizing our inclusive initiatives, we have also been named on the 2022 Best Workplaces for Inclusion list by Great Place to Work Canada.
So, what inclusive initiatives have we successfully implemented to promote diversity, equity, inclusion, and accessibility in the workplace?
1. Establishing an employee-led resource group
At Mercatus, we are committed to building an inclusive, diverse, equitable, and accessible workplace. In fact, it is a foundational purpose for our employee-led Culture Committee and IDEA teams.
The IDEA team reflects the diverse people that make Mercatus a place of belonging. We have dedicated Anti-Ableism, Anti-Racism, Culture, Inclusive Language, Pride (LGBTQIA2S+), and Socioeconomic champions that each IDEA team member represents. This ensures equal contribution to our collective work efforts, objectives and goals.
"Being part of the IDEA team represents an opportunity to show how our differences make us unique and how proud we should be of who we are," says Francisco Rocha Luna, People Operations Coordinator and IDEA team member. "I've had the opportunity to show up as my true self and also be a part of great moments like the celebrations for Pride Month, the conversations about Truth and Reconciliation, the importance of International Women's Day, and the learning during Black History Month."
With the support of our senior leaders, the IDEA team acts as champions in cultivating a safe and inclusive workplace. This includes regularly providing resources that spark learning-based conversations.

2. Encouraging learning-based conversations
At Mercatus, we have always encouraged our team members to engage in conversations that allow us to learn and grow. We have cultivated a company culture where our people feel comfortable sharing stories about themselves with their teams. Our annual employee engagement survey revealed that 89% of employees felt comfortable sharing unique aspects of themselves within the organization. IDEA-focused questions were amongst the highest-rated themes in our annual survey.
As a remote-first organization, we pride ourselves on creating a digital safe space to encourage an inclusive workplace. In doing so, we can bring conversations online through our shared Slack workspace. This space allows our diverse workforce to bring in new insights, share experiences, and educate each other to drive meaningful change.
It is also a space for our IDEA team to provide resources such as articles, videos, and links to community-based organizations that support the team's guiding principles. On International Pronouns Day, we shared resources about using inclusive language in the workplace. People were encouraged to share practical and accessible ways to shift language in the workplace to be more inclusive.
Speaking about participation in our learning-based conversations, Francisco Rocha Luna, People Operations Coordinator and IDEA team member, reveals, "apart from being great learning moments for all of us involved in organizing, they represented a milestone in our efforts to recognize and celebrate every person for who they are, we have become a tight family that appreciates and embraces each other."

3. Partnering with regional non-profit organizations
An inclusive workplace often reflects the diverse community an organization operates within. At Mercatus, we seek partnerships with local non-profit organizations that uplift our company culture, which is rooted in IDEA (Inclusion, Diversity, Equity, and accessibility).
We've partnered with CCDI (Canadian Centre for Diversity and Inclusion), a respected national non-profit organization designed to support employers in practicing diversity and inclusion in the workplace. Our partnership with the CCDI involves creating awareness, dialogue, and action recognizing diversity as an asset, not an obstacle.
Our executive leadership team participated in the CCDI Executive Diversity & Inclusion Bootcamp to ensure that leadership at Mercatus is stewarding a culture of diversity and inclusion and bringing greater awareness and learning to our teams. The results of our engagement survey revealed that the majority of employees either agreed or strongly agreed that our organization's leaders are demonstrating a commitment to diversity, equity, and inclusion. Additionally, our Employer Partnership provides our team access to workshops, resources, training, content, and data to help shape and propel our culture.
At Mercatus, our goal is to deliver the best possible employee experience. These initiatives allow us to cultivate a culture of inclusivity that enables our team to work together while being their authentic selves. We want to thank the Mercatus Team for all your contributions towards our initiatives. You are what makes us a great place to work!
Come work with us!
We're hiring for many different positions, and we welcome you to apply. Read more about our company culture and open roles on our careers page.