US eGrocery Sales Trends with Brick Meets Click – September 2023 Insights
September U.S. eGrocery Sales Dip by 3.1%, Settling at $7.5 Billion
The latest data from the September 29-30, 2023 Online Shopping Survey is here, revealing a 3.1% decline in U.S. eGrocery sales compared to last year.
The market closed September with $7.5 billion in sales. This downturn was mainly due to decreases in order frequency and average order value (AOV), although an increased number of monthly active users (MAUs) somewhat cushioned the fall.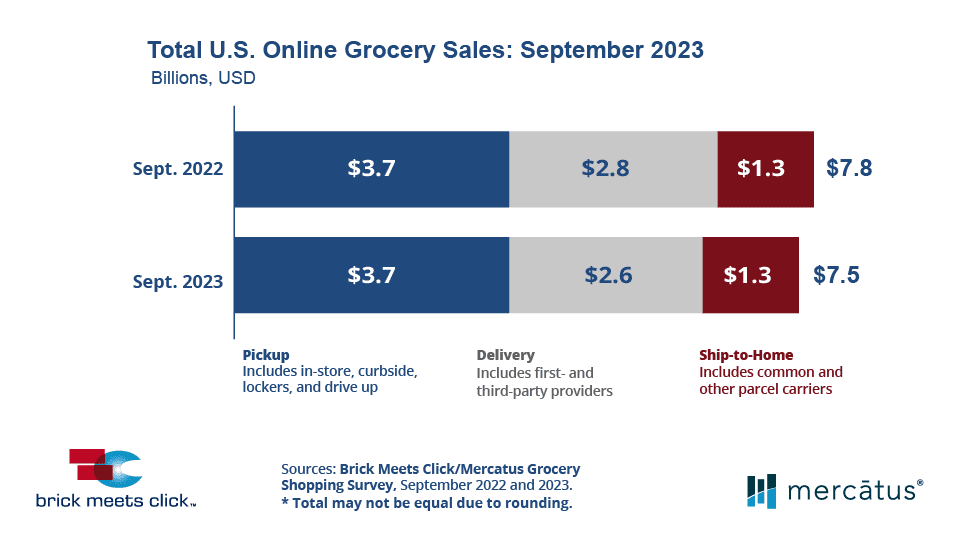 September 2023 US Online Grocery Sales
Nearly 37% of MAUs made only one purchase in September. This could indicate a rise in experimentation among consumers who are perhaps trying out various platforms before committing t regular purchases. The overall AOV decreased by almost 5% YoY, suggests that shoppers are becoming more price-sensitive or possibly buying fewer items in bulk
eGrocery Sales by Service Type
Pickup continues to dominate with a 48.4% share, underlining its growing appeal as a cost-effective and convenient option. However, Delivery and Ship-to-Home shouldn't be discounted despite their declining shares of 34.9% and 16.7%, respectively. The fact that these methods still command a significant portion of the market implies that a one-size-fits-all approach doesn't apply. Consumers are diversifying their receiving methods, possibly based on factors like urgency, availability, or even promotional offers.
Retail Formats: The Walmart Effect and the Struggle for Supermarkets
The 20% YoY surge in MAUs for Mass retailers, predominantly driven by Walmart, is nothing short of remarkable. It indicates that the mass-market approach, possibly combined with aggressive pricing and broad product ranges, is resonating with consumers.
On the flip side, Supermarkets barely moved the needle with less than 1% growth in MAUs versus last year. This could be a signal for Regional grocers to take a deeper look at core strategy, by focusing on what sets them apart like specialized products and localized services.
Navigating Changing Customer Behavior
September's numbers point to a trend of decreasing order frequency and AOV across the board. While Pickup saw the largest decline in AOV, Delivery remained relatively stable, and Ship-to-Home experienced only a slight dip. This presents a complex challenge for retailers. On one hand, they need to find ways to incentivize higher spending per order, possibly through bundled deals or loyalty programs. On the other hand, the stability in Delivery AOV suggests that consumers might still be willing to pay a premium for the convenience it offers.
Key Takeaways from the September 2023 Shopping Survey:
U.S. eGrocery sales dipped 3.1% YoY to $7.5 billion. Lower order frequency and average spending contributed to this decline, although an 11% rise in monthly active users cushioned the fall.
Pickup's market share expanded by 110 basis points to 48.4%, outperforming Delivery and Ship-to-Home, which slipped to 34.9% and 16.7%, respectively.
Online grocery shopping households in the U.S. increased nearly 11% YoY. Notably, Mass retailers, led by Walmart, saw a 20% surge in MAUs, while Supermarkets experienced under 1% growth.
The average number of orders per MAU dropped 8% YoY, reaching its lowest point since August 2019 at 2.31.
A nearly 5% decrease in AOV was observed, affecting all receiving methods. Pickup saw the largest dip, while Ship-to-Home had a slight decline and Delivery remained stable.
A 40 basis point YoY increase in cross-shopping between Grocery and Mass suggests evolving consumer habits, ending the month at a 28% rate.
Despite the decline in some areas, online sales accounted for 12.6% of total weekly grocery spending in the last week of September, a 160 basis point increase YoY. Specifically, Pickup and Delivery alone contributed 10.5%, despite weaker Delivery performance.
Strategy Recommendations for September 2023
Adapt to MAU Behavior
The decrease in order frequency calls for strategies like loyalty programs to encourage multiple orders per month.
Continue to Prioritize Pickup
Keep investing in this method, but don't overlook cost and convenience to keep it attractive to consumers.
Enhance Value
With AOV dropping, consider bundling products or offering loyalty programs to boost spending per order.
Closing Thoughts
September's numbers are interesting. The dip in sales and order frequency indicates a more cautious and selective consumer base. The growth in MAUs is a silver lining, but it's not enough to overlook the immediate challenges. Retailers must recalibrate their strategies, focusing not just on variety but also on cost and convenience, to coax consumers into more frequent and higher order sizes.
Thanks for joining us. Drop us a line here if you have any feedback about this segment that you would like to share. Otherwise, see you next month!
Speakers