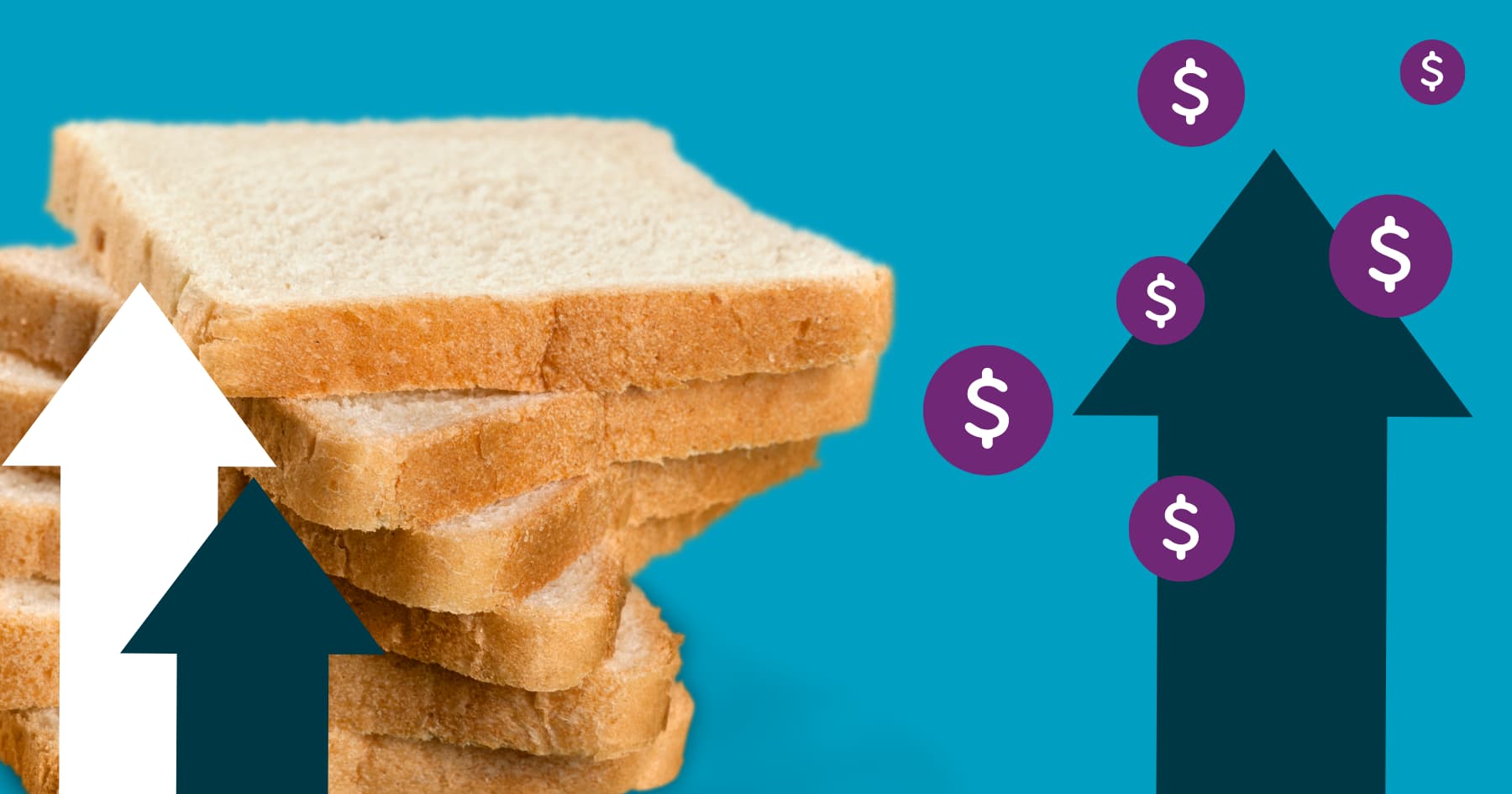 Grocery Inflation: How to Retain Customers in Challenging Times
Grocery inflation is at levels not seen in decades, and consumer response is varied. What can grocers do to preserve shopper loyalty and profitability?
Grocery inflation is at levels not seen in a generation, and the effects are being felt by food producers, distributors, grocers, and consumers. In the grocery aisles, the reaction from shoppers is varied. What do grocers need to know about "Inflation 2.0" and how can you ease the pain for your shoppers while preserving both your profitability and their loyalty?
Rising Consumer Price Index
The factors leading to inflation have been building for some time now. In the past two or three years we've had COVID-induced supply chain issues and labor shortages, natural disasters and crop failures due to climate change, and transportation and labor crises. All of these have impeded the flow of goods, created shortages, and led to rising prices.
And this year, as we thought we were turning a corner, the Russian invasion of Ukraine has led to restricted imports of gasoline, grains, cooking oil, and potash. The fallout has included shortages of staple products, which have put upward pressure on those prices, astronomical gas prices, which have increased transportation costs for all goods, and fertilizer shortages, which could result in lower agricultural yields in the future.
As a result, the Consumer Price Index (CPI) was 8.3% for the year ended April 2022, with prices for food at home up an astonishing 10.8%. We haven't seen inflation at these levels since 1980. Wheat prices are up 21%. Barley is up 33%. And with fertilizers up as much as 40% and gasoline hitting $5 a gallon ($7 in some states), the upward movement of food prices is likely to continue.
To compound the issue, wages aren't keeping pace. A survey from the US Bureau of Labor Statistics found that wages increased by 4.5% in 2021.
Consumers are feeling the pinch, and managing the household grocery expenditure is one area where they can exercise some degree of control.
Consumer Responses to Grocery Inflation
Consumer responses to increased food prices are varied and complex and can involve changes to purchase frequency, the number or selection of items, and even the retailer Many shoppers are opting for one — or a combination — of these strategies:
Reducing regular basket size by buying fewer items, smaller sizes, or by cutting out more expensive foods like meat.
Planning weekly meals around the sales flyer.
Shopping less frequently.
Shopping more frequently for smaller amounts.
Switching retailers. (A survey back in September 2021 found that 10% would switch retailers or shop less often if prices continue rising, which of course they have.)
Choosing less expensive and private label brands. (The same survey found that 20% of consumers would opt for cheaper brands.)
Minimizing waste by buying fewer perishables at one time.
Opting for the longer shelf-life of frozen or canned foods, including premium and better-for-you foods, over fresh. (The frozen food category has reportedly outgrown fresh this year by as much as 230%.)
Buying relatively less expensive prepared foods from the grocery store to supplement or replace increasingly expensive restaurant and takeout meals.
Getting the weekly groceries online supports these strategies. It makes it easier for shoppers to stay within their food budget because they can see their shopping cart total in real-time. It also helps reduce impulse and unplanned purchases and makes it easier to find deals. But it also allows people to easily compare prices, and that can erode loyalty.
The takeaway is that inflation is changing consumer behaviors in myriad ways. Responding to inflationary pressures is about more than protecting your bottom line over the short term. You need to understand how you can respond to, and work with, these behavior changes to retain business and increase your loyal customer base, ensuring profitability in the near- and long-term.
eGrocery Strategies for Rising Food Prices
This is the time to hone your eCommerce platform, to ensure you appeal to the divergent strategies of shoppers and maintain their loyalty. There are a number of ways to do that.
Use flyers and coupons. With more customers using online shopping to compare food prices, special offers are more important than ever. A Sale Item page, weekly digital flyer, online coupons, and regular emails are all important tools in your arsenal to keep your own customers and attract new ones.
Get started: The Mercatus platform provides access to a range of marketing tools including flyers, coupons, and loyalty programs.
Employ personalization. With personalization, you can offer discounts on items relevant to specific shoppers based on previous buying patterns. Taking a targeted approach to incentives helps avoid opportunistic shopping behaviors, for a healthier bottom line and greater customer loyalty.
Get started: AisleOne on the Mercatus platform helps you build connections with customers through true 1:1 marketing offers.
Promote lower cost, higher margin store brand products: Consumers are looking for savings and are trading out of higher-priced national brands in the face of record grocery inflation. Brand switching in categories like deli, lunch meat, bacon, and dairy is happening at Walmart and Target.
Get started: With the Mercatus platform, grocery retailers can easily elevate private label or store brand products so they rank higher in organic search queries and in product display.
Stock your frozen aisle. Greater attention to frozen and canned items, including meals, fruits, vegetables, and seafood, ensures that you are providing the items that more consumers now want. Higher demand for frozen foods began in the pandemic, but with high transportation costs and disruptions at the production level, it's likely here to stay for a while.
Get started: Our fulfillment integrations optimize the picking process to ensure frozen foods, cold foods, and hot foods are all handed over at the optimal temperature.
Revisit your SKUs. Consider adjusting your ordering strategy to eliminate less popular SKUs. During the pandemic, consumers became accustomed to the reduced selection, especially for online ordering. By taking a data-based approach to inventory, you can reduce slow-moving items to focus on top sellers and keep popular-priced versions of products stocked up.
Get started: When you own your eGrocery solution, you have ready and unlimited access to the data you need. Learn more.
Provide prepared meals. For busy shoppers, the need to get a tasty dinner on the table quickly hasn't gone away with the pandemic or inflation. Restaurant purchases, particularly takeout, remain high despite price hikes. Offering sides like salads, vegetable dishes, and fruit or veggie platters on your site makes it easy for customers to complement their takeout pizza or burger. Offering a wider selection of mains provides a cost-effective alternative to traditional takeout for price-sensitive customers.
Get started: Ready Made Orders by Mercatus make it easy to provide the convenience customers crave.
An Individual Approach to Grocery Inflation
In your response to grocery inflation, keep in mind that the "barbell" effect applies: as some consumers seek less expensive foods, others opt for premium and convenience, and are willing to pay for it. It's a good reminder that while everyone feels the pain of inflation to some degree, there is no one-size-fits-all solution. Be sure you use a variety of strategies in your eCommerce site — including personalization — to capture the spectrum of consumer behaviors.
By employing solutions that show sensitivity to the needs of your shoppers, you'll win satisfied customers today and their loyalty in the future.