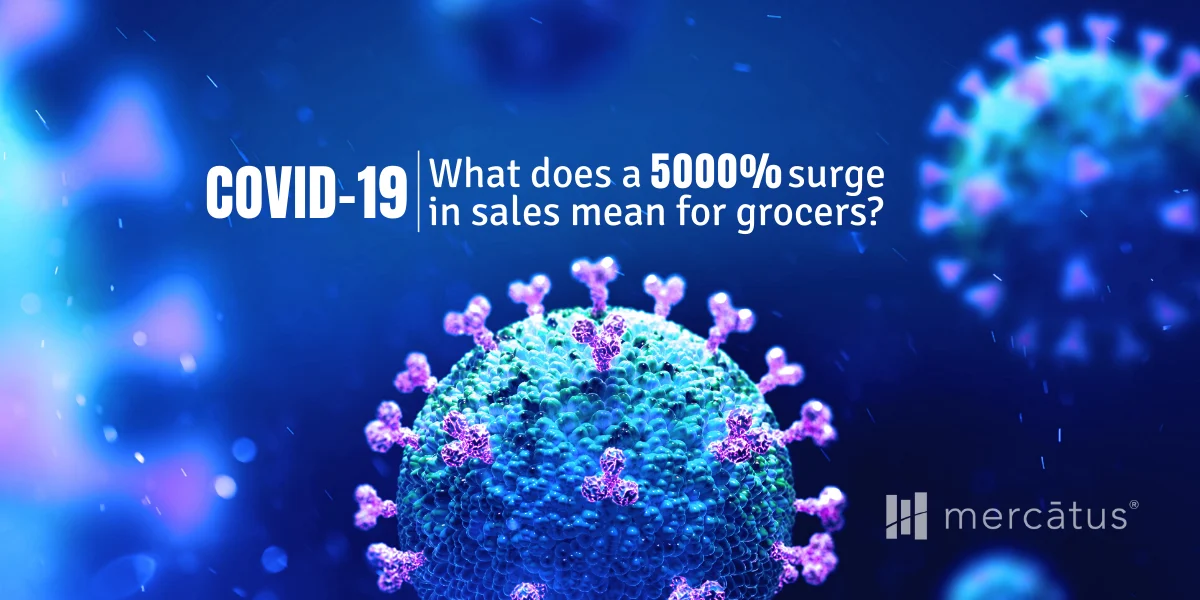 COVID-19 and grocery retail: what grocers can do right now
COVID-19 has had a dramatic impact on the grocery retail industry, from sales to supply chains. Here's what grocers can do right now in response to COVID-19, and what they can do to prepare for the future.
In the wake of the COVID-19 (Coronavirus) outbreak, grocery retail banners worldwide have been hit with a massive influx of sales. In the US and Canada, shelves are being cleared each day as shoppers load up on household essentials to prepare for government-mandated periods of isolation.
The impact of the Coronavirus on grocery retail
We're seeing the same trends with our retail partners, with unprecedented sales compared to the same time last year for products like hand sanitizers and wipes (up 5,678%) and toilet paper (up 207%), among others.
And with self-isolated shoppers flocking to eCommerce to fulfill their shopping needs, we've seen a rapid increase in online shopping account registrations of 1,200% and in mobile app downloads of 300% from the previous month.1
With so much online traffic directed to grocery banners worldwide, their systems and services have really been put to the test. In just the last 8 days, the team at Mercatus rallied to ensure our retailers were able to continue to serve their shopper communities. From handling increased shopper support calls, to scaling our database server and drupal database, the team has worked hard to ensure dedicated round-the-clock support is provided to our clients.
But even with a well-oiled eCommerce machine, there are many issues retailers are encountering because of the Coronavirus outbreak, from inventory management to supply chain disruption. From what we're observing– and from the learnings of others like the Independent Grocers Alliance's stores in China— here is what retailers can do right now in response to the COVID-19 outbreak.
What can grocers do right now about COVID-19?
To continue to support their shoppers and communities during COVID-19, grocery retailers need to focus on the essentials: health and safety, communication, inventory management, product pricing and supply chain management.
Health and safety
With rising concerns with regard to COVID-19, grocery retailers have been faced with fewer in-store shoppers and low employee turnout, due to sickness or avoiding the potential of contracting an illness. Here's what grocers can do to ease concerns and protect both their shoppers and employees:
Monitor the health of employees, and encourage sick leave for those feeling unwell.
Regular cleaning and sanitization of stores. IGA noted that "Shoppers say the smell of chlorine and bleach make them feel safe".
Regularly share health and safety best practices with employees and shoppers. This includes: proper food handling, social distancing, regular hand washing and/or sanitizing, coughing/sneezing into one's elbow, and avoiding touching one's face.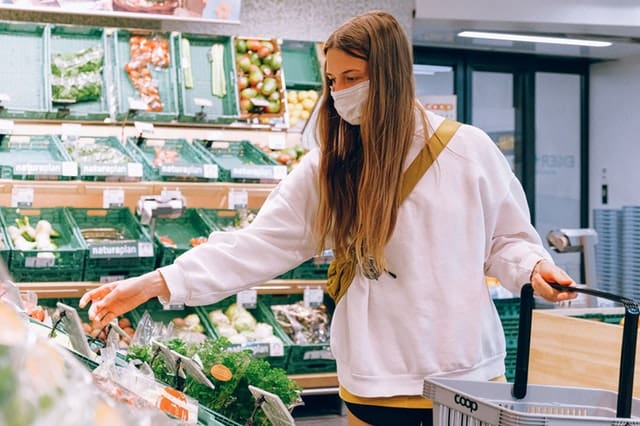 Communication
In times like these, regular, quality communication is essential to build trust and a positive customer experience for your shoppers, and in making sure that your employees and contracted workers are empowered to keep your business running.
You can start by ensuring that your shoppers are notified of product availability. This means:
Frequent updates to your product catalog (out-of-stocks, order limits) online, in-store, and your connected third-party applications (such as delivery-provider marketplaces).
Notices and updates for your shoppers both in-store (signage) and online (web banners on your home page/screen and in your product catalog).
Direct notification of product availability, and alternative stores with available stock.
Using personalization tools to automatically help shoppers easily find the products they want and need- and appropriate product substitutions, as needed. Mercatus AisleOne™ is a solution that uses AI to automatically personalize the shopping experience for each individual shopper. Learn more about automating a personalized shopping experience with Mercatus's suite of fulfilment tools.
With increased call volume, retailers have also seen shoppers turn to social media to raise questions and concerns. IGA found that, as the virus spread in China and quarantine came into full effect, social media platforms became an integral part of their communication strategy to shoppers.
And of course, if you intend to change store policies, services, or hours (such as to account for at-risk groups or time for stock replenishment), ensure that employees and shoppers are promptly notified of these changes.
COVID-19 and grocery retail inventory management
As panic arises in the community, many shoppers are exhibiting hoarding behaviors. With inventory management, grocers can make sure that essential products are available to more community members, while better-managing out-of-stocks on their end.
Grocery retailers can manage inventory by:
Placing purchase limits on high-demand products in-store and online, as many retailers have already done.
Monitoring real-time inventory at the store level and adjusting online accordingly.
As mentioned before, communicating inventory and purchase limits quickly and efficiently with your third-party delivery partners or delivery-provider marketplaces. This will help reduce order issues related to your inventory.
If you're running into problems fulfilling orders or stocking shelves, consider deploying non-essential head office employees to help support your in-store staff. This will help reduce costs you may incur by onboarding new employees or asking staff to work overtime.
Product pricing
In some jurisdictions, grocery shoppers have complained about price gouging on high-demand products. Whether to manage inventory or to generate profit, this may have some short-term gain but the risk to reputation is high, IGA warns. Instead, consider pricing products competitively with the market, and lowering prices where possible in the community's interest.
COVID-19 and grocery supply chain management
Supply chains have been impacted in many ways, from reduced product sources to fewer laborers willing to ship and deliver products. So how can grocers respond to some of the complications faced? Based on learnings from what their stores experienced in China, IGA proposes the following:
Prepare for supply chain disruptions, and develop relationships with other potential buyers who can fill stock.
Talk to your wholesaler and fellow retailers to share information on sourcing, compliance issues, and best practices.
Talk to local authorities and congressional representatives about how to keep the store and supply chains open, even if a state of emergency or lockdown is enforced. Remember that it is the retailers' priority to keep stores and logistics running even under extreme conditions.
Looking forward: how can the grocery retail industry prepare for the aftermath of COVID-19?
If the Coronavirus outbreak has taught us anything about the grocery industry, it's that the grocery supply chain is a vital instrument in keeping the population sustained and grocery eCommerce has become a critical element of that.
When we think about scenarios like these and the people who are most in need of grocery shopper services (like curbside pickup and delivery), it becomes clear that investing in eCommerce and shopper services is essential for retailers.
---
Listen to the full podcast with Guy Bloch from Bringg to learn how grocers can run a seamless and profitable delivery program.
---
To ensure the future resilience and success of an eCommerce program, grocers need to:
Invest in a click-and-collect (or curbside pickup) service they own and control

In doing so, grocers are empowered to provide a better shopper experience, increase margins (compared to delivery or a fully outsourced experience), and train their employees to manage this service line, ensuring it stays open in times of crisis. Outsourcing your pickup service puts retailers' reputations at the mercy of third-party delivery companies, who during the current outbreak, have reportedly had extended wait times and/or a lack of delivery windows on grocery deliveries.2 This results in a negative customer experience, which we know will sit with the retailer, not the third-party provider, when all is said and done.3

Invest in proper management and control of their delivery service

With shoppers actively avoiding leaving their homes, the largest online grocery retailers' delivery services have been tested most of all. Events like these really bring to light the complexities and cost of delivery orchestration, and the need to properly manage each component so that the delivery program runs smoothly. And as we learned from delivery logistics expert, Guy Bloch of Bringg, managing these complexities, by starting small and scaling up, and by communicating with your shoppers, is essential. Guy also stresses the importance of owning the delivery experience, which empowers grocers to avoid the same risks that come with outsourcing click-and-collect. Tune in to the full podcast episode here: Coronavirus and grocery delivery during market influx. This ownership becomes even more important with the anticipated shift of more shoppers to eCommerce and delivery, which will add pressure to already thin margins in grocery.2

Own their shopper data

While many retail banners have seen a massive increase in loyalty account registrations and app downloads from the Coronavirus outbreak, grocers using delivery-provider marketplaces have been directing shoppers to sign up with marketplace providers. This is a major lost opportunity, as those new shoppers are unlikely to be loyal to the retail that directed them to the marketplace. Research by Morgan Stanley showed as many as 57% of shoppers would stay with Instacart if their retailer of choice left the marketplace. Retailers not only lose customer loyalty in this case, but they also lose ownership of the customer data. Without that data, grocers will be challenged to regain those shoppers from the marketplace.4 They won't be able to gain the actionable insights needed to improve their eCommerce or brick-and-mortar experiences. Data ownership opens up the opportunity to anticipate shoppers' needs in the event of a crisis, and ensure the products their shoppers want and need are available.
Grocers can anticipate this surge in sales revenue to be short-lived, as the viral outbreak curve eventually flattens and consumers are once again able to leave their homes, spending more money at other food and entertainment sources like restaurants and vacations. And as the grocery supply chain recuperates, and shopping patterns normalize, Mercatus will be ready to help grocery retailers make the investments to grow their eCommerce business.
With a platform provider like Mercatus, grocers can:
Own their grocery eCommerce from end-to-end, store-to-door
Orchestrate a profitable eCommerce business, working with integration partners like Bringg to orchestrate seamless delivery
Capitalize on the consumer demand for online grocery shopping
Interested in learning more about the Mercatus platform? Check out our platform overview to see how you can take ownership over your eCommerce experience and increase your digital revenue.
---
Enjoyed this blog post? Then you might like these resources:
---
Footnotes
1 Mercatus Data, 2020
2 Barclays Investment Bank, "9/11 + '08/'09 = COVID-19". 16 March 2020.
3 Barclays Investment Bank, "Dissecting the Instacart Addiction". 29 May 2019.
4 Morgan Stanley, "Checking Out: Annual Food Retail AlphaWise Survey". February 20, 2020.