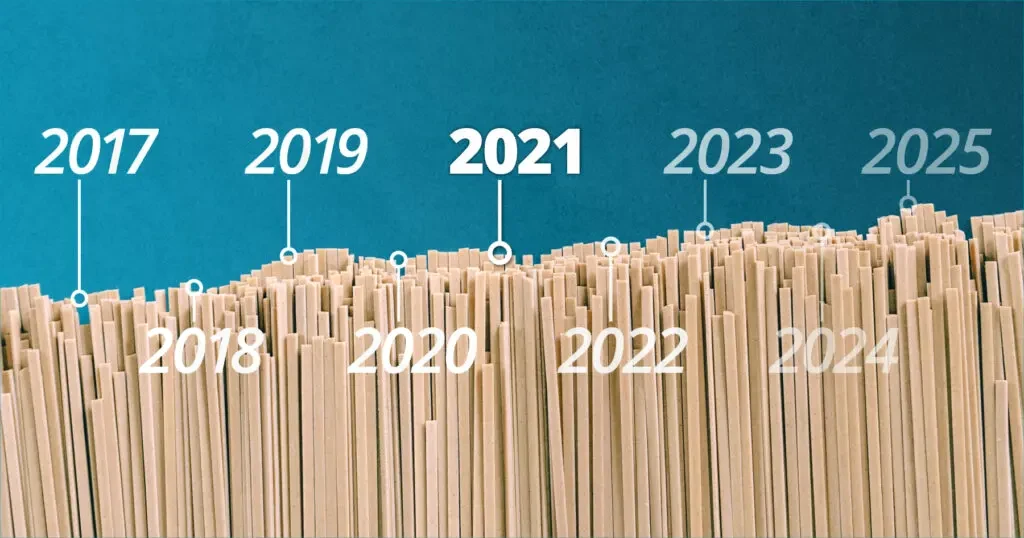 Defining Your Online Grocery Strategy in the New World of Grocery Retail
A comprehensive online grocery strategy is key to success in the new world of grocery retail. Here's what key factors you should consider.
Grocery eCommerce has been evolving at an increasingly rapid pace in recent months and regional grocers are up against a slew of new challenges. Even if you once had your retail brand's eCommerce solution all figured out, what worked pre-pandemic might not be the best choice now – or in the future.
Having an eCommerce solution that's effective in today's landscape isn't just about having access to the latest in online grocery software. It calls for a comprehensive online and offline grocery strategy involving marketing, fulfillment, operations, and a differentiated brand experience. You need to take steps to own the digital grocery experience. This means taking steps to truly own the customer relationship, putting your customer data to work for you and your customers, and not letting anyone come between your brand and your customers' experience.
Before we look closer at the key ingredients to a complete digital grocery strategy that will help you survive and grow in today's market space, let's take a quick look at how we got here today.
Recent eGrocery History
Amazon's acquisition of Whole Foods in 2017 really set the eCommerce train in motion. Speculation that the retail giant would dominate grocery sales, both online and off, sparked a wave of action. Grocery executives readied their businesses to remain competitive against the perceived threat.
Grocery giants like Target and Walmart had experimented with eCommerce technology, starting to form their online grocery strategies. A number of larger, forward-thinking regional grocers had also observed this trend. They invested in standing up their own eCommerce experiences to capture the relatively small number of early adopters who had already migrated to the online grocery channel.
At the time of Amazon's announcement, eCommerce only represented a small share of a grocer's business, and building one's own program involved resources and time in an already slim-margin business. For most retailers, quickly scaling up their own eCommerce experience to combat the perceived threat of Amazon didn't seem like it would pay off.
This sparked the first wave of retailers who would leverage grocery marketplaces as their sole eCommerce merchandising channel. Online marketplaces like Instacart and Shipt presented a low barrier to entering the eGrocery space. They offered a simple solution to grocers' big obstacles being quick-to-market, with no need to invest heavily in IT infrastructure or an eCommerce team to set up and manage the program. The gig delivery model also bypassed any potential labor/union issues around order fulfillment.
When the pandemic hit American shores in the spring of 2020, consumers flooded their favorite retailer's digital storefronts. Grocery eCommerce became key to survival – not just for customers but for retailers, too. And as retailers were challenged with both processing and fulfilling an influx of online orders, the gig delivery model became even more appealing.
The Importance of Online Grocery
If you inked a deal with an online marketplace a few years ago, the trade-off probably didn't seem that significant. Grocery eCommerce accounted for just 2.7% of all grocery sales in 2018 and 3.4% in 2019.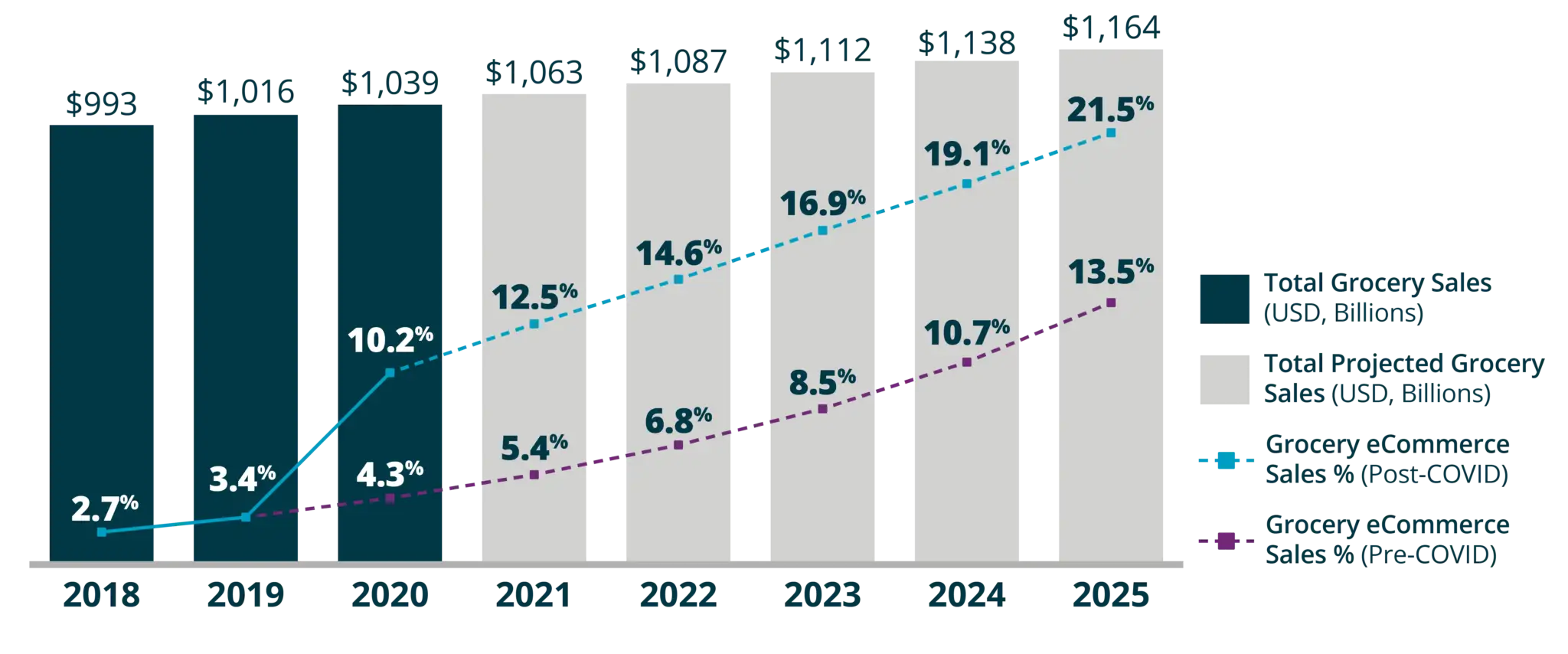 But in 2020 it skyrocketed to 10.2%, with a projected rise to 20+% by 2025. That's a far greater slice of the pie to be serving up to an entity that is ultimately just a fee-for-service third-party positioned between your brand and your customers.
Grocery retailers who were directing customers to their eCommerce site pre-pandemic enjoyed a growing customer base in 2020. And those who leveraged other channels to expand beyond the online grocery marketplace were even more successful.
But unfortunately, retailers who saw a massive increase in customers on Instacart in 2020 may not see that same increase in customers loyal to their brand today. Research by Barclays Investment Bank has shown that shoppers' loyalty lies with the marketplace, not their listed grocer.
If your online grocery strategy relies solely on marketplaces like Instacart for your online grocery program, you're missing out on all of the "three C's" of grocery retail eCommerce operations: control, cost management, and connections with customers.
The Risks to Regional Grocers
Unfavorable Marketplace Contracts
Contracts with online marketplaces have generally not been in the grocer's interests. In 2019, we had a chance to interview Karen Short from Barclays Investment Bank, who authored an independent research report on Instacart's impact on grocers. She spoke to the high fees and low margins as just part of the price paid by grocers who use Instacart. Loss of control over customer data, the customer relationship, and your brand's reputation is the far higher prices ultimately paid.
Many online marketplace contracts also control the grocer's pricing policies – not only on the marketplace but on their own site as well. This restricts how you can use your grocery eCommerce pricing strategy to improve profitability.
But for grocers relying on the marketplace, the ultimate risk to you is the risk of being disintermediated by the likes of Instacart.
Disintermediate:
reduce or eliminate the use of intermediaries between producers and consumers.
You've developed and nurtured the customer relationship over many years. You've built an iconic brand that your customers know and love. But because orders are going through the marketplace, they are then taking your customer and developing their own relationship with them. The marketplace is set up to benefit enormously from this through "proximity marketing", as Disney has done with home premieres. Marketplaces are gathering data on what your customers buy, when they buy it, and what else they buy, for an endless, virtuous cycle of learning, improvement, and growth.
Some industry analysts suspect that Instacart may be setting the stage for the full dependency of grocers. The company's recent partnership with and purchase from IBM of 250 patents for voice recognition, nutritional data, fraud detection, an autonomous vehicle scheduling system, and more, could mean the company is getting ready for a complete takeover of the direct-to-consumer and grocery delivery space.
Learn more about the upside and the downside of online marketplaces here.
Solution Providers Who Are Green to Grocery
Marketplaces aside, another risk is the flood of new providers in the online grocery space.
This includes tech-first online grocery providers with a very short track record, and little or no experience in grocery. These companies simply do not understand the complex needs of the grocery business model or have the technology that grocers need to attract customers and establish strong, lasting connections. Often these solution providers outsource to integrators because they don't have the capabilities in-house to support your unique grocery business needs.
More seasoned providers have all begun to sing from the same songbook. They warn of the risks of marketplace providers and encourage grocers to take control, but they aren't defining just what that means.
What is the Best Online Grocery Strategy for Retailers Today?
Your online grocery strategy depends on more than just control. Regional grocers need a truly omnichannel and multichannel eCommerce solution that empowers them to grow their business through Control, Connection, and Cost:
Control your eCommerce experience with a platform that has the flexibility to build a unique, differentiated shopping experience.
Reduce eCommerce costs, while continuing to deliver the quality of online shopping experience your customers expect. This can be achieved by improving efficiencies and increasing revenue through things like digital advertising, for an eCommerce solution that's sustainable over the long term.
Connect with your customers from online orders to curbside pickup, cultivating long-term loyalty and improving Customer Lifetime Value (CLTV).
---
Learn more about how to use the "3 C's" to increase the profitability of your online grocery strategy – watch our webinar.
---
Mercatus has always put the best interests of grocers first. We work closely with our grocery retail clients to understand their needs, learn from their expertise and share our insights with them, and with the industry as a whole. We've seen what has happened and, because we continually build on our understanding of this industry, we see what's on the horizon. That means we can build forward-looking solutions that anticipate what's to come and equip our grocery retail partners to grow and scale their businesses.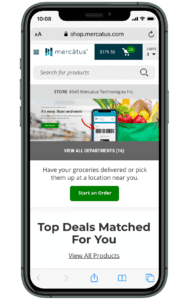 Our solutions are designed to help you protect your brand with an experience you own and control. A Mercatus-powered solution helps you improve your contribution margin and reduce operational costs:
Increase your eCommerce profitability. You could improve your margin to 6% on eCommerce alone. Add another 5%+ when you leverage our streamlined fulfillment solutions and high-conversion digital advertising program.
Set your own pricing policies around price parity between online and in-store fulfillment fee structure, in a way that best suits your online grocery strategy.
This is one of the many benefits of controlling your grocery eCommerce pricing strategy.
Choose from flexible fulfillment options to increase efficiency and online order capacity. Use the method that meets your unique business needs – whether that's single order picking, multi-order zone, wave picking, geolocation targeting, and real-time customer communications for faster order handoff, or delivery provider integrations with all the major online grocery marketplaces.
Earn ad revenue through Mercatus Digital Advertising – an easy way to offset eCommerce costs without additional internal resources, because we manage the targeted ad program for you.
Own the customer data and relationship. That means you alone own the virtuous circle of collecting data, learning from it, adjusting your strategy, and growing your business. This way you're set up for a more successful and sustained eCommerce program and long-term customer loyalty.
In short, whether it's Mercatus or another provider, be sure to work with a partner who has experience in grocery and understands your unique business needs. A partner who has built technology that reflects this expertise, and who continues to innovate ahead of the curve based on industry needs. And, most importantly, a partner who puts your best interests first, whose focus is the growth of your business and empowering your long-term omnichannel and multichannel success.
From store to door, the Mercatus platform helps leading grocers create exceptional, multichannel, and omnichannel shopping experiences for their customers. Find out how our solutions can help you get Back in Charge of your eCommerce and optimize your online grocery strategy today with the Grocer's Guide.