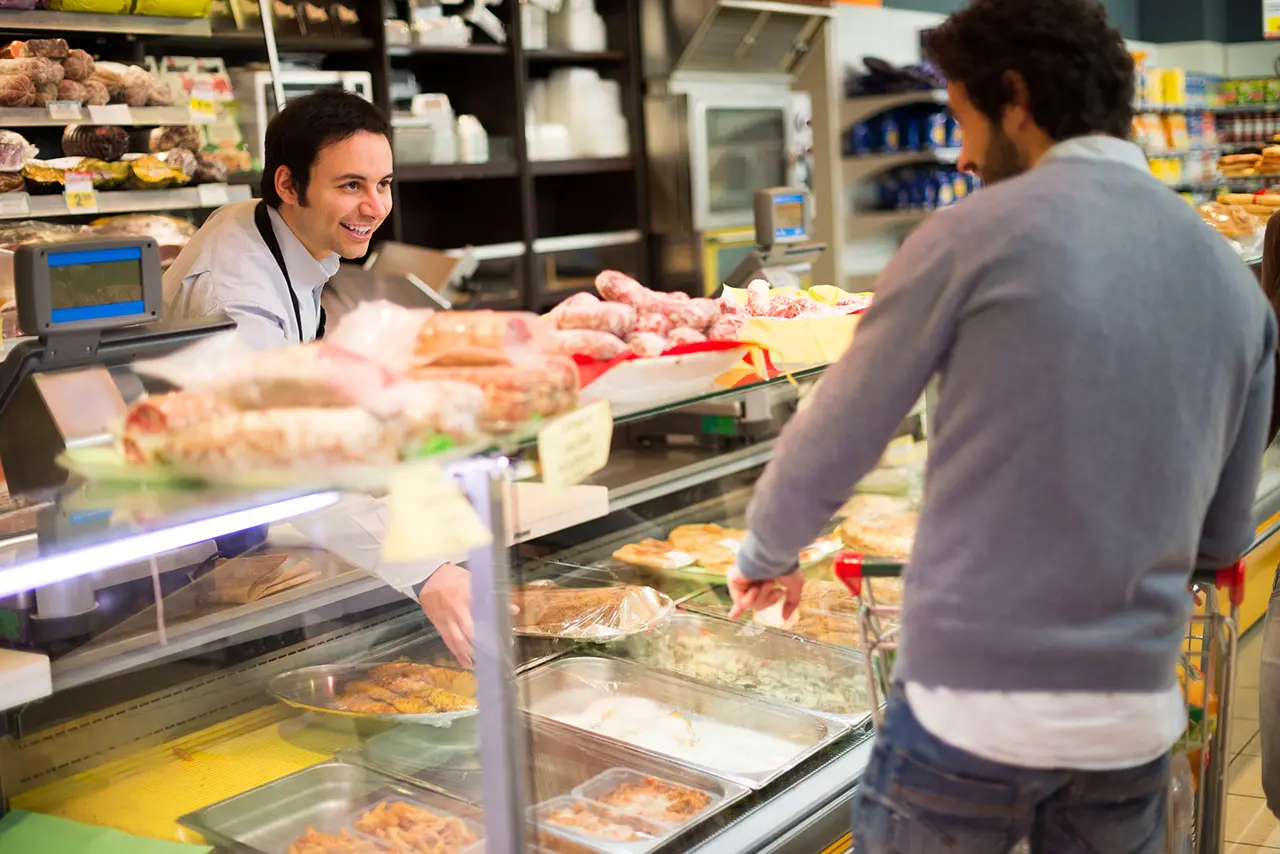 Supermarket Business Owners Empower In-Store Associates
The supermarket business should be empowering its associates to make sure they're equipped with the right digital tools to be the best brand ambassadors. While smartphones, IoT, and other digital devices continue to shape the buyer journey—with retail eCommerce sales climbing nearly 30 percent in 2017—research suggests that shoppers still want the human connection that comes from interacting with in-store associates, but more so if it leads to an easier and more convenient shopping experience. (Interestingly, this trend is especially strong among "Spendsetters"—an influential group of shoppers that account for about a third of all shoppers, and 52 percent of Gen Zers, who are more likely than all other demographics to seek out a store associate for advice.)
Further evidence comes from this survey by Grail Research/Mindtree:
43 percent of shoppers who interact with retail associates are more likely to make a purchase, and their transactions account for 81 percent more value compared to customers who don't interact with a store associate.
These same shoppers are 12 percent more likely to revisit the store where they experienced positive connections with sales associates.
Meanwhile, a study on retail perceptions found that among more than 1,000 adult shoppers surveyed, 62 percent were motivated by an initial greeting from a store associate upon entering the store.
Yet… When shoppers have such easy access to product details at the swipe of a finger, is it any wonder that one of the biggest consumer beefs with shopping brick-and-mortar stores is that in-store sales staff often seem to be less knowledgeable than most customers themselves?
The challenge is that many retail associates feel they're not properly equipped with the right technology and support to stay a step ahead of consumers' wants and needs.
Empower in-store grocery associates with the right digital tools
Empowered employees become brand evangelists who can drive your business forward, but you've got to give them the digital tools they need to be able to compete with Amazon and other eCommerce retail powerhouses.
Here are some recent examples of digital technology implementation used by brick-and-mortar retailers to free up store associates' time and deliver better customer experiences all around:
Scan-and-go: J.'s Wholesale Club, Kroger, Sam's Club, Wal-Mart, and new entrant Meijer offer mobile POS units or in-phone apps that allow staff and shoppers to make purchases on the fly and have the order billed to their digital wallet or customer account—a more convenient and cost-effective alternative to self-checkout services, and a way to shift more of the work to persnickety shoppers, while freeing up employees for higher-value tasks.
Similarly, both Bloomingdale's and Nordstrom have installed iPads in their fitting rooms that connect directly to their inventory management systems, so both customers and sales associates can check for sizes, colors, product reviews, and other key details.
Cloud-based customer and staff support services: Fossil, Nordstrom, Shopify, and other brands have enlisted digital helpdesk services (including social media–based live chat services) to find products, track deliveries and account activities, and ultimately, get customers through the buying journey as quickly and painlessly as possible.
What's good for in-store associates is also good for customers (and vice versa)
Making the most of your sales associates makes good business sense, but it shouldn't mean transforming your organization overnight. Instead, consider taking small but meaningful steps to empower your in-store staff. For example: Provide store-specific handheld devices so frontline associates can check your supermarket business website and conduct searches as they're speaking with customers. Or, develop an API that allows store associates to use their own mobile devices to track products and manage logistics from on-premises.
And remember: If you're thinking about putting technical tools in the hands of your associates, set them up for success by providing proper training and support. As with all digital solutions, the best ROI comes from technology that's easy to use and understand, and scales to meet your customers' evolving shopping needs.
Mercatus is the leading provider of grocery eCommerce solutions for regional grocers. If you're looking to level up your game and better compete with mass merchants and other market leaders, then explore our suite of eGrocery solutions today.
---
Enjoyed this blog? Then you might like this resource: