Prepared Meals for Grocery — Keys to Operational Success
A prepared meals program seamlessly integrated into your online shopping experience can differentiate your brand. Here are five tips for operational excellence.
With the combined popularity of prepared meals and grocery pickup programs, offering ready-to-eat meals through your eCommerce platform serves up a solid opportunity to increase revenues. Equally important, an online meal prep program can help you differentiate your brand in an increasingly competitive market by offering shoppers the prepared meals they want.
In addition to providing the convenience that today's shoppers demand, prepared meals to help them discover new dishes and flavors, adding variety and interest to their menu. A meal prep program can also be a great way to appeal to the current desire to "buy local", which has become a popular trend over the past two years. In that same time period, the U.S. market has seen a more than threefold increase in spending on prepared foods.
As restrictions are lifted in 2021, even in-store fixtures like the hot bar are making a comeback, inspiring retailers to further invest in improving their prepared meal programs. By replicating online the great customer service you're already known for, you can set your brand apart with a convenient prepared meal online ordering service.
Learn more about the many benefits of a ready-to-eat meal program for both shoppers and grocers, and how the Mercatus platform can help.
A successful meal prep program must be efficiently operated, with seamless integration into the online shopping experience. Here are five crucial elements to boost your prepared meals offer.
1. Integrated online ordering system
It all starts with the online customer's desire to put together a quick and easy meal that suits their family's tastes. The ability to customize orders is key. That could mean, for example, giving the shopper the ability to choose the cake and frosting flavor, icing color, message, and custom photo or specify dietary restrictions for a special occasion cake. Or enabling the customer to build a charcuterie plate for a specific number of people with their choice of deli meats, cheeses, breads, and antipastos.
Customized orders can be complex and need to replicate the confidence your customers have with placing an order at your service counter in-store. They require a sophisticated platform capable of capturing multiple data inputs around a single item, such as quantity, size, color, flavor, message, component products, and so forth.

Then, once the customer submits the request, your integrated online ordering system needs to be able to unite all the moving parts at the store level. Employees in the bakery or at the deli counter, for example, should be notified that an order has been placed with all relevant details. They also need to know the exact timing requirements so the order can be prepared on time — but not so early that the item isn't fresh or warm by the time the shopper gets it.
This is especially important for a multi-stage order like building a customized cake, as well as orders that involve thawing or cooking foods or assembling items from more than one department.
Tracking orders with a centralized hub helps your team efficiently prepare orders. Learn how Mercatus Ready Made Orders makes it easy.
2. Accurate order timeslots
For a standard grocery order, confirming a timeslot is already complex. It depends on many factors including staffing resources, the time required to pick, pack and stage the order, and the number of pickup parking spaces. When a ready-to-eat meal is included, the calculation becomes more complex. The system now has to factor in the time required to assemble the most time-consuming item when calculating a timeslot.
Take that custom cake order, for example. The system must consider the various steps involved and the timing for each. Is that flavor of cake slab already in the frozen inventory or must it be freshly baked? How long is the cooling period before it can be iced? How long is needed for a custom icing request?
Your online ordering platform must be capable of making a number of calculations before it can confirm a timeslot when everything will be ready. Overpromising and underperforming will only result in long wait times and customer dissatisfaction.
3. Fulfillment tailored to grocery and prepared meals
A standard grocery order may consist of foods in three general categories: non-perishables, frozen foods, and refrigerated foods. Each type of food is stored appropriately at the staging area for final assembly to hand off the order once the customer arrives for pickup (or ideally, just as they are approaching the store).
An order with a prepared meal may require pulling multiple items together from different departments or heating or thawing items. If last-minute preparation is required, this must be carefully timed to avoid a long wait period once the customer arrives. Hot meals might need to be brought from another part of the store at the last minute to ensure the customer receives the food while still warm. Associates packing the order must take care that a hot entree isn't placed next to a delicate salad or frozen dessert.
Solutions specifically built to accommodate the requirements of prepared meals, such as our Ready Made Orders and Fulfillment solutions, can automate these fulfillment flows to help your employees prepare and hand off entire orders on time, at the right temperatures.
4. Data and reporting
Store managers have an important role in the overall success of the prepared meals program. They need accurate, up-to-date data and reports that assemble the data in a way that's easy to interpret.
That means having ready access to the metrics necessary to assess the program's success. Relevant Key Performance Indicators (KPIs) include average order value (AOV), orders per week, fulfillment metrics such as customer wait time at pickup, and the number of orders per hour. Customer reviews are also important to monitor, both those posted through social media and those solicited through targeted customer surveys sent out post-order.
The manager will also need specific data to help ensure that the stock required for ready-to-eat meals is consistent with actual order patterns. This involves reviewing past orders to determine trends and also looking at upcoming events such as statutory holidays to predict spikes (or lulls) in demand so stock orders can be tailored to the anticipated needs. Are there particular days of the week or times of day that are especially popular for prepared meals? Are staffing resources sufficient to meet demand during these periods?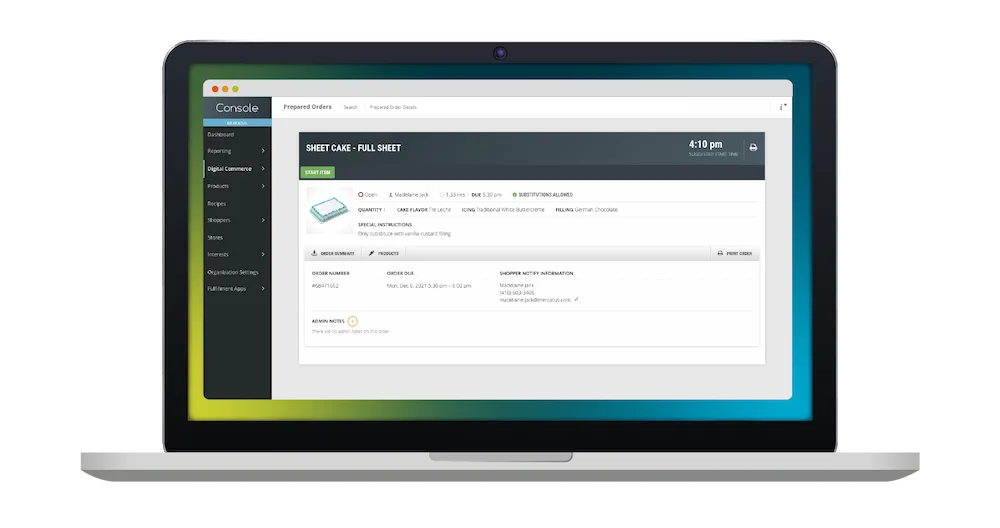 Our Grocery Order Management app offers an intuitive interface and dashboard that makes navigating reports and KPIs easy.
5. Cross-channel promotion alignment
You already know that creating a unified experience for your shoppers across every touchpoint is an important way to create a strong brand. That should extend to your prepared meals program.
The Mercatus platform makes it easy for your team to quickly and easily update your website with the latest promotions, personalized coupons/offers, and other incentives. This ensures that your loyal shoppers are alerted to specials at every touchpoint, including the product catalog, banners, and flyers on your eCommerce site. The platform also enables you to integrate your in-store loyalty program or club card with your eCommerce experience, so your loyal shoppers enjoy a unified shopping experience across every channel and touchpoint.
With the Mercatus platform, you can easily create a successful, seamless prepared meals program that sets your brand apart. Learn how.