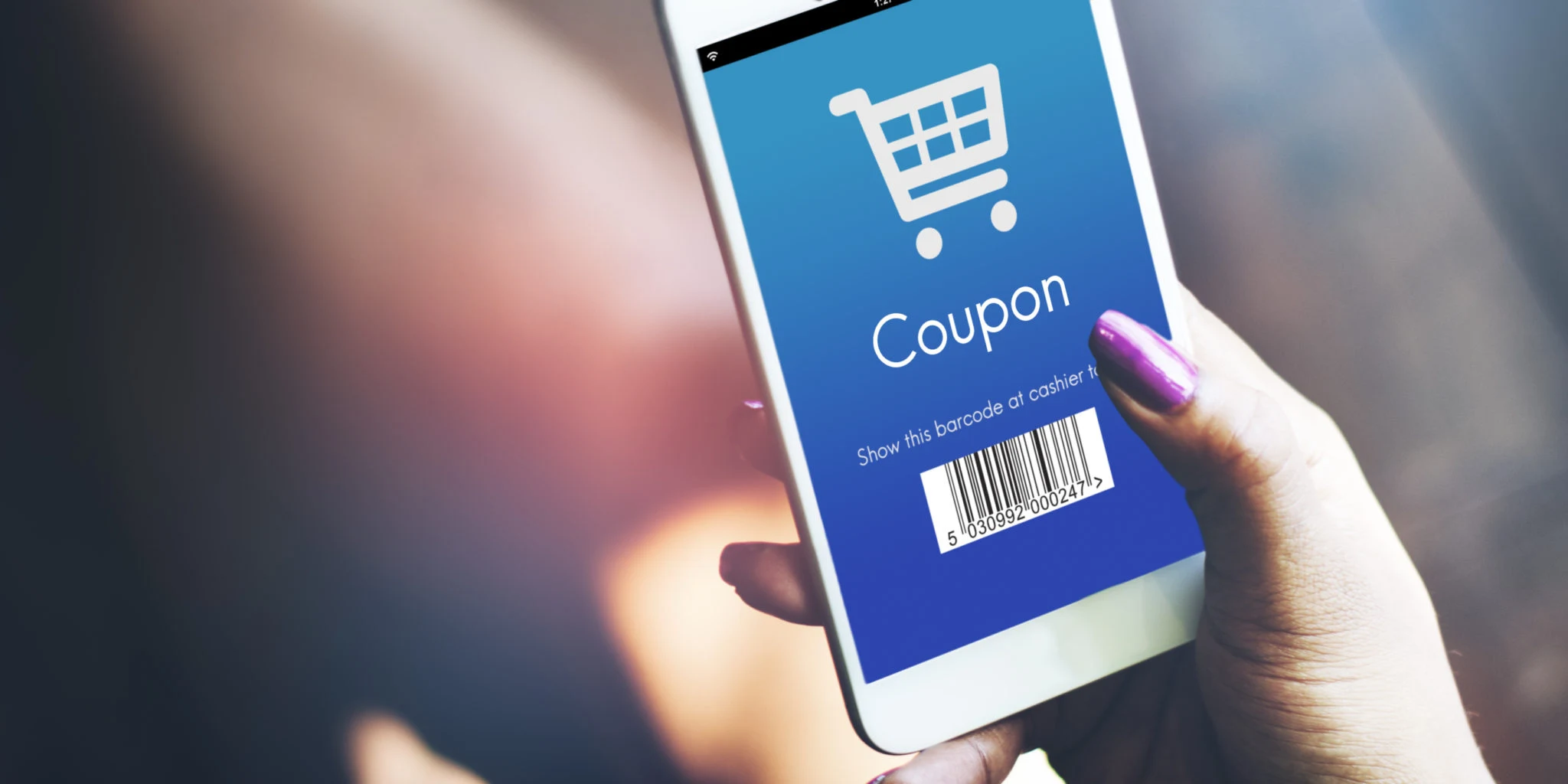 Drive Grocery Shopper Loyalty with Mobile Coupon Activations
Build grocery shopper loyalty with digital coupons.
One of the most dependable ways to drive grocery shopper loyalty is to deliver more value with sticky digital offers that incentivize consumers to make larger and more frequent purchases. Some of the world's most successful omnichannel retailers have figured out what drives repeat business: Mega-brands like Alibaba, Amazon, Wal-Mart, and Starbucks (yes, Starbucks!) know that the "right time, right place, right person, right device" works… but to gain shopper loyalty, they've also got to offer value.
Consider results from the latest Valassis's Coupon Intelligence Report:
Over 90 percent of shoppers create a list prior to shopping and 84 percent use coupons during this process.
More than two-thirds of consumers surveyed said the mobile offers they receive influence where they shop, while 58 percent of shoppers said they visit a store after receiving a digital coupon.
More than a third of shoppers have increased their use of the Internet to find coupons. The most frequently searched locations: retailer and manufacturer/brand sites (tied at 70 percent), followed by coupon sites (68 percent) and search engines (65 percent).
61 percent of shoppers use their mobile devices to save on their CPG purchases, with over half of respondents confirming that they use grocery store, drug store and/or mass merchandiser savings apps to find additional offers on the products they purchase most often.
Digital wallets—the perfect vehicle to deliver value to today's consumers?
We know that the majority of mobile app users access the apps to receive deals and offers. In fact, based on an Inmar study of 1,000 U.S. grocery shoppers from January 2018, 63 percent would use more coupons used while shopping if the offers were available digitally, and 82 percent of shoppers who use digital coupons redeem them within a week (while almost a third of those surveyed use digital coupons within 24 hours of receiving it).
This is a likely factor in the increasing traction of digital wallets, with more than half of consumers surveyed in the U.S. and the U.K. having used the mobile wallets embedded in their smartphones (via Apple Wallet, Android, and Samsung Pay). Mobile wallets are now among the top four ways consumers prefer to stay updated on sales, offers, and coupons (alongside more traditional channels: websites, email, and text/SMS).
Meanwhile, Business Insider has forecasted that in the U.S. alone, mobile payment volume will increase to $503 billion by 2020—suggesting that uptake of mobile wallets usage will continue to grow as more retailers catch on to the opportunity to facilitate better and more frequent shopping experiences through their mobile wallet presence.
Now, it's all well and good to say that technology drives loyalty (which then drives higher revenues). But the proof's in the putting: let's look at an example of an omnichannel retailer that's leveraging digital technology to build better consumer uptake and increased loyalty from their shoppers.
---
Learn what happens when traditional regional grocery & eCommerce collide (hint: online shoppers order more items…)
---
Starbucks' tech investments create real value for loyal customers.
There's a reason that Starbucks is so popular with consumers around the world, and it's not just the brand's limited-edition Unicorn or Crystal Ball Frappuccinos… Rather, according to CEO Kevin Johnson, Starbucks' long-term success can be attributed to several factors, including a unique product offering that changes with the seasons, as well as an elevated customer experience (CX) that makes shoppers feel like the brand actually knows and cares about them.
And while we've seen plenty of retail brands focus on this kind of ultra-personalized CX delivery, when you combine it with Starbucks' investments in their digital offering—something the brand calls their "Digital Flywheel"—it's clear that the folks at Starbucks HQ are placing big bets on technology to drive loyalty and revenues. This includes everything from its rewards program (with 13.3 million active members representing 30 percent of transactions and 36 percent of U.S. revenues in Q3-2017) to its mobile order-ahead feature (which accounted for 9 percent of transactions in the same quarter).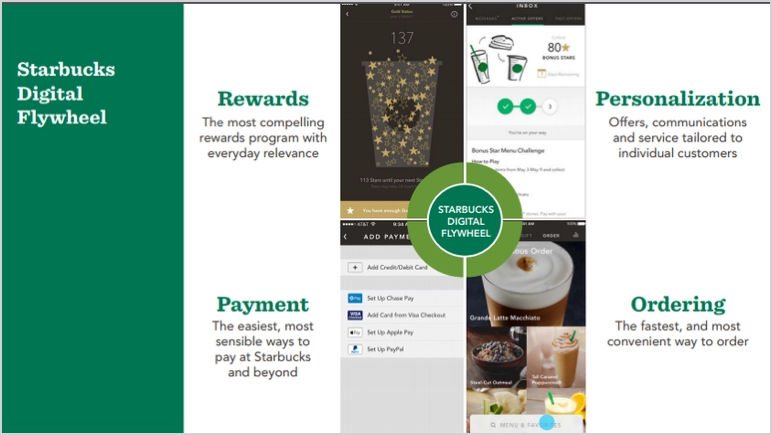 Starbucks' mobile growth has surged in recent years, and accordingly, the brand plans to further invest in digital assets in order to grow its universe of digitally-engaged customers, as they've been able to recognize a sustained lift in spending from even modest increases in active digital users (to wit: mobile app users spend about 3x more than the average Starbucks customer).
So, in addition to personalized offers being sent to users based on their order and purchase history, Starbucks also plans to leverage AI to get to know its customers better. The result: Members can expect new benefits that reward them for their purchases, that eventually tie into in-store inventory and POS systems to fundamentally change the way that consumers browse, buy, and fulfill their Starbucks purchases—providing even more reasons for die-hard Starbucks customers to set up digital relationships with the brand.
Making digital technology work for your retail brand—it's all a matter of scale.
Are you thinking of launching your own digital couponing or mobile wallet program? Remember: You don't need to be a mega-billion-dollar company like Starbucks to leverage digital couponing in your retail business. More retailers of all shapes and sizes are integrating mobile offers into their current business models. But to optimize results, it's important to work with the right technology partner to ensure that your customers have seamless access to the best discounts, however, and whenever they want and need them.
If you're in the process of developing your own rewards program, keep these high-level considerations in mind:
KISS (Keep It Simple, Stupid): Make the program as easy as possible for consumers to buy in. This is especially important in the early days when you'll be looking to build momentum and gain a flood of new members, which can then be used as an additional incentive to get more retail brands on board.
Offer real—and relevant—value: Consumers are more likely to buy into offers that are targeted to their specific needs. This is where customer data comes in: Use the data you've collected on your most valuable shoppers to drive purchase likelihood, offering dynamic promotions that make it impossible for consumers to ignore.
Communication is key: Like any solid relationship, brand–customer engagement relies upon clear and consistent communications in order to maintain loyalty and buy-in over the long haul. From your eCommerce site and app to in-store POS, flyers, and beyond, make good use of any or all of your brand's promotional real estate to inform and excite shoppers with details of the value they'll receive from engaging in your digital program.
Omnichannel or bust: Take advantage of your customers' propensity to shop bricks-to-clicks and back again, combining print and digital couponing for the best results. Some ideas:
Offer print coupons at the checkout to promote return visits or direct mail drops in neighborhoods where your stores are situated.
Feature downloadable coupons on your homepage and unique offer codes on your social media channels, encouraging followers to share the codes, spread the word, and brag about the added value they received from shopping in your stores.
Use mobile messaging (including push notifications and SMS/text messaging) to communicate unique offers to subscribers, using location-based messaging to target users where they live, work, or play.
At the end of the day, most retailers recognize that their businesses wouldn't be possible without customers coming back time and again to shop their aisles (whether in-store, online or more likely, a combination of the two). In an ultra-competitive and increasingly global marketplace, retailers need to get savvier about how they build loyalty among consumers. A smart place to start is with mobile couponing that goes beyond the "right time, right place, right person, right device" paradigm to add value to every customer interaction.
If you're ready to level up your mobile shopping experience, then check out Mercatus Mobile: the most powerful native mobile app available to grocers.
---
Enjoyed this blog post? Then you might like these resources: