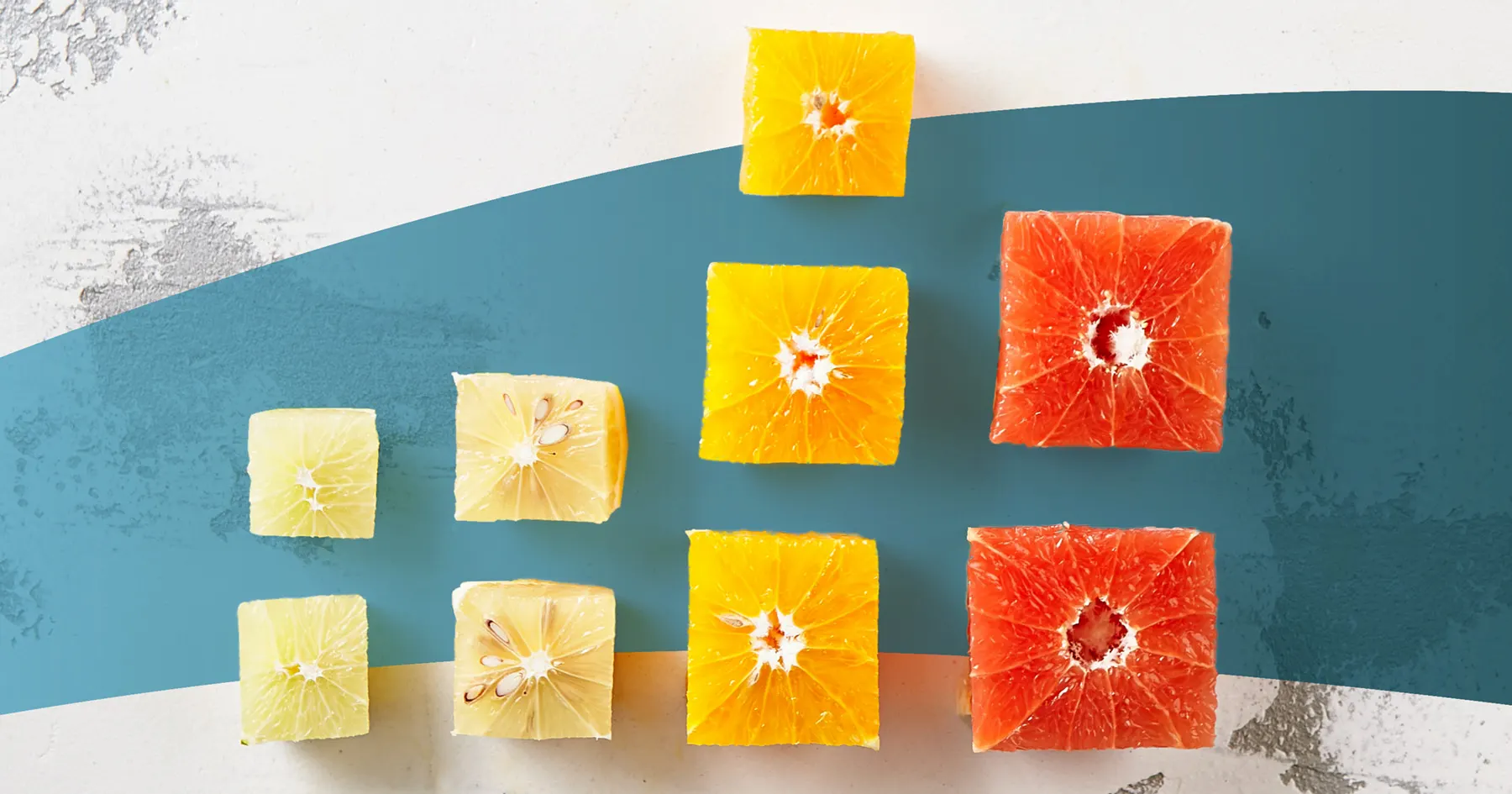 Your Grocery eCommerce Website Needs These 4 Features
Your grocery eCommerce website can build customer loyalty and increase success by delivering these four essentials, according to a new survey.
Monthly online grocery sales grew 430% between 2019 and 2020. It's predicted that pandemic-driven growth will continue digital acceleration in grocery, with digital sales reaching over 20% by 2026. That's one of the topline findings reported in Incisiv's 2021 Digital Maturity Benchmark Report. The report offers insights into the key features and capabilities of leading grocery eCommerce websites.
While many grocers upgraded their digital offerings rapidly over the course of the pandemic, the report reveals that there is still much room for improvement. This is particularly true in the areas of Research & Discovery — the availability of information at crucial decision points — and Customer Service. The other areas considered in the report are Fulfillment and Customer Service.
Rewards of a Digitally Mature Grocery eCommerce Website
The grocers who are ranked as digital maturity leaders display high adoption of the capabilities considered "table stakes". They also have high adoption capabilities considered "differentiating experiences" — advanced capabilities that address emerging shopper expectations and set that retailer apart. (For examples of the table stakes and differentiating experiences, see page 11 of the 2021 Digital Maturity Benchmark Report.)
Digital maturity leadership is more than a label. It's highly correlated with revenue growth. The grocers who were identified as leaders saw revenue growth more than five times higher than those identified as laggards.
Understanding where the digital maturity leaders have invested in eCommerce can help inform your own investments, as your own grocery eCommerce website evolves. Here's a selection of some important elements identified in each of the report's four categories. (For complete insights, be sure to download the full report.)
1. Research & Discovery: Visibility and Transparency
The search process is critical for success. Incisiv reports that about 90% of shoppers check a store's website before they make a purchase, whether they buy online or in-store. The grocery industry lags behind other industries in this area.
Grocery shoppers want convenient navigation and the ability to easily find active promotions. They want to know whether an item is in stock or unavailable. And they want sophisticated search filters that help them find products that meet their dietary and other needs. Yet only 17% of grocers offer advanced search capabilities.
Target is one of the grocers identified as a digital maturity leader. It offers fulfillment filter options that allow shoppers to see whether items are available based on delivery methods.
2. Online Ordering: Simple and Seamless Checkout
More than 70% of shoppers say checkout is their biggest pain point, and one out of five say they'll abandon their cart if the checkout process is lengthy or complex. Ensuring a quick and easy checkout experience is an important area of investment for your grocery eCommerce website.
One of the biggest growth areas of the past year has been one-screen checkout, with 42% of grocers offering this in 2021, up from 25% in 2020.
Another way to make checkout seamless: giving your customers a wider range of digital payment options. German retailer Rewe, for example, offers credit cards, Paypal, SEPA, and more. In the US, 25% of retailers accept SNAP EBT payments on their eCommerce site. This increasingly important new payment method is easy to adopt with Mercatus SNAP EBT Online.

3. Frictionless Fulfillment: Ease of Experience
As more third-party delivery options become available, shoppers are less loyal to Instacart in 2021 than they were in 2019, according to a 2021 report by Barclays Investment Bank: Dissecting Instacart's Hangover. This is good news for grocers.
If you would like access to the Barclays report, please contact us.
The ability of customers to place and receive orders through various fulfillment methods is key to a successful omnichannel program. Choice of fulfillment options, speed of fulfillment, wait times, tracking functions, and the ability to handle customization requests all factor into this category.
Pickup at the store is the leading mode of fulfillment, which means investing in this service is valuable. According to our 2021 survey on shopper behavior, adoption increased by 9% in 2021, with 61% of shoppers using store pickup.
A full 88% of shoppers say that speed is their number one reason for using click-and-collect grocery shopping. Yet long wait times remain an issue for many.
Geolocation technology that enables live location tracking and extremely quick handovers is a relatively new, but important, pick-up feature. Right now, just 6% of grocers offer this differentiating experience — but it's one that could make a big difference.
Walmart is one example of a grocer that leads in this area. Customers can coordinate their pickup and get status updates through the Walmart grocery eCommerce mobile app.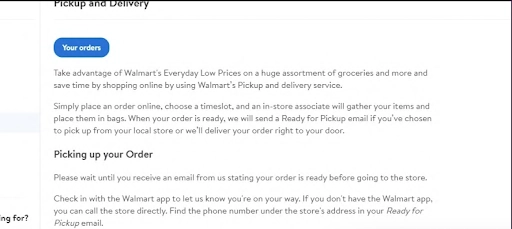 This technology is readily available to you. With Mercatus Fulfillment, grocers can leverage integrations like FlyBuy Pickup's geolocation technology to coordinate order handoffs in two minutes or less. Combined with our ShopperKit integration to maximize picking efficiency, you can reduce labor costs while providing the frictionless fulfillment customers want.
4. Customer Satisfaction: 360-Degree Service
Customer satisfaction has evolved from issue resolution by call centers to proactive customer engagement. This includes everything from the ability to create a profile and save preferences, to self-help tools, to loyalty programs.
One area of high growth is functionality around personalization and engagement. Recommendations on the homepage that are personalized to that user, and the integration of a virtual assistant are two of the innovations that have seen greater adoption in 2021 compared to the previous year.
With more than 50% of food purchasing decisions influenced by dietary restrictions, the ability to get personalized recommendations based on eating preferences is now an important offering. Yet only 13% of grocers currently have this capability.
The UK's Tesco provides a number of dietary options that customers can select in the account section to create a more personalized shopping experience.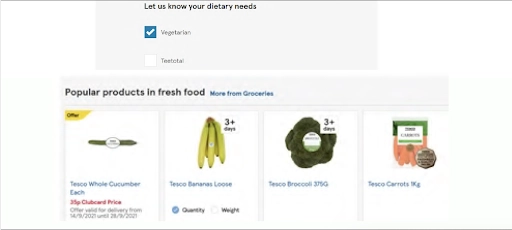 Learn how Personalization on the Mercatus Platform makes it easy to add this important capability to your grocery eCommerce website.
What's Next in eGrocery?
With COVID continuing to serve up new surprises at every turn, it's increasingly likely that consumers will continue to turn to online ordering for their groceries. And as their experience with online shopping in all categories continues to grow, so will their expectations of what shopping online should look like.
The prevalence of cross-shopping (discussed in our blog on grocery eCommerce pandemic trends) means that grocers need to step up their digital maturity to ensure their continued success. That means investing in their grocery eCommerce website by adding features and technologies that deliver a quick, efficient and positive experience.
Get the whole story on which technologies you should adopt to compete in — or lead — online grocery. Download the 2021 Digital Maturity Benchmark Report.