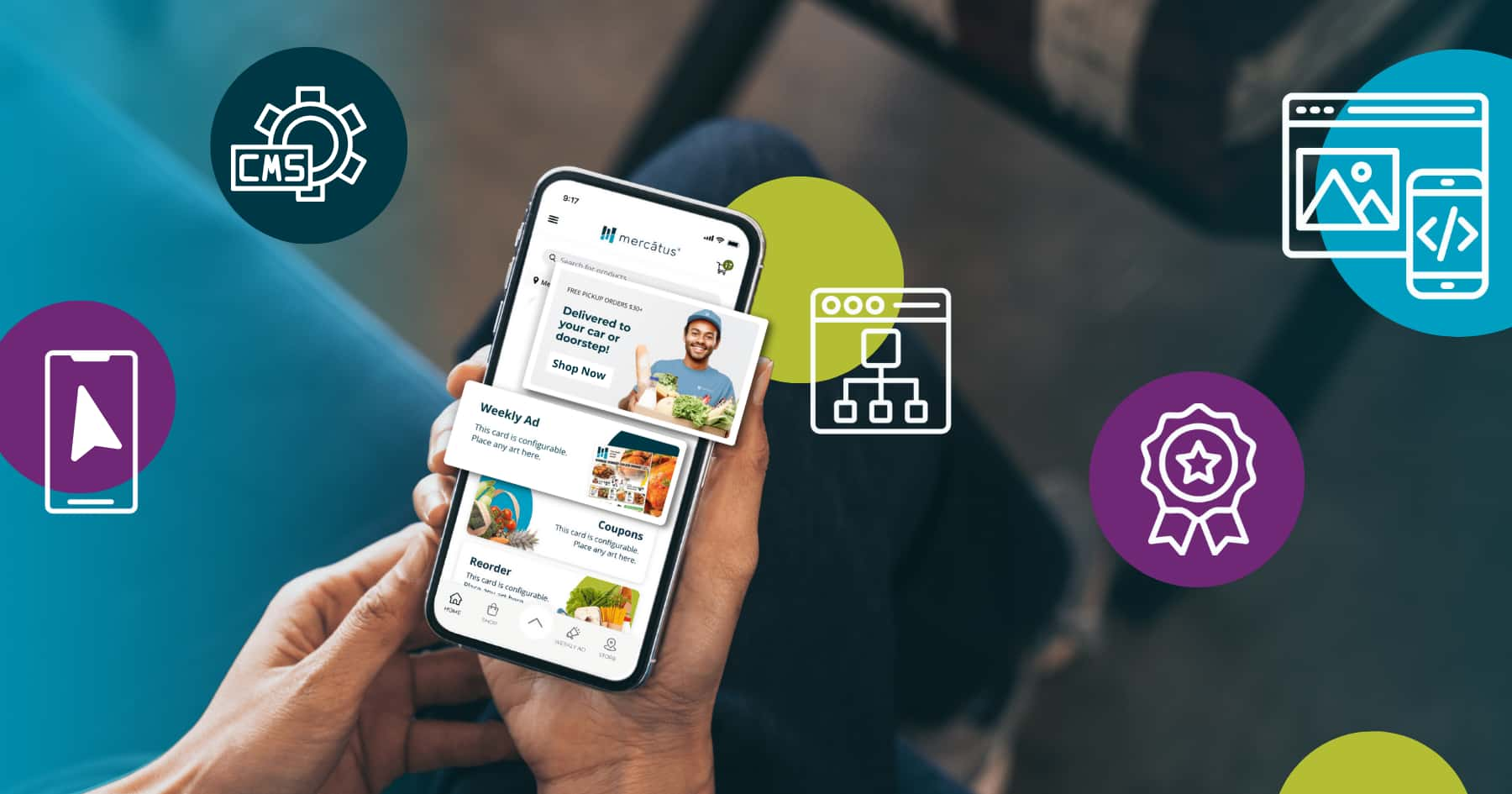 5 Must-Have Features That Will Level Up Your Mobile Grocery Experience
What Does Grocery Innovation Look Like in 2023?
The future of grocery retail will belong to regional grocers who ensure that mobile is a critical pillar of their omnichannel strategy – one that customers turn to for a convenient shopping, fulfillment, and post-purchase experience. But, simply offering a mobile grocery shopping app to customers isn't enough to build loyalty, improve share of wallet, and win market share in 2023.
Retailers need a mobile app that is designed to elevate and reimagine the end-to-end customer experience and provide a whole new degree of convenience that delight consumers.
In this article, we deep dive into the 5 essential features of a grocery shopping mobile app, and the pivotal role they'll play in driving customer affinity and loyalty in 2023.
The Past and Future of Mobile Grocery Growth
As per a 2022 PYMNTS report, mobile grocery sales have seen steady growth while purchases made in-store or via laptop/desktops have declined. In fact, mobile purchases on grocery apps grew from 6.7% to 9.8% between Q4 2021 and Q3 2022. Growth in mobile commerce is expected to account for 44% of all digital sales by 2025. And at this promising growth rate, mobile grocery shopping is establishing itself as a mainstay for shoppers.
Must-Have Features to Deliver a Seamless Mobile Grocery Shopping Experience
A native mobile app isn't just another addition to the omnichannel ecosystem; it allows retailers to meet evolving consumer demand and preferences head-on. We know from research that omnichannel customers spend more on average than single-channel customers. And combine that with the fact that 90% of all shoppers own a smartphone, offering a mobile grocery app that enhances customer convenience becomes a critical part of a regional grocers' omnichannel strategy.
With a strong mobile app, retailers can effectively control this first-party channel and the overall experience to build long-lasting customer relationships. They can reduce their operational costs by compensating it with mobile sales and ad revenue. Finally, they get to deliver a convenient always-on grocery shopping experience for on-the-go customers that builds brand affinity and customer lifetime value.
Designing a mobile app that delivers on those promises is critical. Let's look at some of the features that can make or break a customer's mobile grocery shopping experience in today's day and age:
1. Modern Mobile Framework
A modern mobile framework enables quick and seamless innovation by introducing best-in-class features and functionalities. Retailers need a framework or foundation that they can build their app on and scale it as their business operations grow. Only then can they think of delivering a differentiated grocery shopping experience.
They should also ensure smooth integrations with third party apps. Frameworks that have Application Programming Interface (APIs) integrations or Software Development Kits (SDKs) can make it easier for retailers to take advantage of new features and functionalities that enhance the customer experience.
We've clearly defined and laid out our product roadmap for our native mobile app. The roadmap strategically details the enhancements and features that we plan on adding in the next 6 to 12 months. We've developed a mobile platform that continues to keep up with industry dynamics and provides a foundation for grocers to build a scalable app on.
2. Seamless App Navigation
A poor app layout that is hard to navigate can be a deal breaker. Retailers need to focus on building a thoroughly intuitive app that has a shopper-friendly layout and is easy to navigate. A platform that supports content configurability is also a must-have. It enables marketing and merchandising teams to share relevant promotional content and improve average order values (AOVs).
When a customer opens a mobile grocery app, there are countless ways they can build their cart and the fundamental UX/UI need to be sound. The Home Page should clearly indicate key areas (e.g. promotions, flyers, coupons, etc.) for the customer to engage with. Digital "aisles" should show product images with easy to use "add to basket" counters and relevant advertisements to encourage basket building in as few clicks as possible. Whether a customer is just starting their basket on Monday and checking out on Saturday or putting in a quick order for 4-5 items, the cart building process should be easy as add, review, and checkout. All of these elements must work together for a seamless experience that'll drive customer convenience.
Incorporating these elements into your platform can also help avoid cart abandonment. According to a survey conducted by Coresight Research, cart abandonment rates in the U.S. can be as high as 77%. Shoppers have been known to abandon their online carts after struggling to navigate the app resulting in an inconvenient customer experience. Similarly, shoppers have abandoned carts due to a difficult checkout process requiring multiple clicks. Luckily, these situations can be mitigated.
A streamlined checkout process, offering a single-click checkout can be game-changing for retailers. At Mercatus, our native mobile app-building platform is focused on driving higher average order values and cart conversion rates. Our feature roadmap is aligned to deliver a seamless shopping experience that tangibly improves mobile revenue and profitability.

3. Personalization, Rewards, and Loyalty Integrations
As modern consumers face the paradox of choice, personalization of user experiences is the only way to stay relevant as a grocery retailer. Whether it is personalized product recommendations that allow customers to add their most-purchased products to their cart in a single click or search personalization that predicts what a shopper might be looking for based on their purchase history, personalization enhances customer convenience.
When shoppers come across relevant product recommendations and promotions, they conveniently add items to cart without having to spend time browsing for them. This directly enhances the overall customer experience, encouraging stickiness in the long run. Additionally, personalization of rewards and offers is a huge factor in driving shoppers back to a particular retailer, thus boosting their share of wallet.
Knowing that personalization is a key part of a great customer experience, Mercatus is investing heavily in product recommendations, product attributes, search functionality, and shopper profiling. With easy third party integrations offered by Mercatus Mobile, driving loyalty with extensive personalization has now become even more streamlined.
4. Robust Content Management System (CMS)
Convenience doesn't end at offering a seamless way for customers to shop online, but also extends to how retailers' marketing and merchandising teams manage their mobile eCommerce strategy. Retailers need a platform they can rely on to create mobile app content within a few clicks, including product promotions, offers, flyers, coupons, deals, as well as private-label products to improve the overall efficiency of their mobile eCommerce systems.

Our all-new mobile CMS enables retailers to update their mobile home screen in a couple of clicks without having to release an app update. So, whether it is modifying a featured image or updating weekly personalized coupons, our CMS is designed to provide unmatched configurability and flexibility with enhanced efficiency.
5. End-to-End Ecosystem from Mobile to Web
While mobile is the future of grocery retail, it still needs to be a part of retailers' end-to-end grocery retail ecosystem to deliver on its full potential. A seamless integration with the web experience ensures that the mobile experience blends flawlessly within the omnichannel grocery ecosystem to provide customers with the maximum convenience possible.
So, even if customers rely on the retailer's mobile app to access flyers and coupons or to build their cart, the same experience follows them consistently through other channels to reinforce brand identity and simplify shopping. For retailers, managing a web and mobile platform that is seamlessly integrated is a lot more convenient and streamlined. It not only ensures operational efficiency, but also a consistent brand image across platforms.
4 Ways Mercatus Mobile Outranks Competing Mobile Grocery Platforms
A one-of-its-kind platform designed to deliver growth and scalability for modern grocery retailers via mobile commerce, Mercatus Mobile outperforms its competitors. Let's find out how!
1. Mercatus Mobile offers fully integrated, end-to-end, and centralized eCommerce experiences
Mercatus is all about delivering a fully centralized grocery retail ecosystem where web and mobile go hand in hand to deliver centralized and consistent experiences across the customer journey.
Retailers no longer need to manage content and data separately for multiple channels, but can rely on Mercatus' end-to-end eCommerce experience platform to oversee their omnichannel strategy in one place without a hassle.
2. Mercatus Mobile provides advanced technology integrations
Whether retailers need a loyalty partner of their choice or are looking for a personalization solution for offers and rewards, Mercatus Mobile provides scalable third-party technology integrations that allow them to leverage additional innovative technologies.
With 60+ third-party apps available, Mercatus Mobile allows retailers to gain complete control over their omnichannel experiences and work with the flexibility that they have always desired.
3. Mercatus Mobile allows retailers to customize the look and feel of their app
Our native CMS allows retailers to customize the look and feel of their mobile app to align with their overall brand theme. This allows them to reinforce their brand identity, encourage loyalty, and maintain a consistent brand image across channels.
With a mobile app that is inherently a part of the brand experience, regional grocers can:
Stay on par with mass merchants in terms of brand identity and recall value
Differentiate themselves from competition
Build and strengthen their brand identity, thus deepening customer relationships
4. Mercatus Mobile offers a closed ecosystem for retail media
Mercatus Mobile allows grocers to integrate retail media ads so they can not only elevate user experience, but also monetize mobile traffic and lower their cost to serve online customers. A closed ecosystem allows retailers to collect useful first party data of their target audience and user base across channels and leverage it for revenue generation from retail media.
By operating their own first-party channel, retailers can leverage their large customer database and mobile traffic to benefit from retail media advertising. They can make the most of their strong relationships with national and local CPGs and offer native digital ads that don't compromise on the shopping experience.
Targeted native advertising even helps customers discover the best and most relevant deals and offers and new products aligned with their preferences and purchase history. For grocers, this offers an excellent opportunity to be able to offset high operational costs with ad revenue.
Mercatus Mobile: The Ultimate Mobile Grocery eCommerce App Optimized for Customer Convenience
The Mercatus ecosystem has expanded to include a native mobile app designed to provide retailers with a platform that offers consumers a seamless shopping experience from the palm of their hands.
Trust Mercatus Mobile to Lead with Convenience and Improve Mobile Revenue
Mercatus Mobile enhances retailers' omnichannel strategies by adding an additional platform to our existing product offering,enabling grocery customers to shop via a branded mobile app. This puts regional retailers in a better position to stay ahead of the mass merchants and win share of wallet in a saturated marketplace.
Ultimately, Mercatus Mobile allows retailers to prioritize convenience with a native mobile app that redefines how online grocery shoppers engage with retailers, discover new products, make purchases seamlessly, and enjoy a delightful post-purchase experience. Here are the benefits regional retailers can expect from Mercatus Mobile:
1. Improve Customer Satisfaction
Repeated studies have shown that a delightful grocery shopping experience is where customers can shop on the go, access coupons, flyers, and loyalty cards conveniently, and add items to their cart with a single click.
A slick mobile app helps them save time and effort in getting their groceries online. A connected and intuitive mobile shopping experience works towards ensuring improved overall customer satisfaction for retailers in today's era of omnichannel grocery.
2. Drive Higher Order Values
With grocery shoppers prioritizing cost due to high inflation, retailers need to strategize ways to keep existing customers engaged. From new product promotions, offers, flyers, and opportunities to feature private-label items, Mercatus Mobile provides an intuitive Content Management System to craft and design persuasive mobile app content with just a few clicks designed to ultimately raise average order values and profit margins.
3. Increase Order Frequency and Retention
Backed by a best-in-class cart building and ultra-fast checkout process, Mercatus Mobile offers a native mobile shopping experience that customers want to come back to. With every purchase, online customers get more and more accustomed to a branded, personalized, and seamless shopping experience that they are happy to return to.
4. Deepen Customer Loyalty and Improve Customer Lifetime Value
Nearly every research on the current grocery retail landscape tells us that relentless competition and the impact of inflation have made it increasingly hard to retain customer loyalty. Mercatus Mobile helps drive customer loyalty over the long run by building an end-to-end omnichannel experience that shoppers can trust and rely on.
With an always-on experience that prioritizes convenience over everything else, regional retailers can enhance their Customer Lifetime Value and drive loyalty like never before.
Learn more about Mercatus Mobile and how you can deliver the next generation of grocery innovation and convenience to redefine your omnichannel shopping experience.