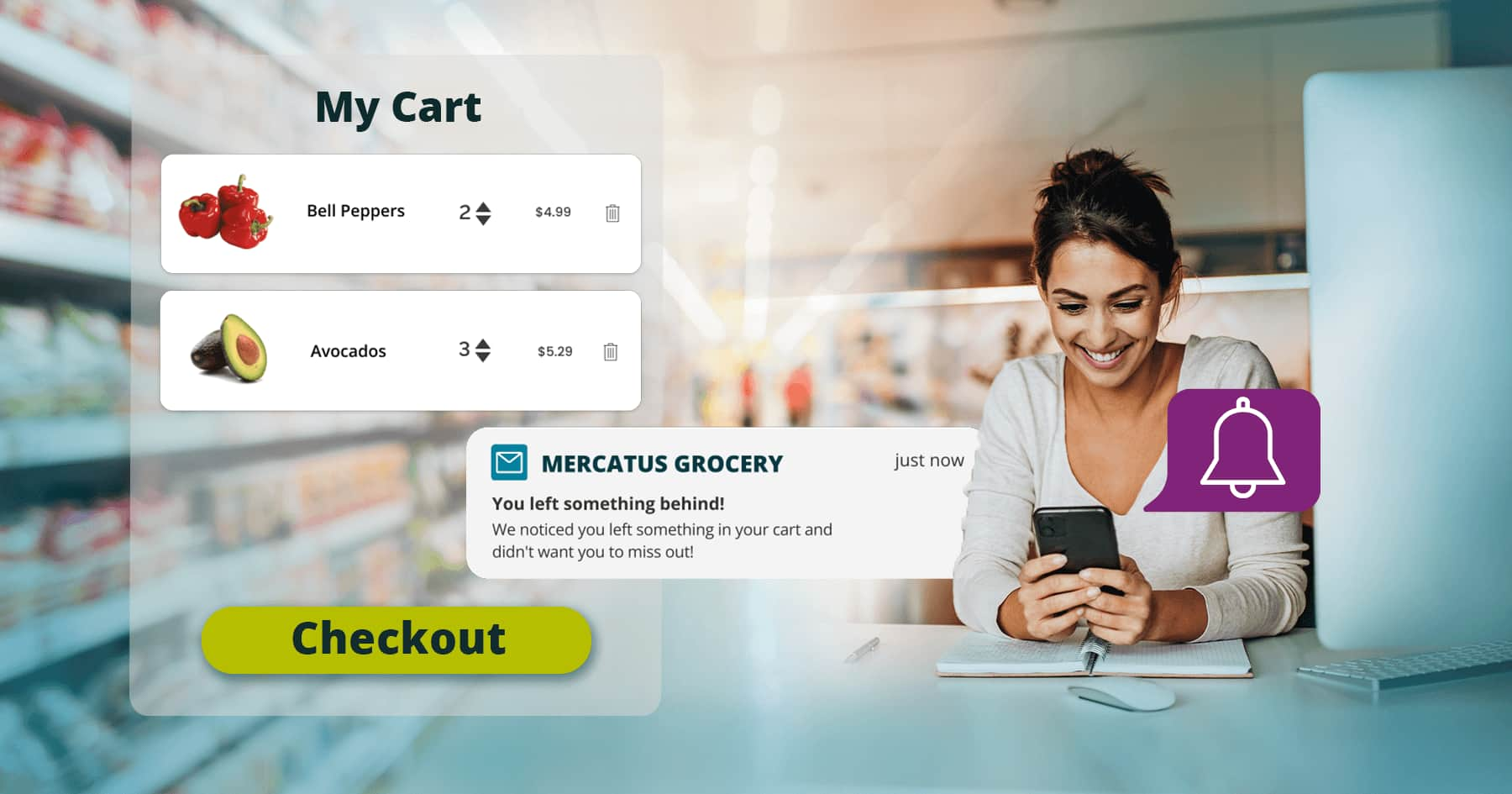 5 Tips to Reduce cart abandonment on your grocery eCommerce platforms
When a customer abandons a cart in your brick-and-mortar grocery store, it creates an obvious and immediate problem that takes up physical space, requires additional restocking labor and may lead to lost perishables and revenue. An abandoned digital shopping cart may not have the same physical presence or immediate costs, but the loss in potential revenue and customer loyalty could be costing you more than you realize.
It's much easier for customers to walk away from a full or partially filled cart in the online world than in the real world. A survey of 271 US retailers and 222 shoppers by Coresight Research found that cart abandonment rates could be as high as 77%, leading to estimated losses of $111 billion to $136 billion each year. Based on these figures, with online grocery sales on track to grow steadily (6.5%) from 2023 to 2027, abandoned carts could be costing US grocery retailers over a billion dollars each year.
Research from Baymard Institute reveals that most of the reasons why a shopper chooses to abandon their online cart can be resolved. Among the top are the extra or high fees (48%), the prerequisite of creating an account before ordering (24%), and slow delivery (22%).
How to reduce cart abandonment
Clearly, preventing customers from leaving before they complete an online purchase is an important objective for grocers. Using insights from the Coresight study and online retail best practices, here are steps you can take to reduce cart abandonment in your eGrocery web or mobile app platforms.
1. Analyze abandonment metrics
Any strategy to combat cart abandonment has to start with why your online customers are leaving before completing their purchase. The top three reasons for abandoning online carts, according to Coresight, are extra costs (43%), lack of alternative payment methods (26%) and a complicated checkout process (25%).
If you're already tracking cart abandonment metrics for your eCommerce platform, that's a good first step. Analyzing these metrics can allow you to learn more about how users are interacting with your website or app, and more importantly, what's causing them to abandon their carts. With clickstream data, which provides a window into how users navigate a website, you are able to identify the reason why a cart may be abandoned. Clickstream data also provides information about the page a user first landed on, where they clicked, how long they were on the page, and where they navigated to next. All these components can help pinpoint where in the online shopping experience things went wrong and allow you to implement a solution.
The Mercatus Retailer Console provides you with key metrics that help you monitor customer behaviors and improves cart conversion rates. With powerful reporting capabilities, you can track KPIs such as cart conversion rates, cart abandonment rate, average order value, and more. Our platform enables you to better understand your customers and give you insights into purchase patterns that will help you shape your eGrocery strategy.
2. Review your fee strategy
It's important that customers know from the beginning what kinds of additional fees and costs are involved with the transaction. The more transparent you are up front, the fewer carts will be abandoned due to checkout "sticker shock." On the Mercatus eCommerce platform, for example, we ask customers to book their fulfillment time slot early in the checkout process. This tells them in advance what the fee will be and encourages seeing the order through to checkout.

This may also be the time to revisit your overall strategy for pickup and delivery fees. For example, are there certain days or time slots where you can offer lower or no fees to encourage customers to schedule orders during non-peak periods? Customers appreciate savings, and lower or no service fees may be more important to some shoppers than getting their groceries faster, especially in today's inflationary environment.
But how much do extra fees impact a customer's ability to shop online? In the Omnichannel Shopper Behavior Report 2022 (Volume 3) from Mercatus, 48% of shoppers cited wanting to avoid extra fees or charges as a reason for not using a grocery pickup service. The research also found that nearly a quarter of shoppers said lower charges or fees to use the delivery or pickup service contributed to a positive experience. With a variable fee structure retailers can provide customers with fee options and also increase the efficiency of their fulfillment process by scheduling picking and packing of orders.
3. Create a seamless checkout process
The most likely stage for customers to abandon their carts, according to Coresight, is during checkout, especially when fulfillment options, taxes and service charges and total price are shown. Customers expect a quick, easy checkout process, whether they're shopping on desktop, tablet or mobile, and they don't want unwelcome surprises. The checkout flow needs to be intuitive and allow for the opportunity to review and easily change the order. Process and associated costs need to be clearly communicated. Streamline and eliminate clicks wherever possible. For omnichannel shoppers, ensure that the checkout experience is seamless across all platforms and device types.

Easy checkout also means customers should have a convenient selection of payment options available to them. That includes credit cards, mobile wallets and payment apps, gift cards, prepaid cards and SNAP EBT, plus the ability to enter discount codes.
4. Optimize your eCommerce platforms for convenience
Before a customer even begins building their cart, there are a number of factors that can cause them to navigate away from a retailer's platform. If your site or mobile app is slow to load or times out, they can become frustrated and abandon their product search. They may also be turned off by a lack of coordinated product images, descriptions, and nutritional information. For example, a customer may get confused if a product photo doesn't match the size or SKU in the description, causing them to leave. If the discovery process makes it inconvenient for the customer to find the products they want, customers may not even reach the cart building step of their journey.
A well-built site on a thoroughly tested, enterprise-grade platform is essential. Proper tagging, a strong search function, automated emails to customers with abandoned carts and customer personalization that serves up previous purchases and a tailored product selection all help lower abandonment rates by delivering a great experience that encourages completion of the transaction.
The Mercatus platform offers first time customers a seamless shopping experience that makes it easy for them to search, discover, and build their baskets without making an account. In addition to a seamless experience, research from Baymard shows that account creation prior to checking out is the second most common reason for cart abandonment. Checking out through a guest account means fewer steps in the shopping process for customers who do not want to go through the effort of signing up during their first purchase. This leads to a more streamlined checkout experience, which can also entice customers to convert and sign up for an account later on.
Grocers can also reduce cart abandonment through our platform by offering secure payment methods. To mitigate concerns about secure transactions, our platform offers SSL certificate confirmation and features a modern design that customers can trust. We also offer multiple payment options for customers including: major credit cards, SNAP EBT, or payment at pickup.
5. Make mobile a part of your omnichannel experience
Omnichannel customers are expecting retailers to offer a variety of channels to shop from, maximizing the convenience and choice. The Coresight study observed a slightly higher abandonment rate on mobile devices than desktop. However, with mobile apps becoming an important — and growing — part of eCommerce, it's crucial for grocers to make that channel available to customers.
If a native mobile app isn't in the near term future, you can ensure that your current website design is responsive, which optimizes it for viewing on a mobile device in addition to a laptop and tablet. Following best practices in mobile design also ensures that elements such as gestures, input fields and positioning of CTAs work well for a customer navigating with one hand on a small screen.
Rapidly becoming table stakes, however, is having a native mobile app that delivers a seamless experience to customers on the go. The Mercatus Mobile app was created with frictionless cart building and checkout processes to optimize checkout rates and increase customer satisfaction and loyalty. An app can also facilitate a smooth handover at pickup, which has been shown to increase customer satisfaction scores.

A seamless customer experience is key
Grocery is a business built on customer loyalty, becoming a part of the customer's routine and community. Refining your omnichannel experience to discourage abandoned shopping carts is an important ongoing part of your strategy. With continual attention to improving the customer experience, you can encourage your customers to successfully progress through every stage of the shopping journey, from discovery to cart building to checkout to fulfillment, and build a positive shopping experience and long-term loyalty.
All Mercatus solutions — including our platform, integrations, personalization and mobile app — are designed to provide a frictionless experience for your customers and ongoing success for your omnichannel shopping experience. Get in touch to find out how we can help you reduce abandoned carts and increase customer satisfaction.