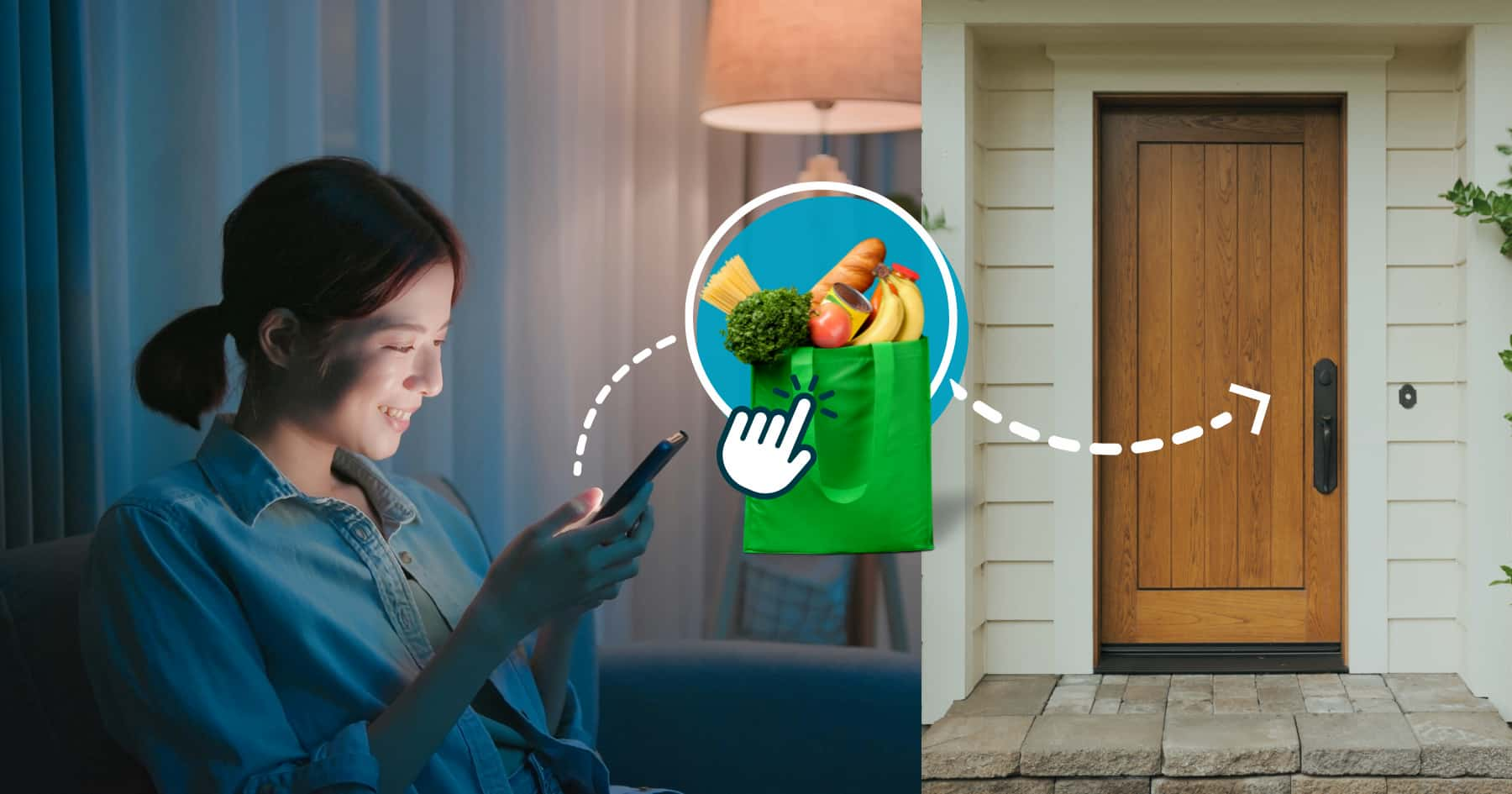 Online Grocery Delivery Challenges that Retailers Must Solve to Stay Ahead of the Curve
For an industry that generated $8.1 billion in sales in the US in April 2022 alone, the online grocery space sure has skyrocketed its way to success in the past couple of years. But, it wouldn't be fair to ignore how turbulent the journey has been. And face it or not, it's to be a bumpy road ahead for retailers fighting for market share in this grocery landscape.
Customers' continued affinity towards online grocery is reassuring that the growth trends are here to stay. However, the numbers tell a different story when compared with the same time last year. The overall online grocery sales dropped by 4% in April'22 versus April'21, with delivery-related sales dropping nearly 6% and pickup sales declining less than 3%.
Such erratic patterns only go on to show that the pandemic-fuelled disruption in grocery retail is anything but consistent. With customers' behaviors evolving at a breakneck pace, retailers are finding it hard to keep up with these fluctuating preferences, leading to gaps in consumer expectations and delivered experiences.
There is a strong and obvious correlation between customers' changing needs and the challenges retailers are facing today, especially when it comes to online grocery delivery. What remains to be seen is how retailers stand up to these challenges and position themselves for success and scalability in the next normal, by redefining their fulfillment strategies.
In this blog post, we will analyze the most critical online grocery delivery challenges that retailers need to address to beat the competition and drive profitable growth in the years to come. 
8 Online Grocery Delivery Challenges Facing Retailers Today
Lack of technical sophistication required to manage last-mile delivery
To take their services online and facilitate last-mile delivery for online orders, retailers need to first build the technical infrastructure required to do so. Creating an eCommerce website and a fully-functional app is merely the first step. Grocers also need to have an integrated system in place that connects their online and in-store operations so they can ensure real-time inventory management, consistency across promotions and deals, and synchronized shopping experiences that promote brand affinity.
The technical expertise required to ensure the smooth functioning of all operations comes at a substantial cost and cannot be built overnight. This presents a tricky challenge as to how much of that investment regional grocers can afford to make, especially since the grocery space is infamous for its razor-thin margins. Making an investment of this scale is not an easy decision for retailers because it can be a while before they start driving a measurable ROI on their invested dollars.
However, this does not take away from the fact that eGrocery is the way to go to keep up with consumers' evolved preferences. And retailers who quickly adapt to this change can reserve the bigger slice of the success pie for themselves.
To make the journey smoother and the leap more promising, retailers can partner with reliable eCommerce technology partners that offer scalable solutions to manage end-to-end online order fulfillment. This allows them to meet their customers' expectations without having to dedicate a huge chunk of their time, resources, and budgets toward building each and every aspect of the eGrocery infrastructure from scratch. 
Perceived expectation of short delivery timelines and narrow receiving windows
Despite the perceived expectation of short delivery timelines, a study by MIT concludes that customers prioritize the choice of delivery day and time over the speed of delivery. This presents retailers with both an opportunity and a challenge. Knowing that customers prioritize the choice of delivery day and time, retailers don't need to feel pressured to match the misplaced expectations set by marketplaces and quick commerce providers. They can create meaningful customer value by offering a reliable order fulfillment program that provides customers with choices. Certainty, in this case, takes precedence over speed. The much-hyped need for speed also creates challenges during peak hours for retailers. Effective order assembly requires an efficient pick, pack, stage, and retrieval process. And managing this process requires close coordination of labor scheduling to avoid any process-related jams.
Increased costs associated with the operational challenges of precise windows and instant deliveries pose a significant sustainability problem. Retailers are left to balance consumer needs and business viability so they can continue to generate demand and drive growth for their brand over the longer run. 
To succeed, retailers will need to invest in creating optimal delivery networks for their online orders to be able to accurately schedule, coordinate, and deliver orders, and rethink their fulfillment program to adjust their pricing. For example, charging a higher fee for priority pickup (say 2 hours) vs the next day can help ease out the burden and ensure profits don't take a hit. 
Real-time inventory management and dealing with substitutions
Being a part of the grocery retail ecosystem, the one thing that we need to accept is that inventories are volatile and hence substitutions are unavoidable. However, for customers, substitutions can be a deal-breaker in how they rate a retailer's delivery and pickup services, whether or not they recommend the store to their friends, and if they even consider repurchasing. Also, let's not forget that online delivery is often opted for by customers who might be urgently in need of their ordered grocery basket. And sometimes, they end up paying a huge markup to get just a few items delivered on priority. 
In such cases, if their products are out of stock or need to be substituted, their frustration can prove to be detrimental to the retailer's overall relationship with the customer, which they have worked hard to build. Therefore, dealing with substitutions the right way is critical to gaining success in online grocery order fulfillment.
The challenge lies in building a real-time inventory management system that connects all channels (in-store and online) so that products are constantly updated and the probability of having to choose substitutes is reduced. Retailers also need to facilitate real-time, seamless communication between shoppers/packers and customers so they can promptly select substitutes and not end up with frustrating alternatives.
At the end of the day, retailers must aim to eliminate guesswork or poor decision-making when selecting alternatives by deploying the technological excellence required to give buyers control over their baskets, just like they would have when shopping in person.
Partnering with marketplaces or fulfillment service providers erodes profit margins
Third-party fulfillment service providers offer to take up the heavy lifting for retailers along with a few of the challenges we discussed. However, partnering with them comes at a huge cost, which eats into grocers' bottom line. The fees that these platforms charge – both for the retailers (percentage of every basket value) and end customers (delivery and service fee, surcharges, markups, etc.) take away considerably from the ROI that grocers expect to earn from their online operations. Moreover, grocery chains also lose out on significant in-store advertising opportunities and thus vendor dollars to platforms such as Instacart. 
Therefore, relying on online marketplaces might seem like a good idea at first, but in the longer run, it is neither sustainable nor scalable. The more heavily retailers start depending on third parties to fulfill their orders, the more profit dollars they end up handing over to them. 
For retailers to drive omnichannel growth for their business, retailers need to move towards building their own technology platforms and managing their operations so they can reclaim control over their customer experiences, vendor dollars, and profit margins. 
If you'd like to learn more about how grocers can leverage grocery marketplaces to support their grocery eCommerce strategy, check out this article: Online Grocery Marketplace Software to Enhance Your Strategy.
Requirement of an additional, dedicated fleet for packing and delivering
As retailers branch out their operations and venture into online order fulfillment, they will need to hire a dedicated fleet for shopping for items, packing and staging them, and finally delivering or handing them off. This not only comes at an additional cost but also with multiple decisions to figure out how the investment can be best optimized. 
Here are 4 key questions retailers need to ask themselves:
Should you outsource order picking and packing or have it managed by the in-store fleet?
Do you need to build micro-fulfillment centers or can your centralized warehouses handle curbside pickups? 
Do you need to invest in dark stores that facilitate self-serve pickup to improve proximity to your customers?
Should you invest in automated MFCs and robots to manage order packing?
These were just some of the many questions that retailers will need to answer for their business depending upon their fulfillment strategy and growth plans. However, it's important to remember that there isn't a one-size-fits-all model. The challenge for each grocery chain is to constantly test, optimize, and adapt operational models to determine what works best in fulfilling orders efficiently and profitably for them.
For example, based on their loyal customers' shopping and fulfillment preferences that indicate higher affinity towards delivery, a certain regional grocer might not feel the need to invest in a comprehensive curbside pickup program right away. However, it could only be a matter of time before those trends evolve and customers begin to depend heavily on pickup. The bottom line is that until retailers devise a robust and readily optimizable plan for omnichannel grocery shopping and fulfillment, they cannot future-proof themselves.
Growth of pickup as the preferred fulfillment method
Mercatus research reveals that pickup happens to be the most preferred method of fulfillment among grocery shoppers in the US today with 75% of online grocery orders being fulfilled at the stores themselves. As Covid restrictions began to ease up, people came to realize the convenience, flexibility, and control that pickup offers over delivery. They could avoid delivery fees and surcharges and also ensure same-day or accelerated delivery, without having to pay a premium for it. 
For retailers, this is great news as pickup allows them to reduce their overall costs associated with providing delivery services under extremely short timelines. However, on the flip side, developing a successful pickup program does come with its share of challenges.
To start off, retailers need to decide where their customers' baskets will be sourced from – in-store, micro-fulfillment center, dark store, or a warehouse. Next, they need to arrange for seamless, fast, and efficient communication between IT, operations, and fulfillment teams so that all stages in the process, including picking, staging, and hand-off can be managed with ease. 
There are also multiple ways to hand off orders, including in-store pickup, curbside contactless pickup, or remote and self-serve pickup. Depending upon customers' preferences and available resources, grocers must decide the most viable pickup option(s) for their store.
All of this is only possible when managed by a robust platform that centralizes all operations and facilitates seamless hand-off, low customer wait times, availability of multiple time slots, and real-time communication with buyers for improved precision in product selection and exact pickup time.
Infrastructure challenges of packing and staging orders in temperature-controlled environments
In order to maintain quality standards as retailers offer last-mile delivery and pickup, planning for preserving products in temperature-controlled environments is primary. This presents a huge infrastructural challenge as retailers will have to decide whether the additional investment is required in terms of building micro-fulfillment centers to improve proximity to consumers and maintain the freshness of products. Or if this can be managed by storing, packing, and staging products in existing warehouses. In any case, infrastructural developments will be more than necessary to maintain product freshness as soon as they leave their shelves. 
Additionally, budgets will also need to be accounted for by equipping shopping fleets and drivers with insulated bags, coolers, and smart boxes to safeguard products until hand-off.
These infrastructural and budgetary challenges are definitely worth the effort as long as retailers are able to scale their online delivery operations and gain customer loyalty in the near future. An overhead expense at first, this investment can prove to be a stepping stone in retailers' journey toward driving success in the omnichannel grocery space. 
Absence of scalable fulfillment integrations to offer an enjoyable experience to customers
To be able to meet buyers' rising expectations, while delivering delightful shopping experiences, retailers need to rely on a centralized fulfillment platform that offers integrations to facilitate operations seamlessly. From picking and packing orders and real-time communication with customers to reducing wait times and optimizing delivery paths, retailers require fulfillment integrations that can manage all this, and everything in between. The challenge lies in managing all end-to-end operations with utmost efficiency and accuracy – something that grocers can only entrust to credible hands.
Therefore, retailers must look for a platform that empowers them to:
Build a personalized online storefront that can be easily customized
Scale their backend technology with changing consumer preferences and growing business needs
Leverage innovative, state-of-the-art online grocery fulfillment features that make the entire experience seamless and enjoyable for customers 
Partner with Mercatus to Leave all Challenges Behind and Take Your Online Grocery Delivery to the Next Level
When it comes to online grocery, we understand that grocers have a lot of choices.
Whether it's sticking with existing marketplaces, building your own site, or selecting the right eCommerce vendor for your business, there are viable options with pluses and minuses for each.
At Mercatus, we believe finding the right solution shouldn't come with a compromise. Omnichannel grocers deserve an option that delivers the best of all worlds:
Ownership of your customer data to preserve loyalty & profit
Flexibility to integrate into existing systems and processes
Advanced features such as endless aisles, prepared food, recipe lists, etc.
Proven and trusted by other grocers
All-in-one vendor from implementation, training, and support
When you partner with Mercatus, you don't just get to build a customized online storefront that allows you to manage your fulfillment operations seamlessly, but also the flexibility to choose the fulfillment integrations that work best in delivering the best-in-class shopping experience to your customers. 
Our fulfillment integrations are designed to offer robust real-time inventory management, instant communication with customers, utilization of geolocation for reduced wait times, increased time slot availability, improved curbside pickup experience, and more.
Mercatus' enterprise-grade solutions are built to equip you with the state-of-the-art technical sophistication needed to establish and scale your pickup program so you maximize profit margins.
Our connected systems allow you to efficiently manage all aspects of your multi-channel engagement, shopping, and fulfillment experiences from a centralized dashboard so you can regain control of your customer relationships. So, from keeping up with changing customer preferences and meeting customers' rising expectations to solving technical and infrastructural challenges, you can master it all by leveraging the Mercatus platform. 
Reach out to us for a personalized demo on how the Mercatus platform can help your business override online delivery challenges and go beyond offering fast and efficient fulfillment to staging delightful shopping experiences.