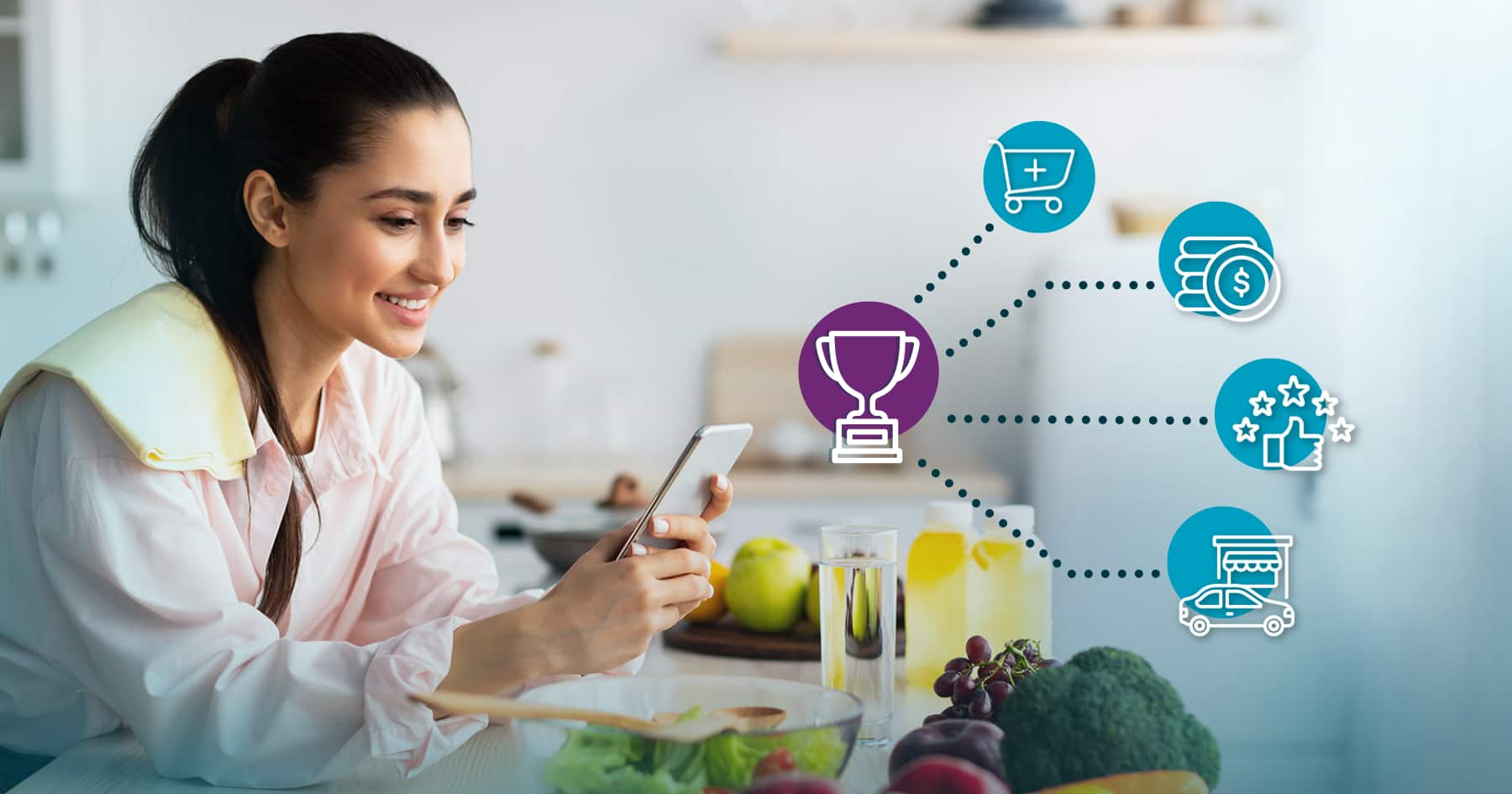 Revisiting 2022 and Grocery eCommerce Trends That Fundamentally Reshaped the Retail Landscape
Looking back at grocery eCommerce trends in 2022, it was a year of many firsts – some anticipated, some totally unprecedented. For the third year in a row, US households' grocery shopping patterns evolved dramatically, as a result of shifting post-pandemic requirements and priorities and the impact of inflation. As for retailers, the year was riddled with challenges, including keeping up with changing consumer demand, driving loyalty, and boosting profitability.
2022 was also a year full of opportunities for retailers to take their grocery eCommerce to the next level. Grocers that were quick to adapt and implement a solid omnichannel strategy based on enhancing customer experience cracked the winning formula for success.
In this post, we will dissect the major trends that emerged from our research throughout the year, to review the key shopping trends that dominated the grocery eCommerce space in 2022 and will set the tone for the future.

What Were the Key Trends and Shifts That We Observed in 2022?
When we review US households' shopping patterns from the past 12 months, we see five notable trends that have reshaped the industry and will continue to lead grocery eCommerce evolution. This opens the door to endless possibilities for retailers, wherein you can champion grocery eCommerce by meeting consumer demand head-on.
1. Customers' Inclination Towards Online Grocery is Here to Stay
Online grocery has maintained its positive growth trajectory, despite the fact that post-pandemic buying behavior is gravitating towards in-store shopping once again. Whether you looked at monthly sales, orders placed, rate of order frequency or monthly average users, online grocery saw consistent growth patterns through the year. This positive trend indicates that consumers have clearly been won over by the safety and convenience of online shopping, and promises a bright future for the grocery eCommerce space.
That being said, the challenge for grocers is to offer customers cost-effective ways of shopping online and frictionless order fulfillment. Modern grocery shoppers have made their inclination towards online grocery apparent – provided it doesn't come with added fees and poor service.
2. Grocery Shoppers Chose Pickup as Their Preferred Fulfillment Method
Time and again, research has concluded that pickup stands out as the clear winner when it comes to US households' preferred grocery fulfillment method. During the pandemic, safety and convenience were the biggest factors for deciding how customers wanted to receive their groceries. Soon after, however, inflation challenged the average household's grocery budget, and cost and convenience became the new priorities.
Opting for pickup gave customers an opportunity to save on the explicit fees and service charges associated with delivery, along with the convenience of choosing a precise fulfillment time slot. The bottom line is that customers began to see pickup as a value-for-money way to get their grocery items fulfilled. Consumers' unparalleled affinity towards grocery pickup made this fulfillment method the new drive-thru in 2022.
It's important to note that this trend will only grow stronger. Grocery customers have become accustomed to the cost-effectiveness and convenience associated with pickup and they're displaying no signs of turning back. Therefore, success in 2023 will come to grocers that rely on a robust end-to-end pickup program. This will entail building pickup processes that fulfill customer demand efficiently and seamlessly to drive brand loyalty and boost profitability.
3. Modern Customers Have Adopted Omnichannel Grocery Shopping
Online versus in-store shopping has been the most common theme for debate in grocery retail these past years. However, research from 2022 reveals that grocery customers are no longer choosing between online and in-store shopping and it's an irrelevant metric for grocers to focus on.
Instead, the modern grocery shopper is omnichannel. Shoppers no longer choose one preferred channel or one method of shopping. Instead, they prefer to engage, shop and get their groceries fulfilled through many different channels, depending on their specific requirements and preferences. And they expect every channel to be available to them, so they can pick and choose based on their situation.
For retailers, the way to differentiate their brand from competitors will be having an omnichannel strategy that takes into account grocery customers' preferences and delivers consistent, integrated, delightful shopping experiences across all channels.
4. Cost Was the Fundamental Decision-Making Factor for Inflation-Impacted Grocery Shoppers
Inflation was a consistent theme in 2022, one that greatly impacted how US households shopped for groceries. Budget-conscious shoppers had increased awareness of any explicit, added costs, as well as any higher product prices associated with online grocery shopping, and were no longer willing to pay more than they felt they should. Looking for budget-friendly ways to buy groceries online drove them towards:
Choosing pickup over delivery to avoid extra fees
Opting for private label products, which are known to be affordably priced
Relying on cross-shopping to get the lowest-priced items from any store rather than being loyal to a particular store brand
With cost savings being consumers' top priority in 2022, regional grocers were forced to compete on pricing, especially in the latter half of the year. Consequently, retailers who learned from customer shopping patterns and offered inexpensive ways to shop online – such as offsetting additional costs, offering loyalty memberships and providing value-added services and subscriptions – were successful.
In the coming year, grocers that focus on affordability by offering private label products, subscriptions that help shoppers save money and frictionless pickup services will get a larger share of wallet.
5. Consistent, Frictionless, Delightful Customer Experiences are the Next Normal Grocery Shoppers Want Demand
One of the key insights from Mercatus' Omnichannel Shopper Behavior Report 2022 was that grocery shopping experiences (both positive and negative) greatly impact customers' future choices and purchase behavior. Moreover, most grocery customers share these experiences with friends and family, thus influencing their grocery shopping patterns as well. Ultimately, buying behaviors changed dramatically in 2022 based on the quality of the grocery shopping experience that customers received from retailers.
The key takeaway for retailers is that repeat purchase behavior, customer loyalty and word of mouth are directly related to the quality of experience customers have, both when shopping for groceries and during fulfillment. A hard-to-navigate online ordering website, too many substitutions, long wait times at pickup and high additional costs directly result in a poor customer experience, and are likely to negatively affect the customer's future purchase decisions.
A Sneak Peek into 2023: What the Future of Grocery eCommerce Holds
No one can fully predict the future of grocery eCommerce in 2023. However, the trends we observed in 2022 have painted a picture of what the year ahead will probably look like in terms of US households' grocery shopping patterns. As long as retailers have a solid plan of action that's aligned with consumer demand, they can position themselves for success in the coming year and beyond. These insights are a reliable starting point to build a results-oriented omnichannel grocery strategy and optimize your efforts to stay ahead of the competition.